Decorating with natural wood elements can really add farmhouse style to your home. Check out how I made a personalized nursery wood slice name sign to give my nursery a bit of farmhouse character.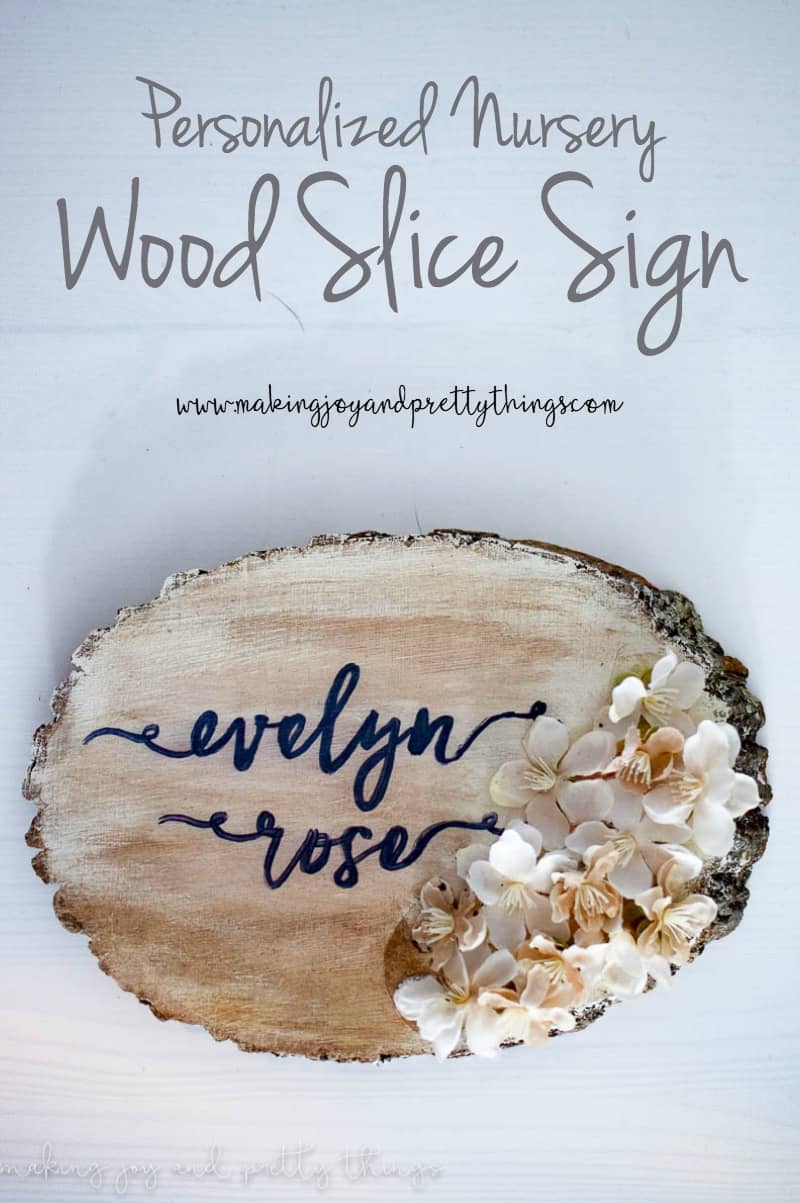 Affiliate links were used at times. Please see my full disclosure policy for more details.
It's time for another Create With Me Challenge! Last month, you voted for us to make a project using natural wood, which is speaking my DIY language!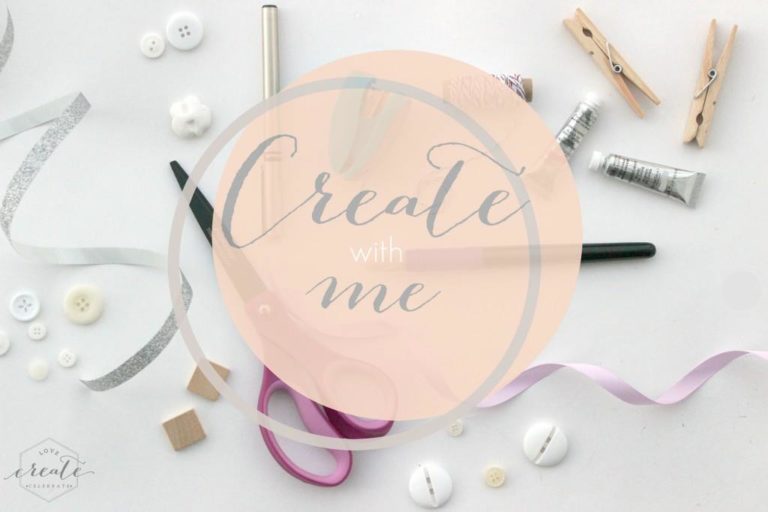 Since I found out baby #3 was a girl, I knew I wanted to make her a farmhouse style nursery. Don't worry, I'll be sharing alllll the details very soon.
Natural wood is an essential part of farmhouse style decor, so I knew I could make something for her room with a cheap wood slice I picked up from Michaels.
After failing at a couple different ideas (note: you cannot do iron-on transfers to wood slices), I decided to stick with simple, neutral colors and her beautiful name: Evelyn Rose (more on that in another post).
I started by painting the wood slice in Martha Stewart Vintage Decor Paint in Linen.
Next, I used one of those brushes with thick bristles (aka not a really expensive brush) so that the paint lines would show through. I also left some of the edges exposed.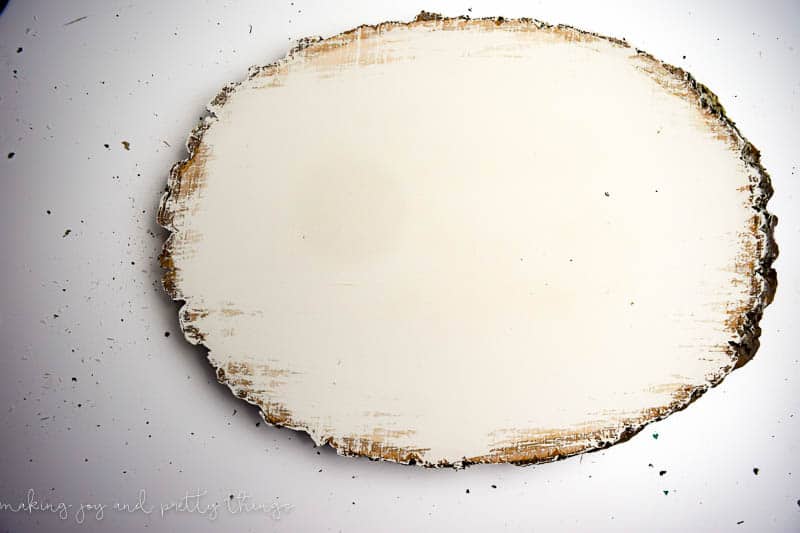 Next, I tried to do the iron-on transfer of some pretty watercolor flowers and boy did that fail.
While I tried to figure out how I was going to salvage the ruined portion of the wood slice (because I had already ruined the OTHER side of the wood slice), I decided to add some pretty cursive for her name.
I love the dramatic swashes before and after words. I Think I mentioned before that I'm a font junkie. Tell me I can download a free font and you bet I'm going to do it. Especially if it comes with pretty doodles. I designed her name on Picmonkey.com (SO easy) and printed it out.
Using the same method I've used to transfer words to any material before, I transferred the printed out name onto the wood slice. Basically, color the back of the paper with pencil, tape that side onto the wood slice, then trace overtop with a pen or pencil. It magically transfers the the perfect font onto the wood slice. No free-handing required!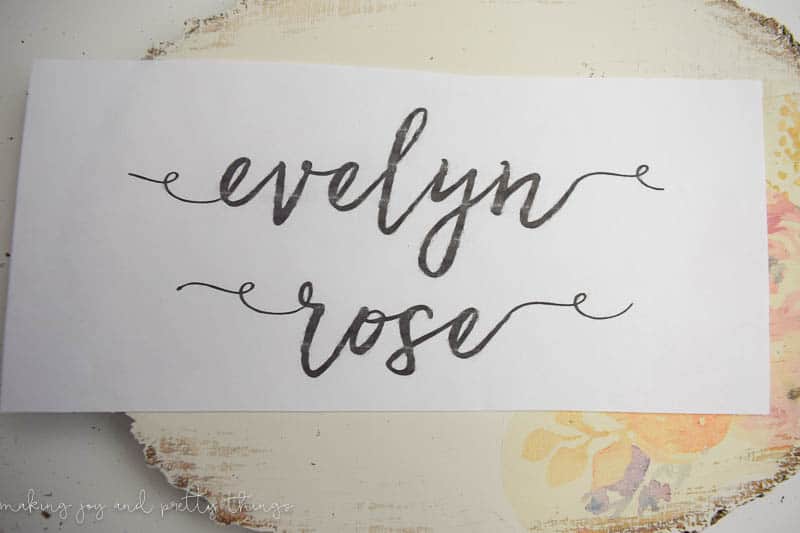 (See the gross watercolor transfer in the corner. It turned out so yellow ewwww!!!!)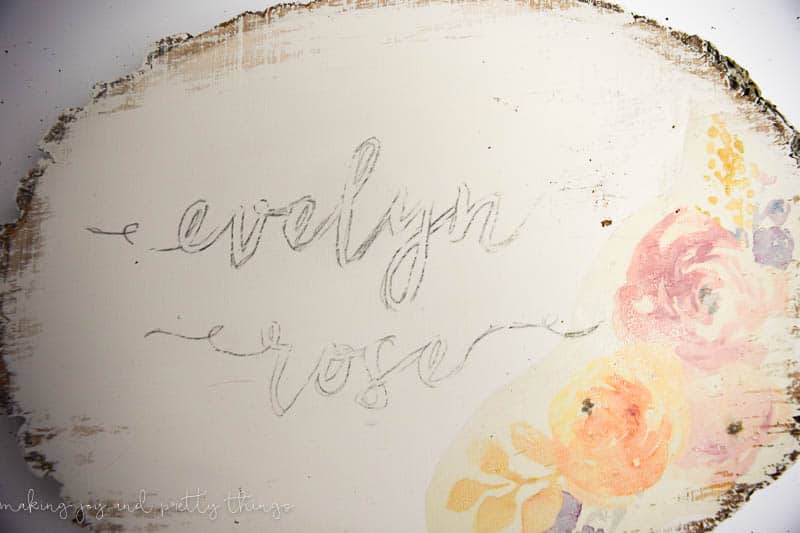 With the pencil tracing on the wood slice, I was easily able to color along the lines with a regular black sharpie. I really wanted to use a gray chalk pen, but didn't have one (the horror!!!).
Because the black sharpie was a little too harsh (I prefer a more muted tone), I applied some white wax over the surface. Then, I quickly wiped off any excess with a paper towel. A quick wipe with some antiquing wax added a vintage look that I absolutely love!
With the name complete, I had to do something with the yellow disaster in the corner. I ventured to my faux floral stash and found the perfect peach blossoms from last spring. They were a white/beige/cream color. With my handy glue gun, I strategically placed the flowers over the gross yellow.
I think I actually like it better with a bit of dimension that the flowers add.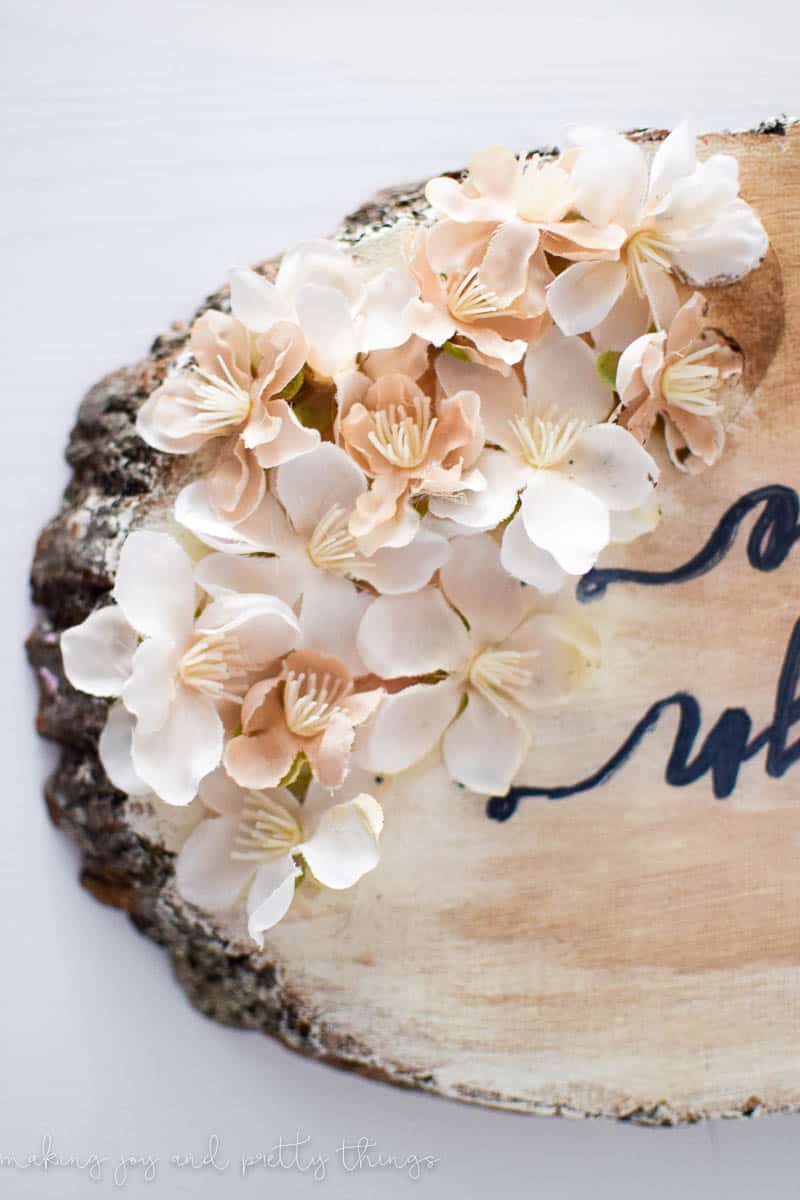 And that was it! If I didn't try two other designs first, this really would have only taken me 15 minutes (not including drying time for the paint/waxes). Plus, it only cost me a few dollars for the wood slice!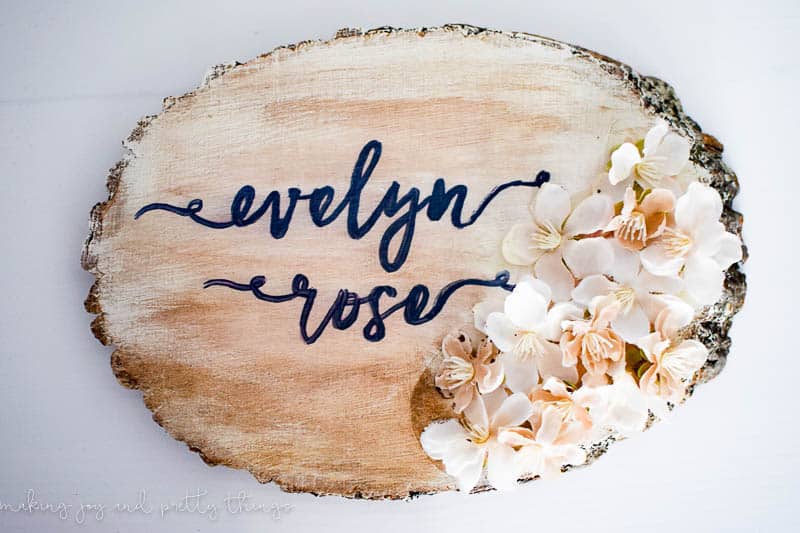 Ahh doesn't it look so vintage and cute?! It's perfect for my sweet little girl's room. I can't decide if I want to hang it on her door or put it on some shelves I'm planning to make over her new dresser (oh that's also a makeover!).
The combination of antique and white wax really transforms the whole sign.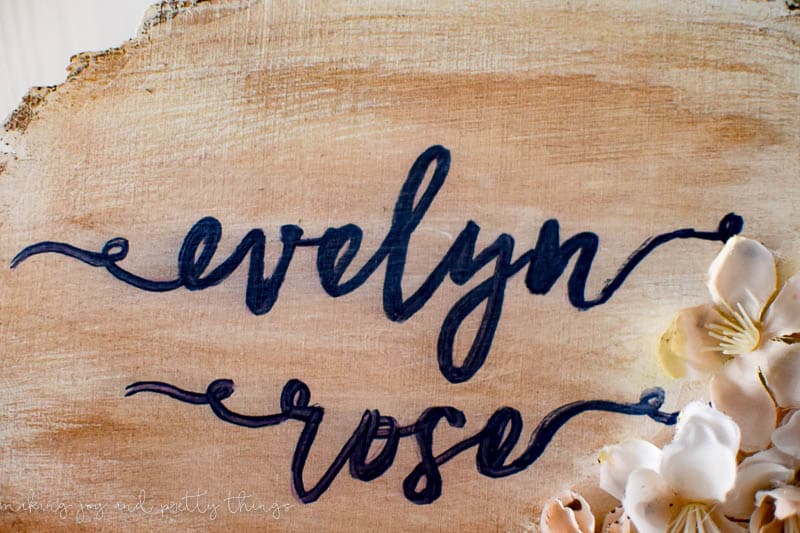 So, what do you think?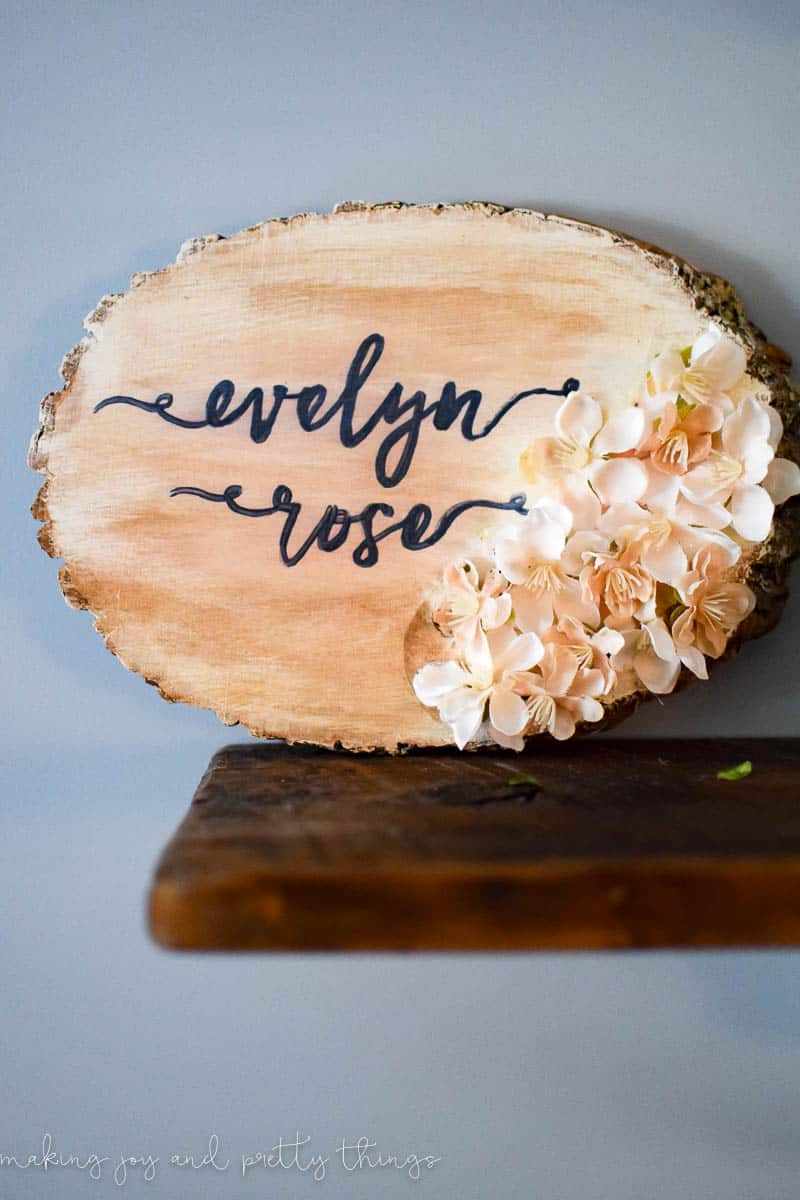 ---
---
What should we use for our next challenge? Vote on these Valentine's Day – themed supplies below!!

Images via Amazon.com, Joann.com, and Freeimages.com
Create your own user feedback survey
CLICK HERE if you cannot see the survey!
---
---
Want to see more natural wood projects? Check out these other creative projects from some talented blogging ladies.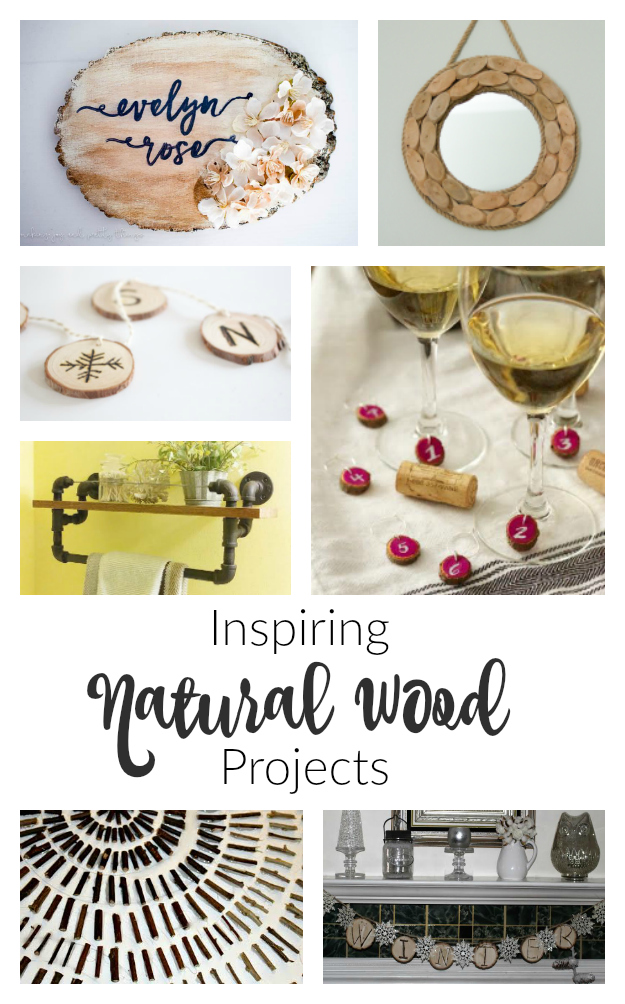 Personalized Nursery Wood Slice Sign- Making Joy and Pretty Things
Driftwood Mirror- Little Bits of Home
Wood Slice Winter Garland- My Life from Home
Natural Wood Shelf- Our House Now a Home
Mini Wood Slice Wine Charms- Two Purple Couches
Art Using Twigs- Knock it Off Kim
Wood Slice Garland- Our Crafty Mom
Wishing you a joyful day, friends!