Cement Tile Ideas for Your Bathroom, Fireplace, and Backsplash
Patterned cement tile is all the rage these days! Get inspired with these cement tiles ideas for your bathroom, fireplace, and kitchen backsplash.
Ah, you guys, we have been knee-deep in the One Room Challenge (ORC) that I've hardly had time to do anything else.
One of my absolute favorite parts of the shared boy's bedroom makeover we are doing for the ORC is the new tiled hearth around an exposed brick fireplace.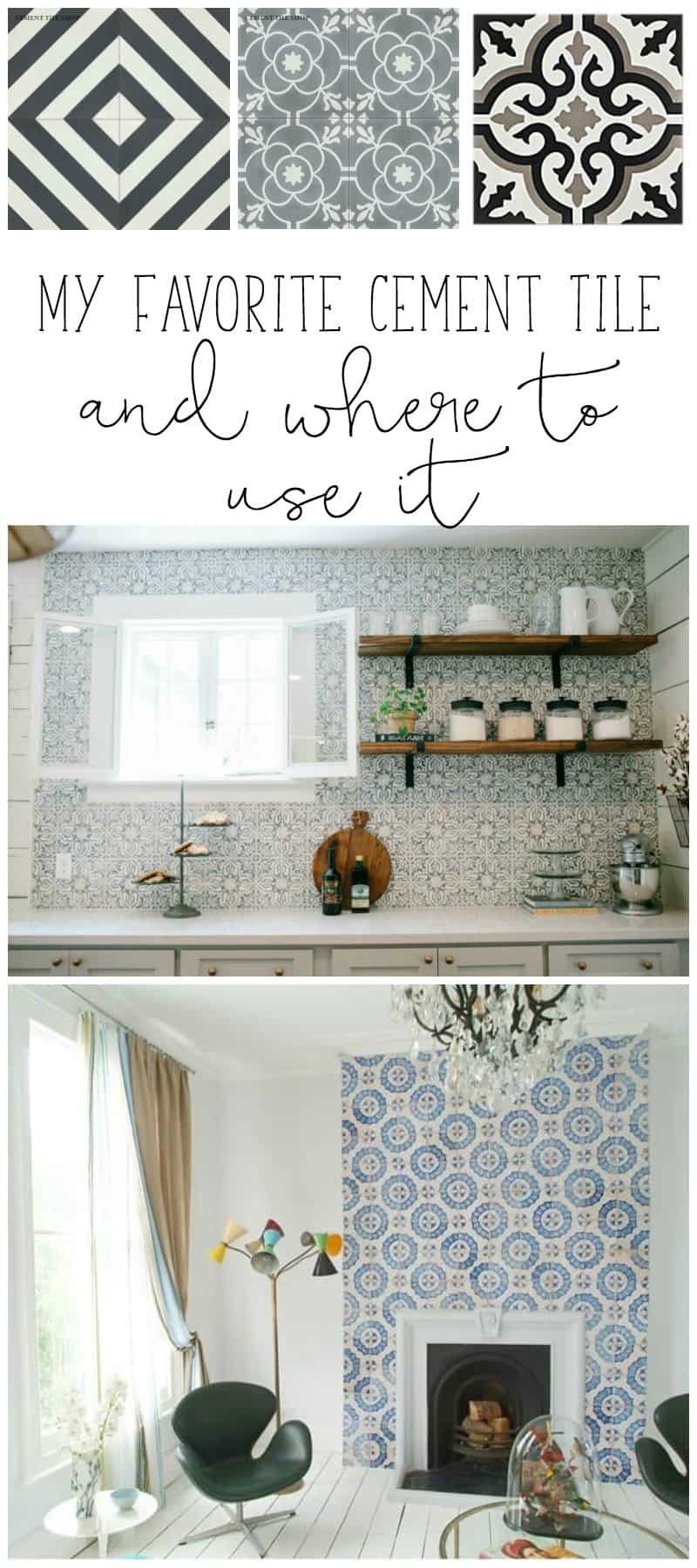 If you're a rustic, farmhouse-style kinda gal like me that probably sounds dreamy. Amiright??
Well, we picked the most gorgeous cement tile for the hearth and I absolutely love it. See it in place and learn how to install cement tile here.
This was our first experience with cement tile and I have to say I'm hooked! I want to cement tile every space in the house. You know, the ones that I'm not going to shiplap.
The tile is not cheap, but, a little goes a long way. Most cement tile is 8″ x 8″ and we only needed slightly over 2 boxes to tile our entire hearth.
Where can you use cement tile in your home?
While there is not a specific "place" to use cement tile, my 3 absolute FAVORITE spaces are around a fireplace, in a bathroom, or in the kitchen.
Cement Tile Bathroom Ideas:
The most obvious place to add cement tiles in the bathroom is the floor, which you'll see most often shown in the inspiration below.
But you could also add cement tile inside of shower niche as an accent tile, as a backsplash behind the bathroom sinks and vanity, or even in a shower (on all of the walls, as an accent wall, or just the shower floor).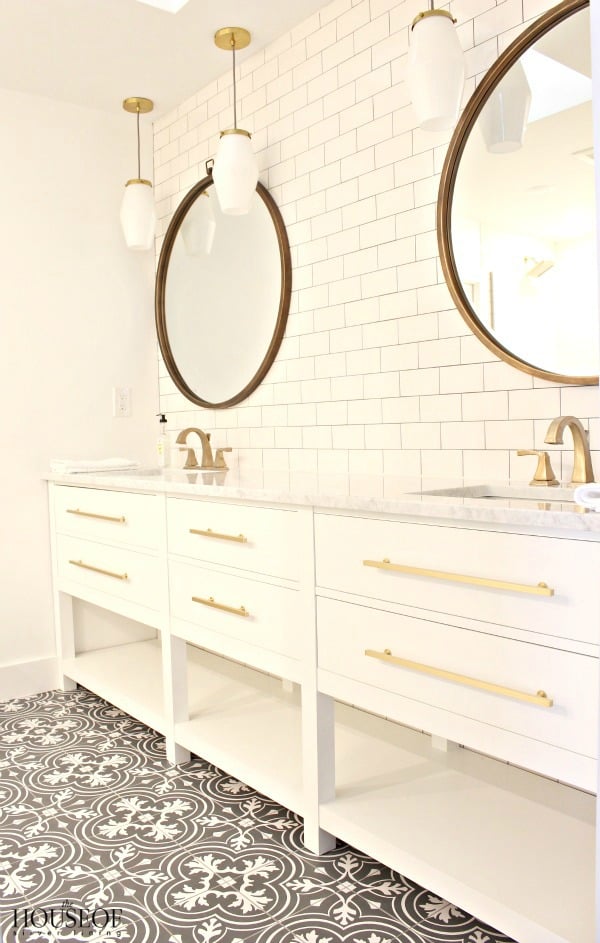 I love this gray and white Merola cement tile floor in this master bathroom from The House of Silver Lining. It pairs well with the simple white subway tile backsplash behind the bathroom vanity and in the shower and the classic penny tile on the floor of the shower.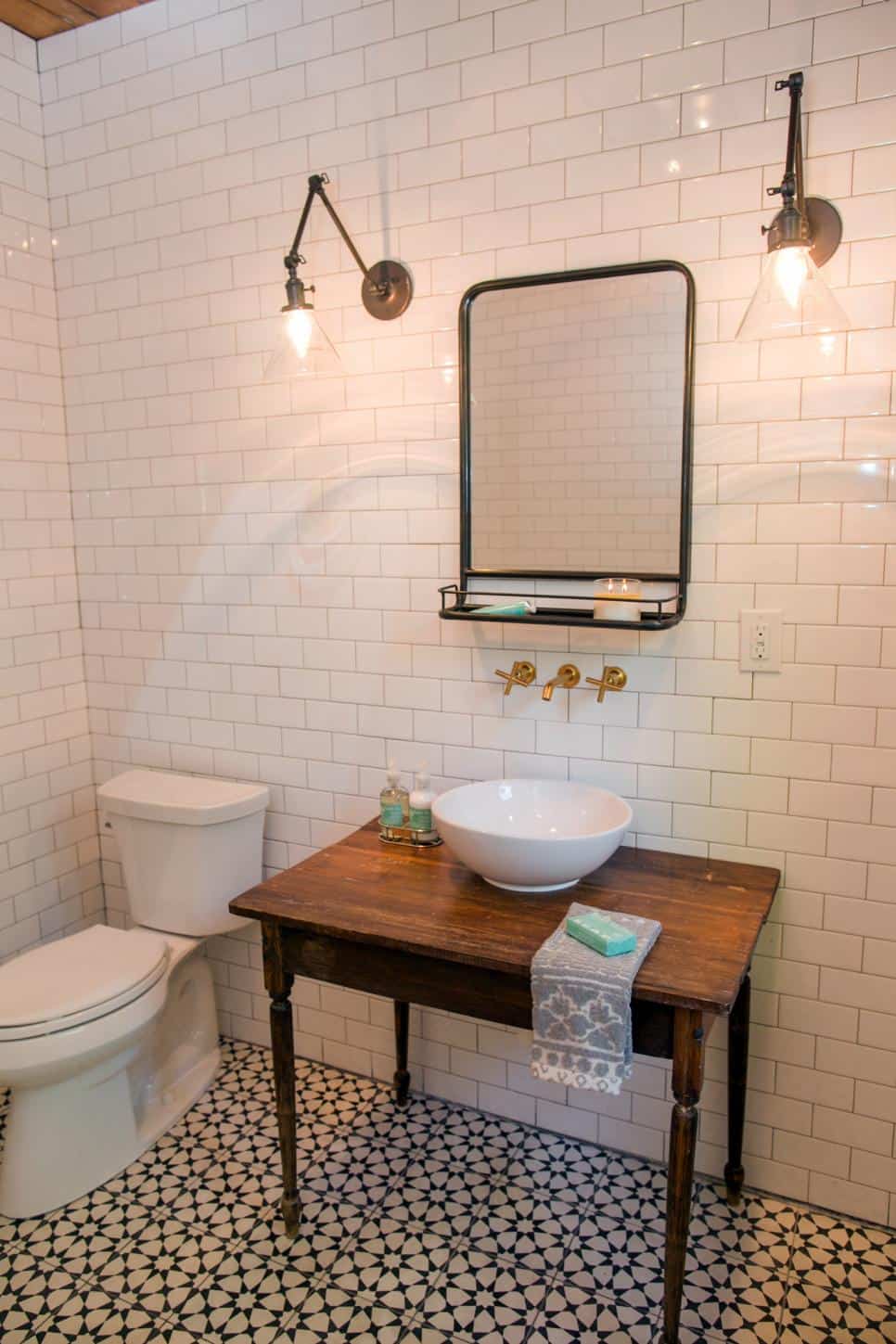 This star pattern on the cement tile is a timeless classic that you'll see show up a few more times as inspiration. I love how it is incorporated here in this 1919 bungalow remodel featured by HGTV from the one and only Chip and Joanna Gaines from Fixer Upper and photographed by Rachel Whyte.
Cement Tile Fireplace Ideas:
If you're stumped on where to add cement tiles to your home, give the fireplace a try. You can either put cement tiles on the fireplace surround or just the hearth area on the floor in front of the fireplace.
Cement tile is not only gorgeous but also super durable. This makes it a great type of tile to add to your fireplace because it can withstand high heat from the fire.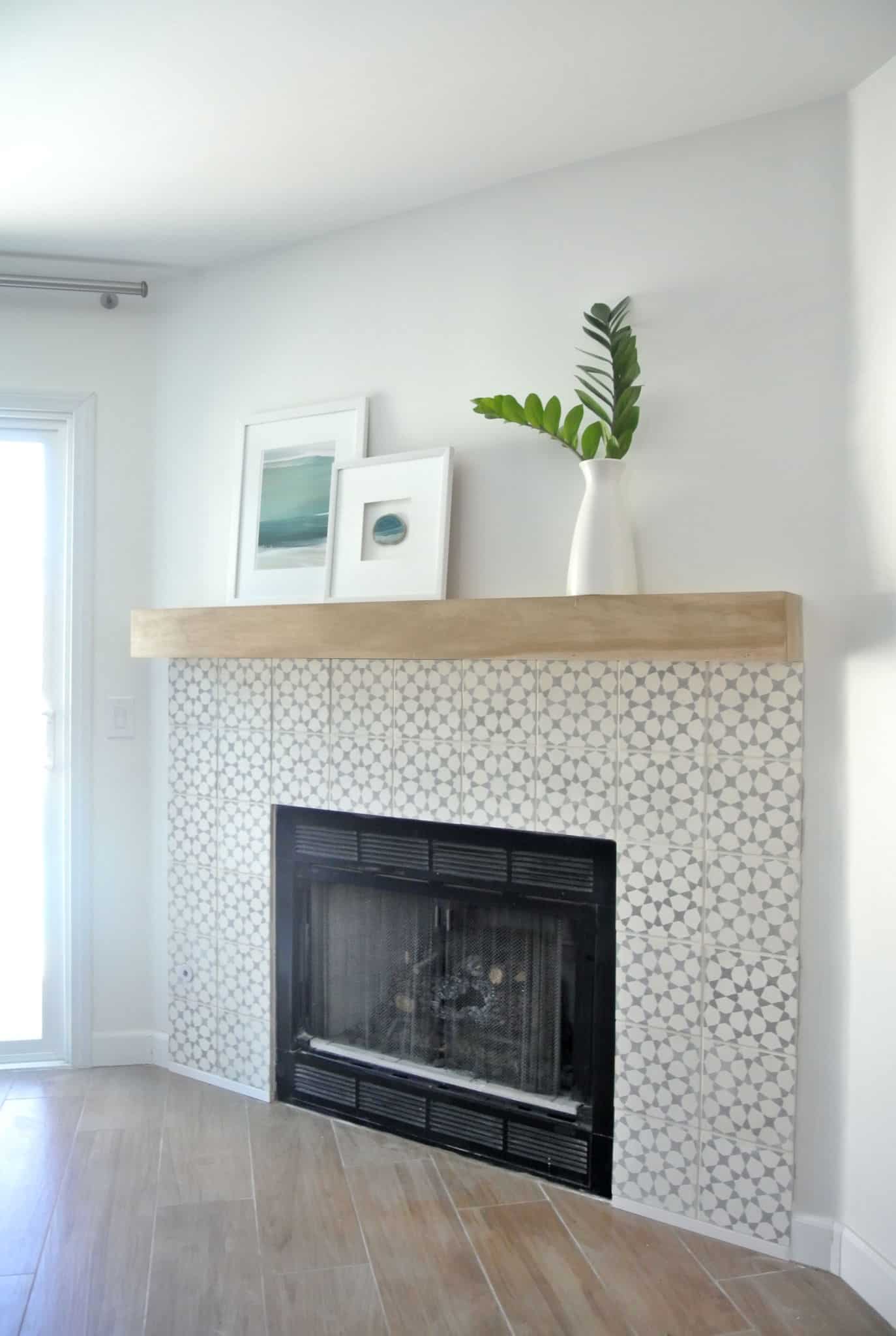 You'll be shocked once you look at the crazy before and afters of this fireplace makeover from Censtational Style. Before it had a weirdly shaped mantle made from drywall and really boring builder-grade tan square tile around the fireplace. By adding the patterned cement tile, increasing the size of the tiled area, and adding the wood mantel, they completely transformed this fireplace area.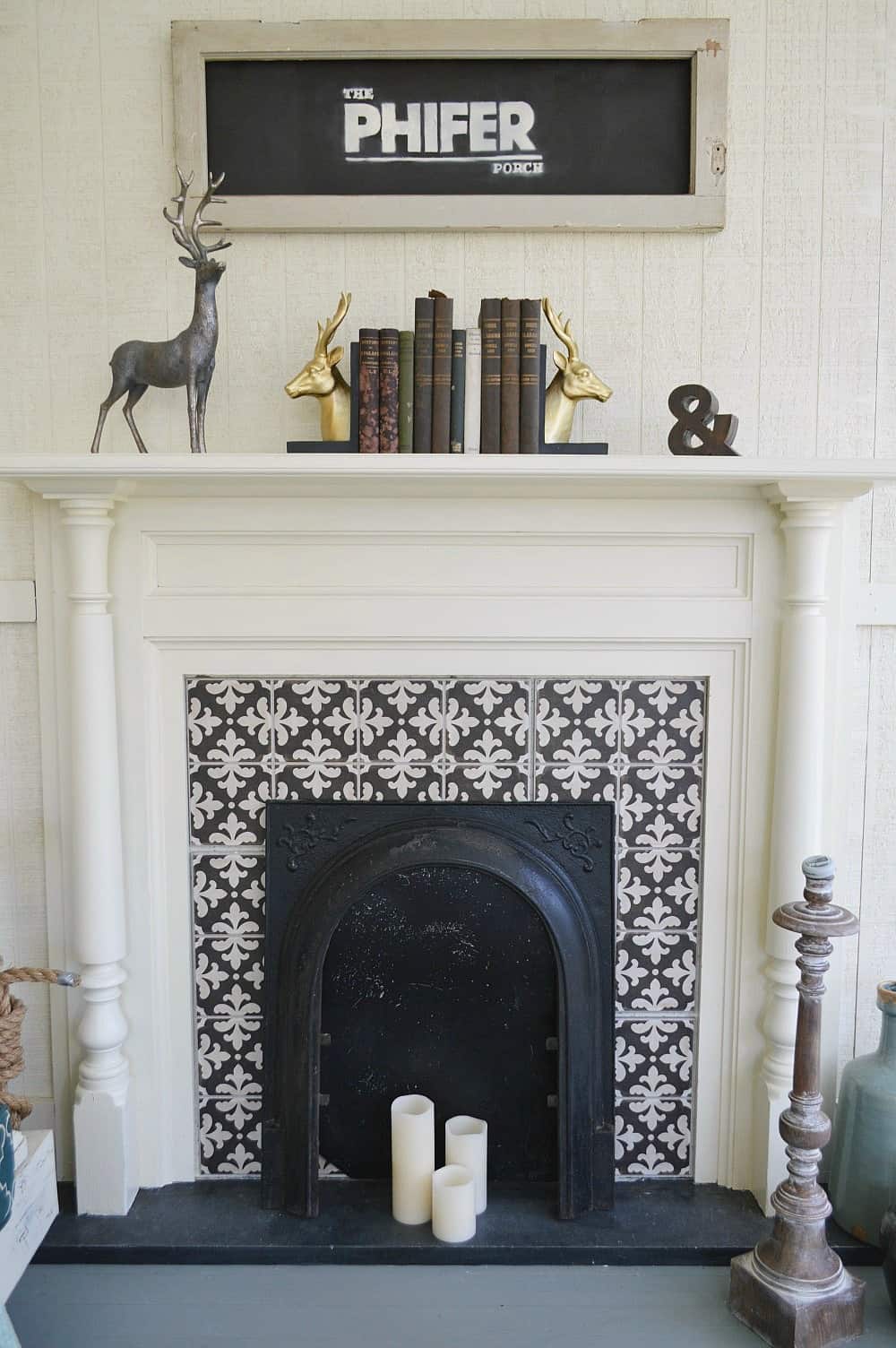 How gorgeous is this dramatic fireplace from Fox Hollow Cottage? Would you believe me if I told you this was actually an OUTDOOR fireplace? Because it totally is. She added this faux fireplace to her screened-in porch and I'm all for it! The fun pattern of the black and white cement tile is the perfect finishing touch.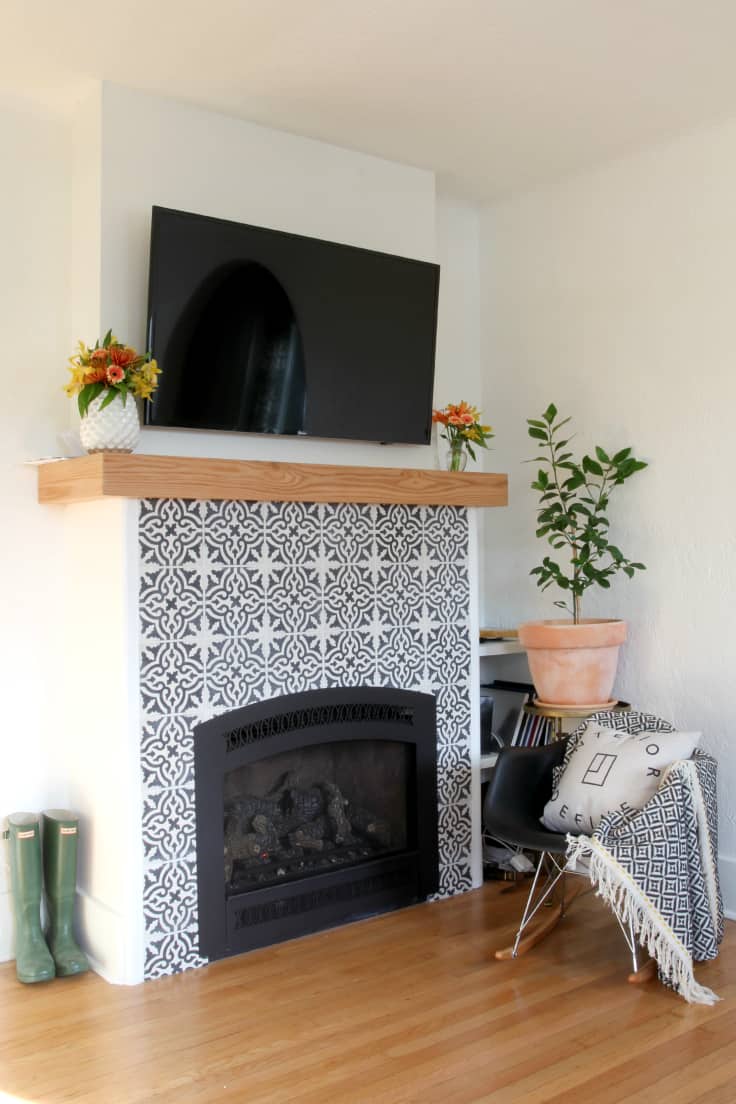 I am so impressed with this fireplace from The Grit and Polish. They built it out from scratch and added the whole fireplace, including the gas insert, chimney, Moroccan cement tiles, and oak mantel. Gorgeous right?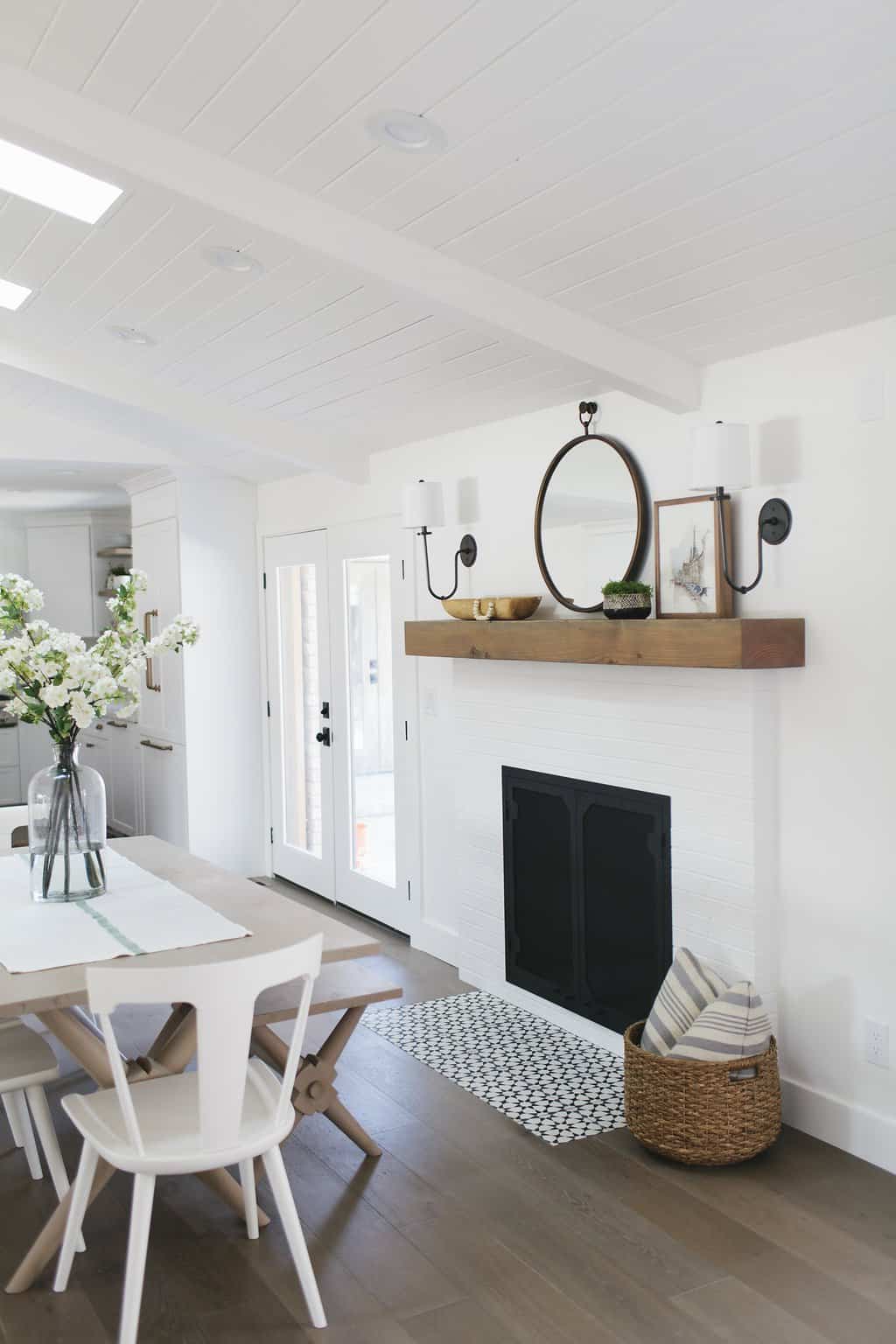 If a bold patterned cement tile is a little "too much" for you, maybe just a little splash of it on the floor in front of the fireplace would work. House of Jade certainly made it work in this space. They kept the gorgeous fireplace simple with white painted brick and a pretty wooden mantel so the cement tile hearth really stands out.
Cement Tile Backsplash Ideas:
Cement tiles can totally be used in the kitchen too! You can either put them on the floor or add them to your backsplash. With the extra touch of pattern and color, you're sure to totally transform your kitchen with a cement tile backsplash.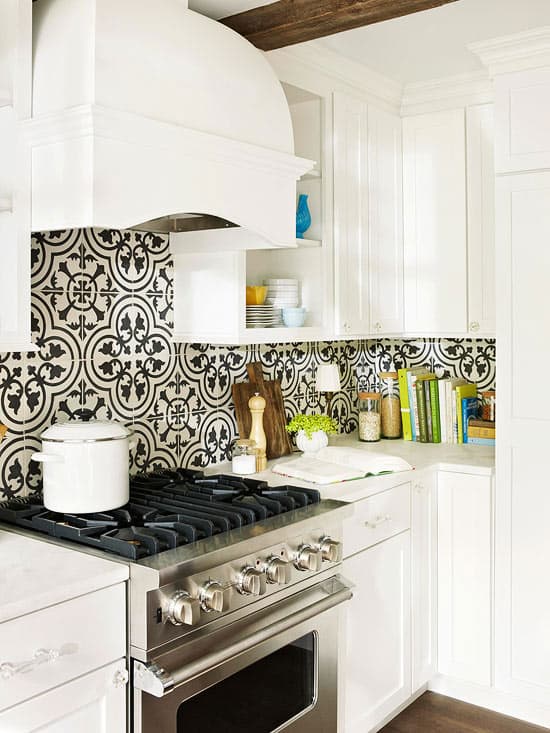 If you have white cabinets and a lighter countertop, a bold cement tile backsplash is an obvious choice. This black and white one adds so much character to this kitchen featured on BHG.com. Do you agree?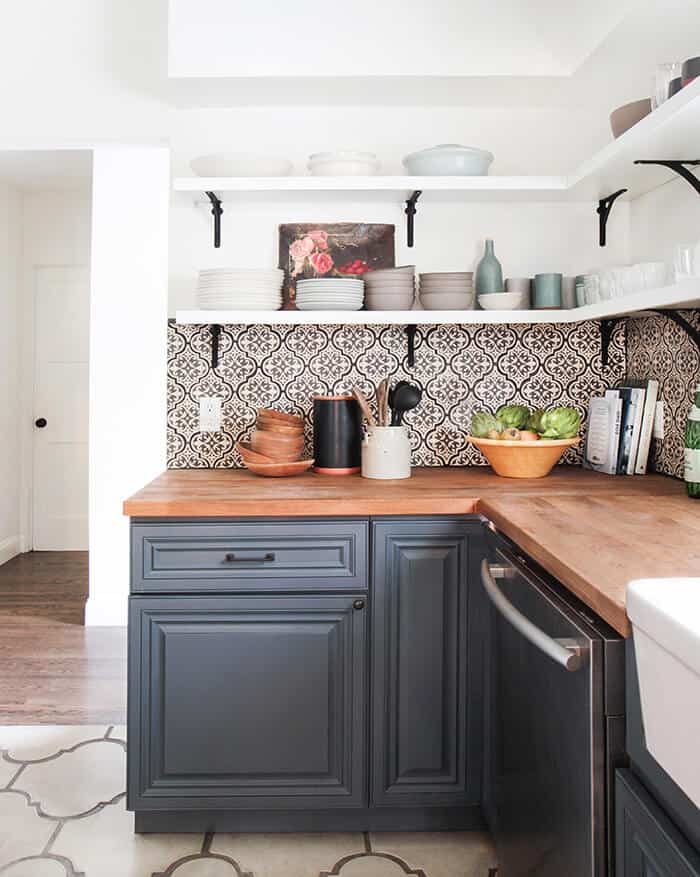 The Spanish style of this cement tile backsplash from Emily Henderson is gorgeous. I love how it looks with the open shelving, wooden countertop, and Spanish shape of the tile floor. If you don't have upper cabinets, it can be hard to figure out where to stop the top of your tiled backsplash (or choose to take it all the way up to the ceiling. Adding open shelving, like this, if gives you an obvious place to stop the patterned tile.
---
Are you in love yet??
My favorite aspect of cement tile is there is a style for EVERYONE. There's farmhouse and rustic style, modern, traditional, eclectic, and Spanish-style, and everything in between.
Where can you buy cement tile?
You guys, there are a TON of stores online. So, this is not an all-inclusive list of where to buy cement tiles. But, I found the most options in these stores.
Cement Tile Shop
The Tile Shop
Riad Tile
Granada Tile
Floor and Decor
Cle Tile
Zia Tile
What about a room in your house you think you could use cement tile?
Remember to check out the cement tile we installed in our fireplace hearth in this article!!
Wishing you a joyful day!