We Cut Down our own Christmas Tree at Grupps Tree Farm
We started a fun Christmas tradition and we cut down our own Christmas Tree at Grupps Tree Farm!
It's officially December which means it's time to chat all things CHRISTMAS! We decided to start it off by taking a visit to Grupps Tree Farm but first, let's talk about Christmas time.
Unlike the majority of the blogging world, I just can't motivate myself to start decorating for Christmas and doing all the Christmas crafts on November 1st. I just can't do it.
But, now that December is here, I'm so ready for all the Christmas season has to offer.
As much as consumerism and gifting seem to headline the holiday season, I feel as though it's the Christmas traditions that really make the season what it is.
Sure, we decorate and buy gifts galore. I shop Cyber Monday sales and Pinterest for pretty wrapping ideas. We feel the "hustle and bustle" more than I would really like to admit.
But, when we take the time to take a step back, take the time to embrace the season whether religious-minded or not, it's truly a beautiful time.
Spending Time together as a Family
There isn't another period in the calendar year where spending time together as a family is more important or more expected, I guess. And, with all that family time comes my favorite part – traditions!
While I have wonderful memories of traditions past, I truly love and look forward to the traditions we have made together as a family of 5.
I wrote last year about our Advent book countdown we do with the kids. Every night from December 1st to Christmas Eve, we read a different Christmas story/book. Some are religious, some aren't. I love doing this with the kids and they seem to love it, too, this year especially.
Then there's the obvious stuff like decorating the tree and listening to Christmas music. I've been bugging my husband to cut down our own Christmas tree for a few years now and I finally convinced him to do it this year!
You know how you envision something in your mind and then it all happens exactly how you wanted it to? I'm quite literally shocked to say this experience was EXACTLY how I had envisioned it going, in a good way.
It was the perfect day: cold but not super cold, overcast but just a little sunshine. The kids were well rested (shocking), we stopped for coffee on the way there and got the kids cookies at 10 am.
We listened to Christmas music and held hands. It's the stuff dreams are made of. Of course, the next day was absolutely horrible. But, let's focus on this one amazing day 😉
Heading to Grupps Tree Farm
We went to Grupps Christmas tree farm, which is about an hour north of Pittsburgh, in Harmony, PA.
I love that Grupps is a family-owned operation and they have been in business for more than 30 years! They were even voted the "best tree farm" by Pittsburgh Magazine, so it is safe to say that it is worth the drive from the city!
How to get to Grupps Tree Farm (from Pittsburgh):
Take Interstate 79 north to exit 96, Portersville/Prospect exit.
Make a left and go 4/10 of a mile to Rt. 19.
Make a left and take Rt. 19 South approximately one mile to Bauder Mill Road.
Make a right onto Bauder Mill (You'll see the sign on the corner) and go straight for 200 yards until you come to a T.
Make a left at the T and Grupps Tree Farm is located 1/2 mile on your right-hand side.
It's hard to adequately describe the landscape and feel of this place. Let's just say it's picturesque.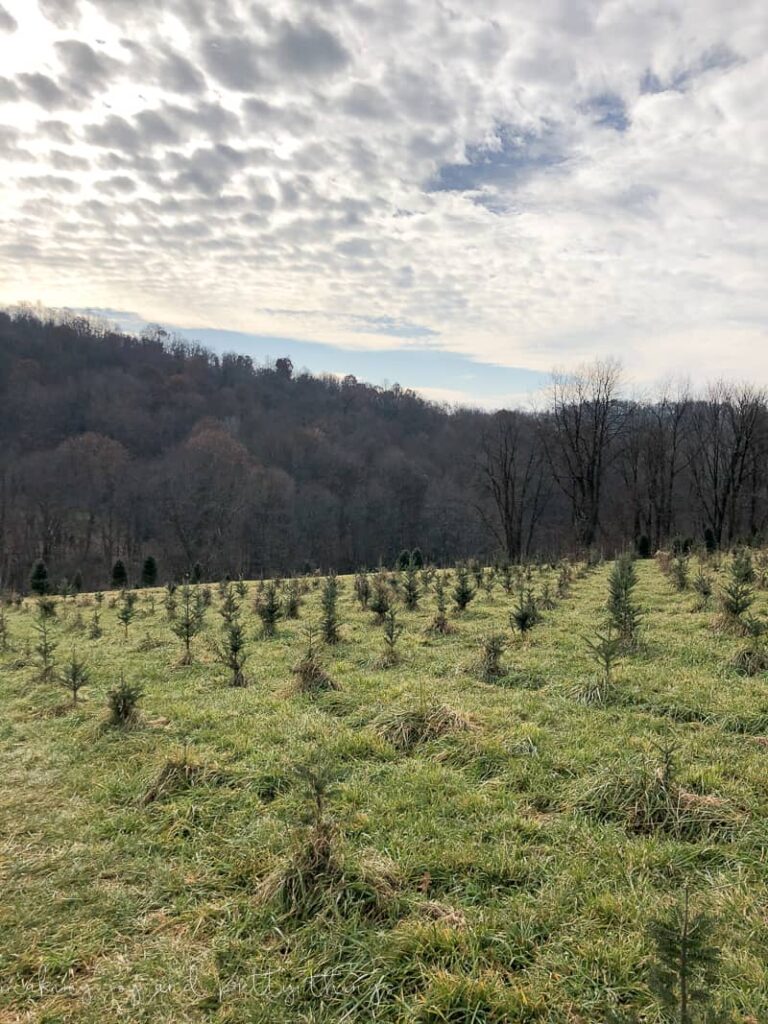 While I love living in the city, a part of me loves the countryside, too. It's nice to step out and breathe in the fresh air and look out around you and see a vast nothingness.
Or, I guess a ton of Christmas trees! Maybe not having all the conveniences of city living would be refreshing….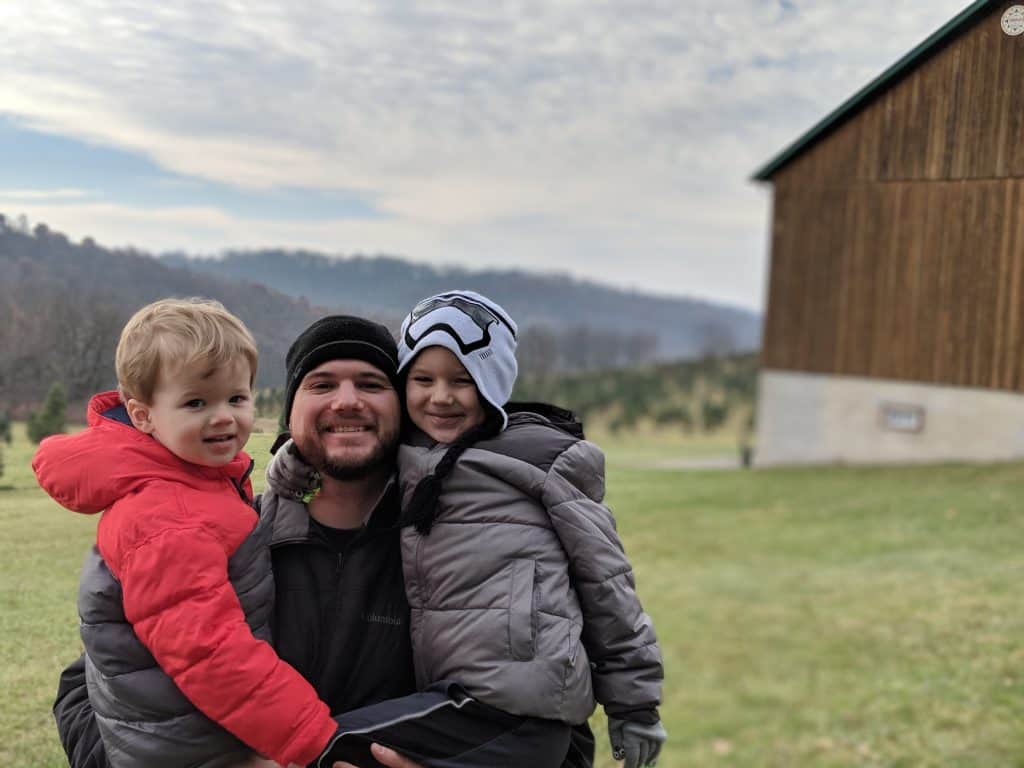 This place was just too cute. We got a saw and a tree-carrying wagon thing and headed out to look for our tree!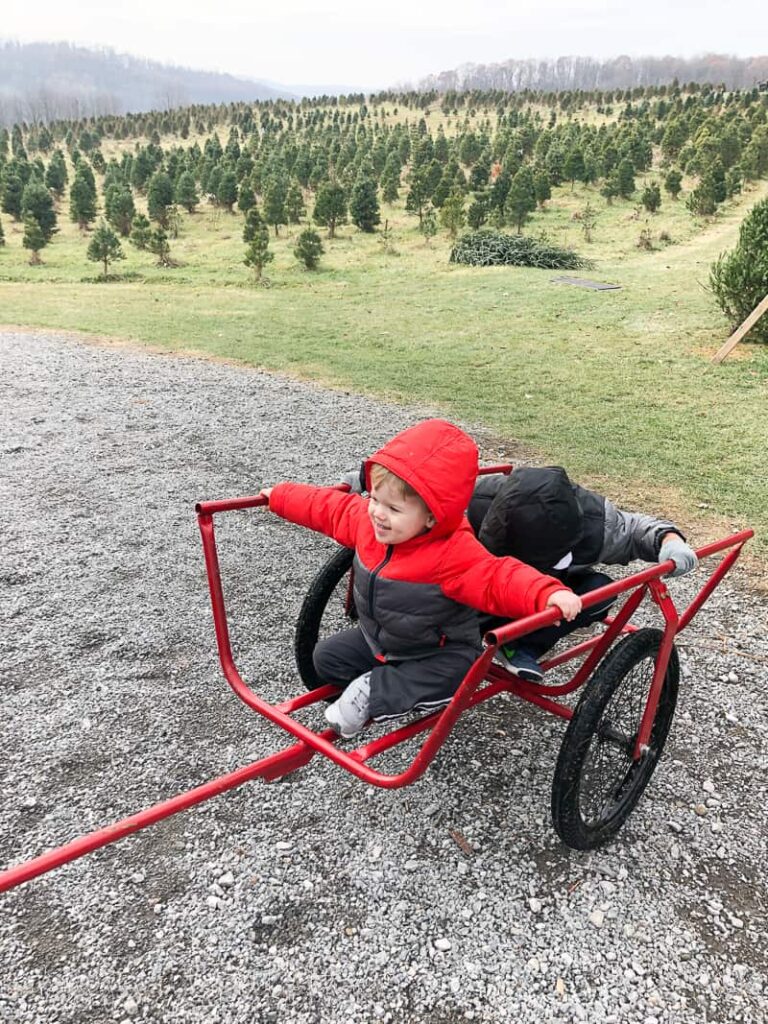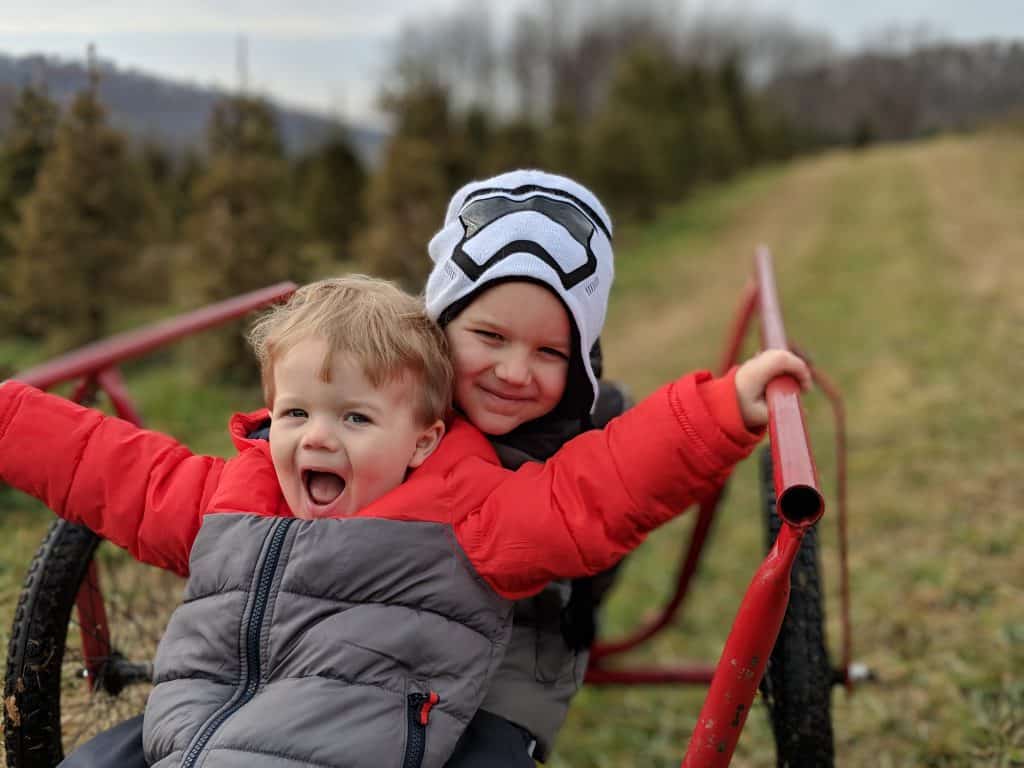 Seriously, just look at that sky!! Just beautiful.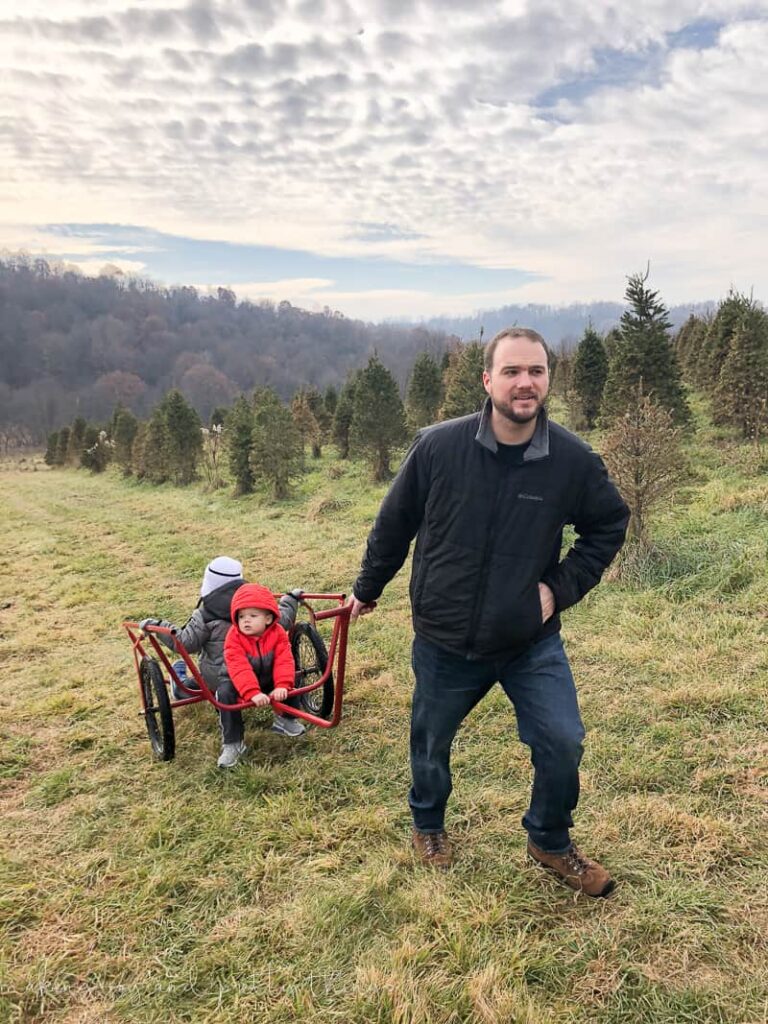 It's hard to tell from the pictures but the landscape was very hilly. Thankfully my husband pulled the kids around 🙂
Finding the Perfect Tree….
We searched for probably an hour for a tree. Apparently, there's a tree shortage here in Pittsburgh (maybe nationally, I'm not sure) so the selection was pretty slim.
I mean there were a TON of trees. We were looking specifically for one that wasn't super spiky and was like 8 feet tall.
Once we abandoned the 8 feet tall part, we were able to find one!!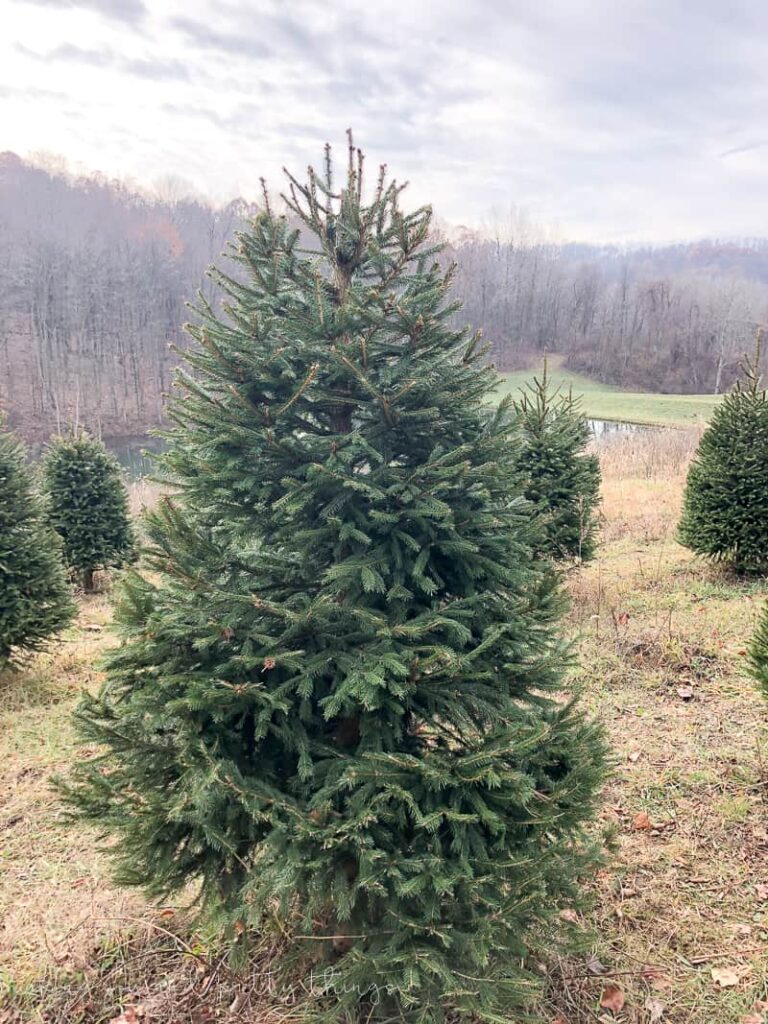 What we foresaw as a fairly elaborate endeavor proved to be extremely simple.  
After we had the tree down, we had to trek allllll the way back to the barn. Which was quite a long way. The kids were "tired" from being pulled around for an hour.
I had to carry Charlie and TJ attempted to both carry Liam and pull the tree and that failed.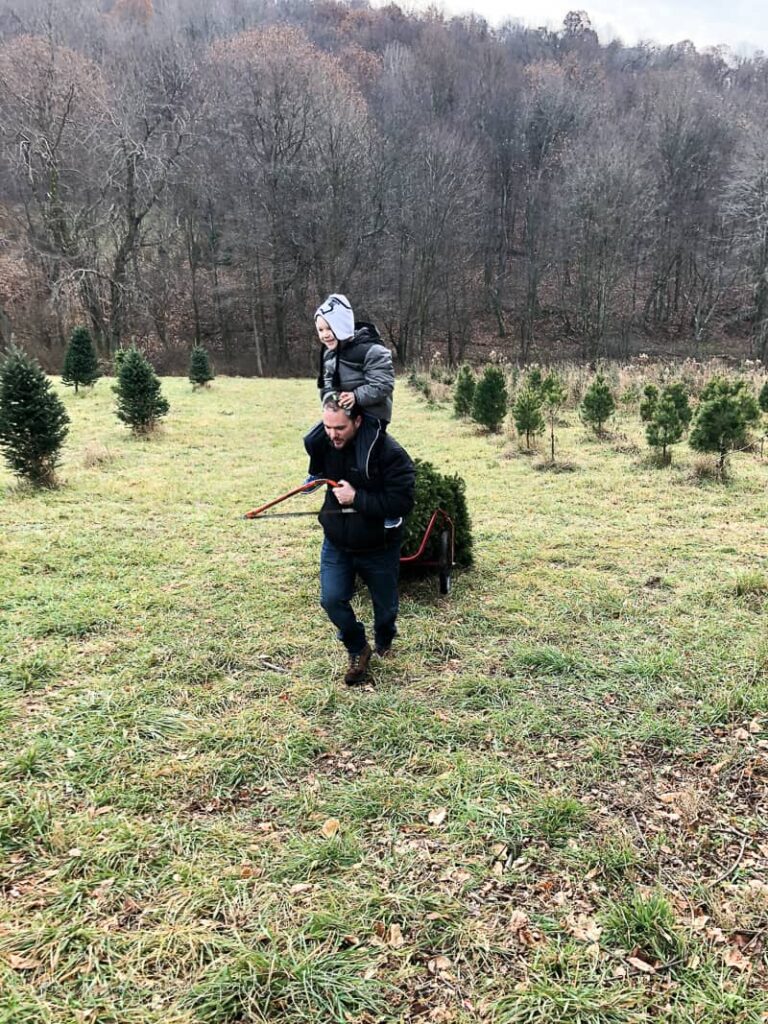 Liam had to walk and give credit where it was due it actually was a pretty steep hill. Of course, he made it as dramatic as possible then broke out into a full sprint at times. Kids, am I right?
This picture really highlights the landscape and the perfect gray, swirly clouds. And Liam with one glove on. Who knows.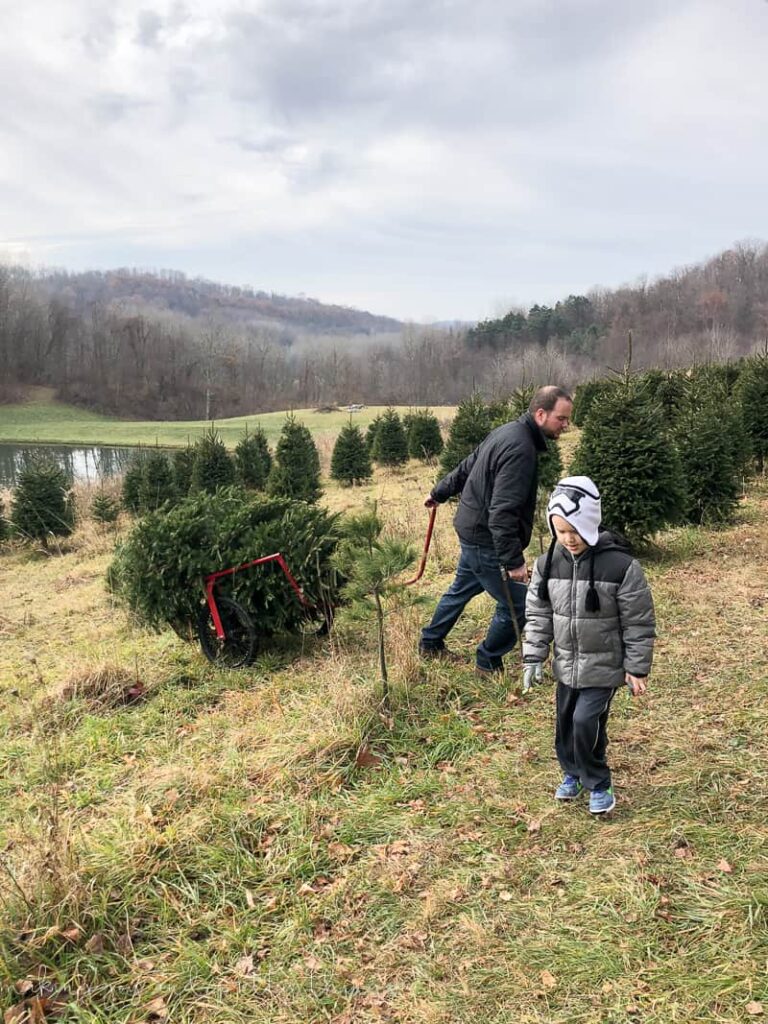 There was another couple down by where we cut our tree down who snapped a quick picture of us. For the most part, we were completely alone out there.
You would randomly pass people here and there but it was by no means crowded even though there were a ton of people there.
My parents watched Evie but I'm already excited to take all 3 to Grupps Tree Farm next year.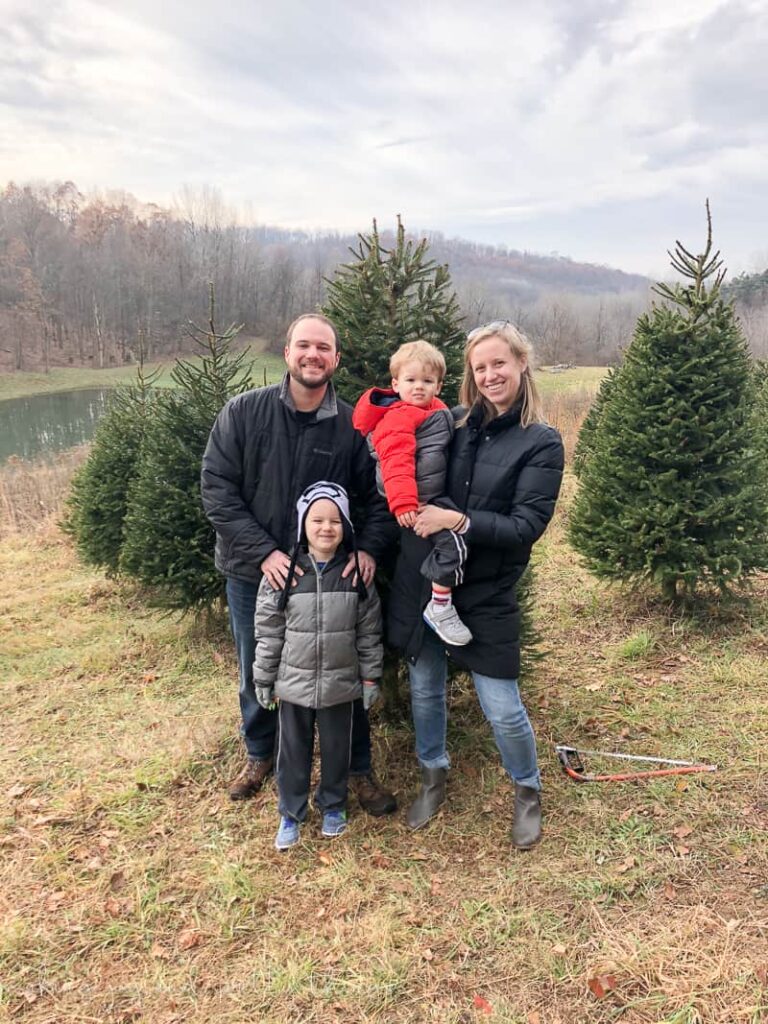 The whole thing including the tree was only $57. I thought that was such a great price and definitely worth that and more for our experience. They wrap it up and tie it to your car, too. That's probably the worst part of getting a tree and worth $57 in and of itself!
With the tree home, it was time to decorate!
Another one of my favorite traditions revolves around ornaments. I love pretty styled Christmas trees that you see on Pinterest or in magazines. But, I equally love trees full of sentimental ornaments, though they may not look quite as "pretty".
Hopefully, when we move to our new home, we will have room for 2 Christmas trees. One will be a pretty styled tree just for me and one can remain our family tree.
Since we just have one tree now, I love loading it to the brim with tons of ornaments. My aunt (also my godmother), bought me an ornament every year for Christmas. When I moved out, my mom gave me all the ornaments and I love looking at each one of them and remembering the year.
I decided to play off of that a bit for the kids. We started this new tradition a few years ago.
Our Christmas Tradition
Each of the kids gets to pick one new ornament every year to put on the tree. Then, when they move out (cue all the tears), I'll give them all their ornaments for their very own tree.
While it's fun to go to Target (of course) and pick out an ornament, my favorite part is looking at what they pick each year and remembering them at that stage.
For instance, Liam picked a Thomas the Tank Engine ornament 2 years ago. My sweet boy was just 3 years old and couldn't go anywhere without a train. We watched Thomas every day and played endlessly with trains. You practically have to force him to even touch a train now.
While I realize it's the natural progression for him as he gets older, I can't say my mama's heart doesn't get a little sad remembering him from years ago. I try to keep it positive and look back fondly at my memories with him.
This year, Liam picked a transformer and Charlie picked R2D2. I picked a little beaded heart for my Evie girl.
I'll write their name and the year on the back of each ornament so we can remember the year.
You can see what else they picked the past few years. I wish I would have started when Liam was a baby!!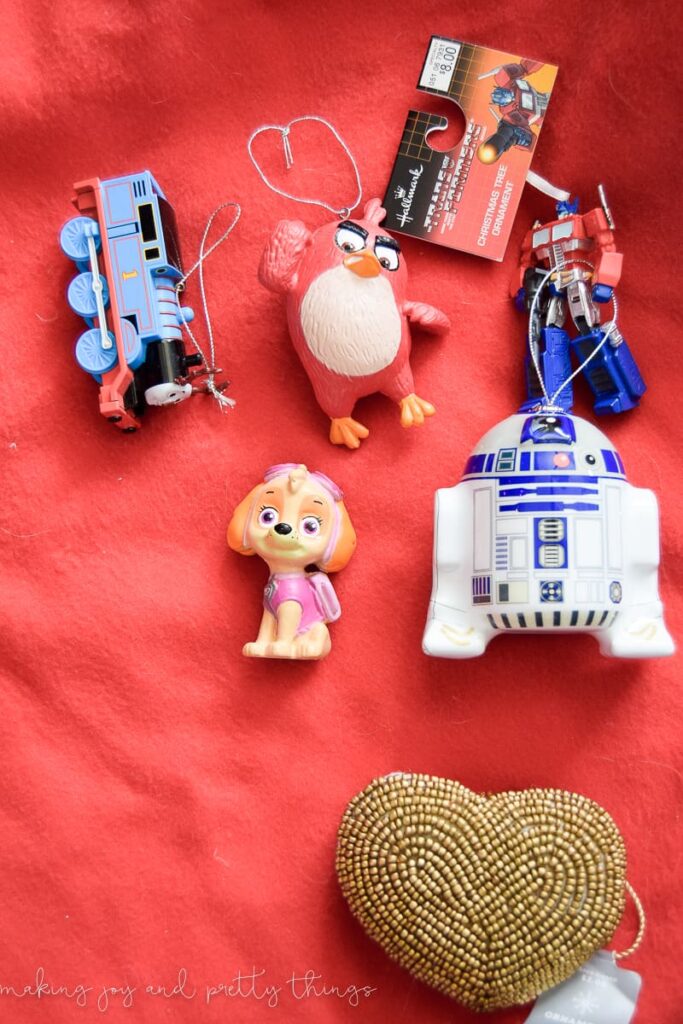 If you like this idea, PIN the image below to share 🙂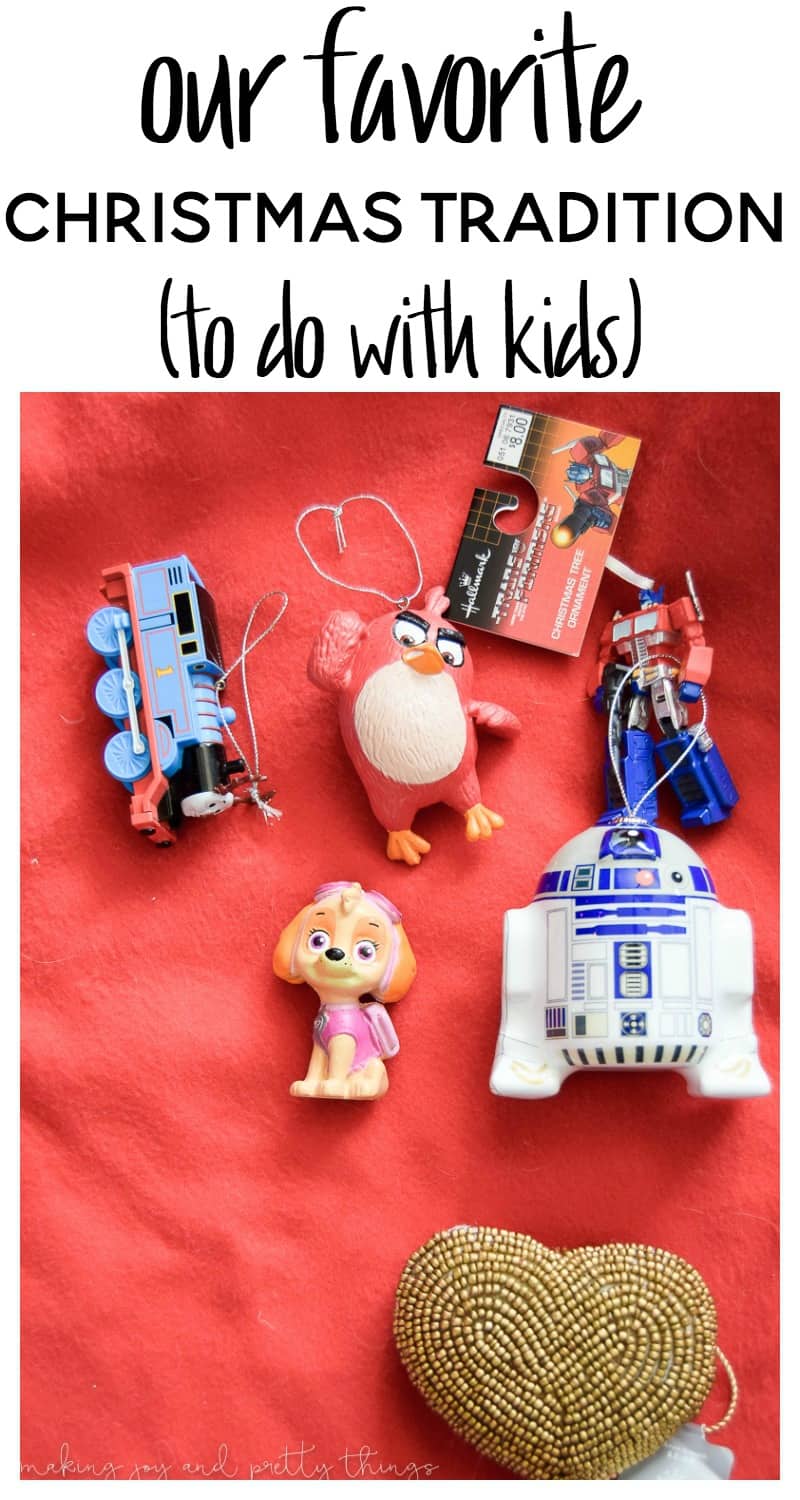 Wishing you a joyful day!