Easy Book Advent Calendar with Free Printable Labels
Start a new holiday family tradition with a book advent calendar to countdown to Christmas. Use our free printable labels and Christmas book ideas to create your own book advent calendar!
I am SO excited to share one of our favorite Christmas traditions with you today – a book advent calendar.
Every day starting on December 1st, unwrap and read one Christmas book together as a family! The excitement will build as you countdown the days til Christmas.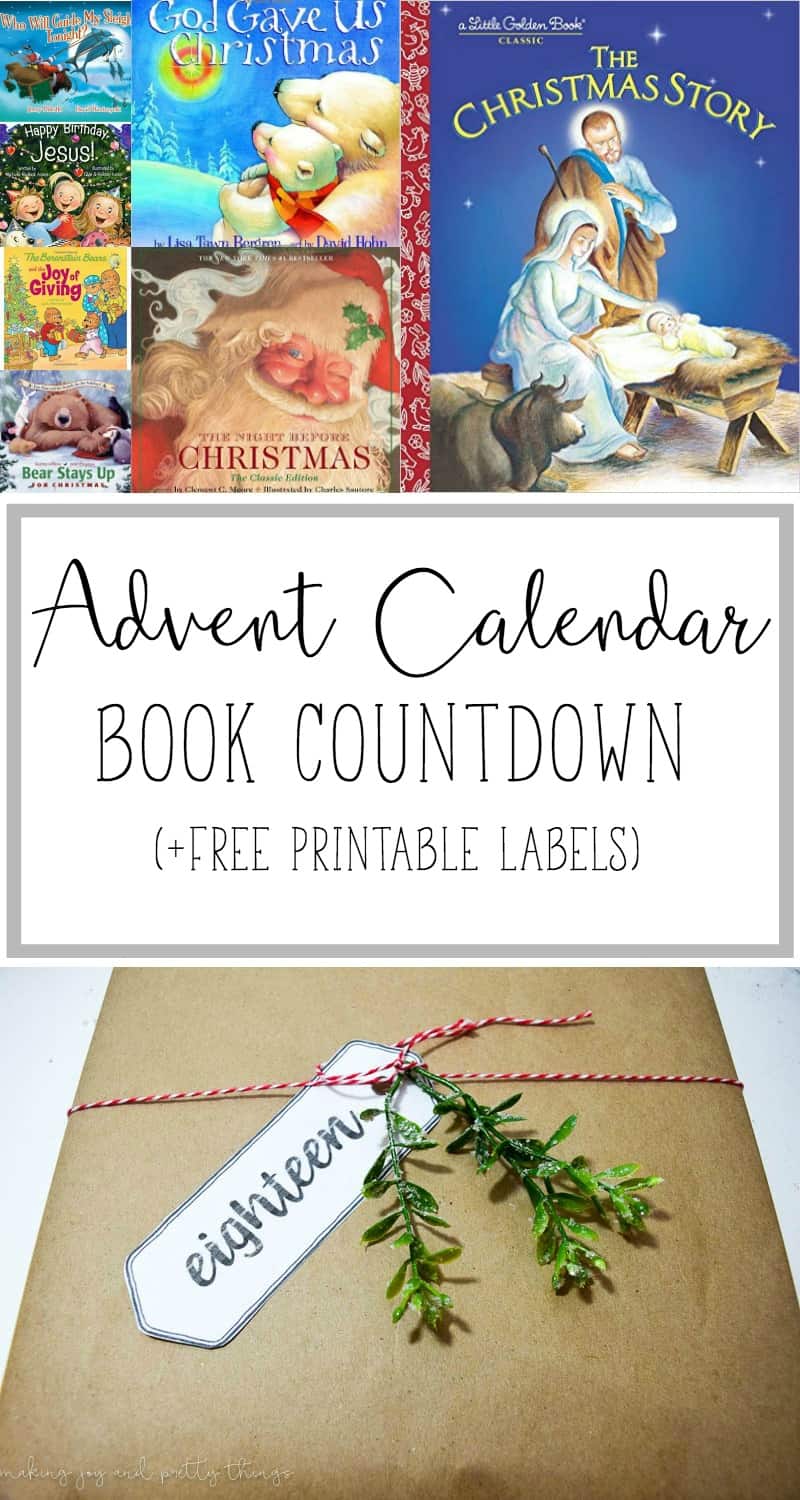 This post contains affiliate links. Please, click here to read my disclosure policy.
We think it's so important to keep our heads on straight through the holiday season. And not just ours, but our kids' as well.
The hustle and bustle of December often will leave you with little time to sleep or eat let alone reflect on the true meaning of Christmas.
Being at an age where the little ones think Christmas is all about getting presents, it seemed especially important to remind them just why we celebrate this holiday.
Why is giving more important than receiving? Why kindness, joy, and forgiveness are more important than the number of presents you unwrap?
While I try to do a number of different activities with the kids (Jesse Tree ornaments are a favorite!!) to keep their focus on giving and the birth of Jesus, we so often find ourselves with very little extra time.
Why a book advent calendar is a great idea for busy families
The one time we can always rely on that comes every day is bedtime (THANKFULLY!!). I love snuggling with my little ones and reading a bed-time story. It's the one time of the day I can count on them to be calm and still for more than 5 seconds (most of the time).
So, bedtime is the absolute perfect time to unwind, snuggle up and read a Christmas/Advent/Joyful story.
How to create your own book advent calendar
Do I even have to tell you how much little kids love to unwrap presents??
That's why we recommend wrapping up each book individually and labeling them with our free printable book advent calendar tags.
Your kiddos will eagerly unwrap each one every night of December as you countdown the days until Christmas.
But, it's not about unwrapping, it's about the sweet message each book brings that will hopefully sink in for these little boys as we lead up to the anticipation of Christmas.
Wrapping your books for the advent calendar
To wrap the books, we use regular kraft paper that you can buy anywhere and some simple red and white twine + book advent calendar printable labels (linked below).
Free printable labels for your wrapped books
You could also print these out on brown kraft paper and wrap the gifts with black paper or regular white paper.
Click the links below to download (will open in a new tab, and save to your computer):
Printable Labels 10 through 18
Printable Labels 19 through 24
Here's one finished, wrapped book!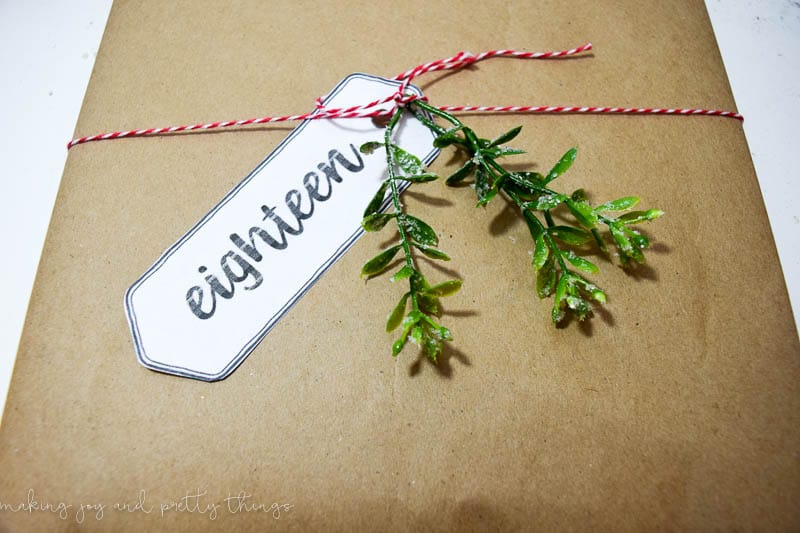 Where should you keep the books for our Christmas advent calendar?
The book advent calendar works a little better if the Christmas books are packed up for the rest of the year to keep them special. If they can read them all year long it's certainly not going to be as exciting of an experience for them.
I like to keep them packaged up with the rest of our holiday decorations so that every year when I get out the Christmas decorations, I find the books and wrap them up again and label them.
The best Christmas books for young kids
Below I've listed all the books we are reading this year for our book advent calendar and a few extra recommendations for 28 Christmas books in total.
There are several religious ones (Happy Birthday, Jesus!), a few cute and goofy books (Bear Stays Up – seriously so cute), and some holiday staples (How the Grinch Stole Christmas!).
I don't wrap/label in any particular order except that the Night Before Christmas is read … well… on the night before Christmas 🙂
They also aren't listed in any particular order below, just how I pulled them out of the bin.
Keep in mind my kiddos are both under 6. If your kids are 10 years old or 6 months, the same books may not apply.
As your kids get older, feel free to swap out some of the younger kids' books for Christmas books geared toward older kids.
If you just do a few new Christmas books each year, your books will continue to grow with your kids and this tradition will feel new and special each holiday season.
Alright, friends! Since it's officially the Christmas season you can expect TONS of Christmas DIYs coming your way.
Hope you have a lovely start to the holidays 🙂
Wishing you a joyful day!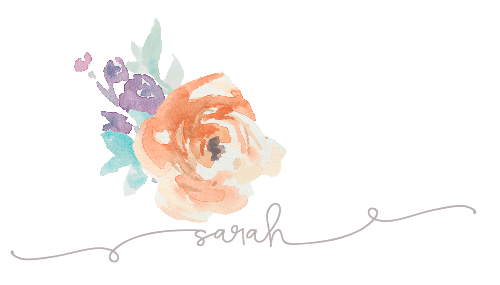 This post was originally published in November 2016 and was last updated in November 2022.