DIY Modern Fall Gold Ring Wreath
See how I made a gold ring wreath using a macrame ring.  If you're looking for wreath ring ideas it's the perfect DIY modern wreath with moody fall colors.
It's the second Wednesday of the month which means it's time for another month of Inspire me Creativity! You can catch up on past months here.
This month, we are focusing on all things Fall. Which I think seems pretty fitting. I'm reluctantly accepting that Fall is in fact here.
I have to find all of my Fall stuff packed away somewhere in the basement. But, to ease my way into Fall decor, I figured I could make a simple wreath. Can you tell I'm not super thrilled Fall is here?
I love the trend of minimalistic wreaths. They're simple, sleek, and elegant, a welcoming break from the overly busy grapevine wreaths. Though, there's nothing wrong with grapevine wreaths necessarily (I've made a few wreaths with them!). I just like the minimalistic trend.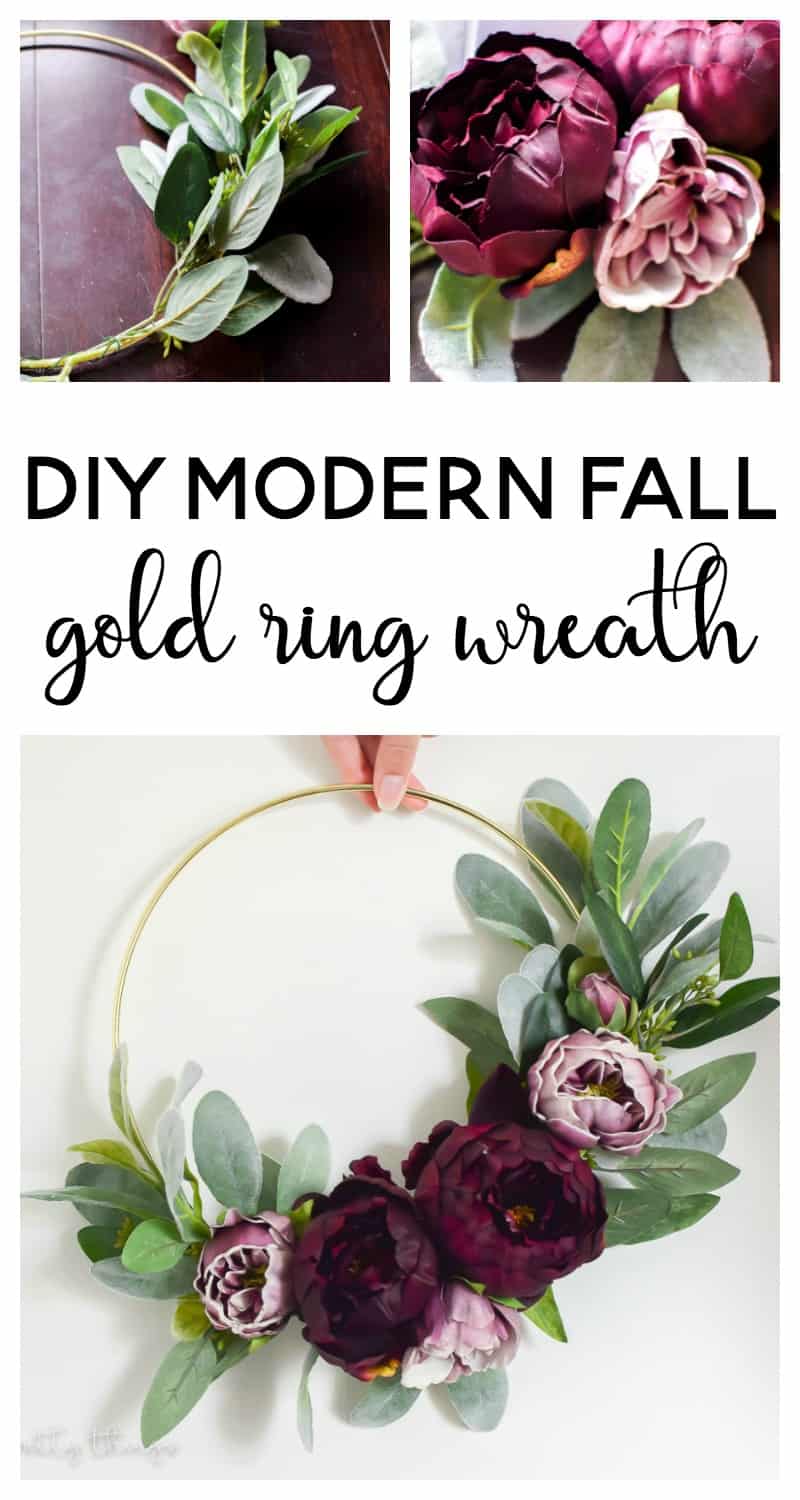 Get started making your gold ring wreath with these supplies
To start, I picked up a gold macrame hoop. There are a ton of sizes available so you're bound to find something that works. It's the perfect base for a simple wreath. Plus, a gold ring wreath gives it a little shine and I would say falls into the category of Fall-like colors.
I wanted to make a "moody" wreath. Not sure if that's even the correct terminology. When I think of moody colors I'm drawn to maroon, deep purple, and very dark blue. Basically, since I'm not quite ready for Fall, I didn't want to use traditional Fall colors like red, orange, and yellow.
The unconventional gold metal ring coupled with some moody colored flowers seemed to be the perfect "I'm not quite ready for Fall" Fall wreath 🙂
This post contains affiliate links. Please, click here to read my disclosure policy.
Step 1. Cut the flowers for the gold ring wreath
I started by cutting the eucalyptus and lamb's ear stems off, leaving a bit of stem at the bottom of the leaves. Then, I cut the peony bulbs off of their branches so that the back of each peony bulb was flat.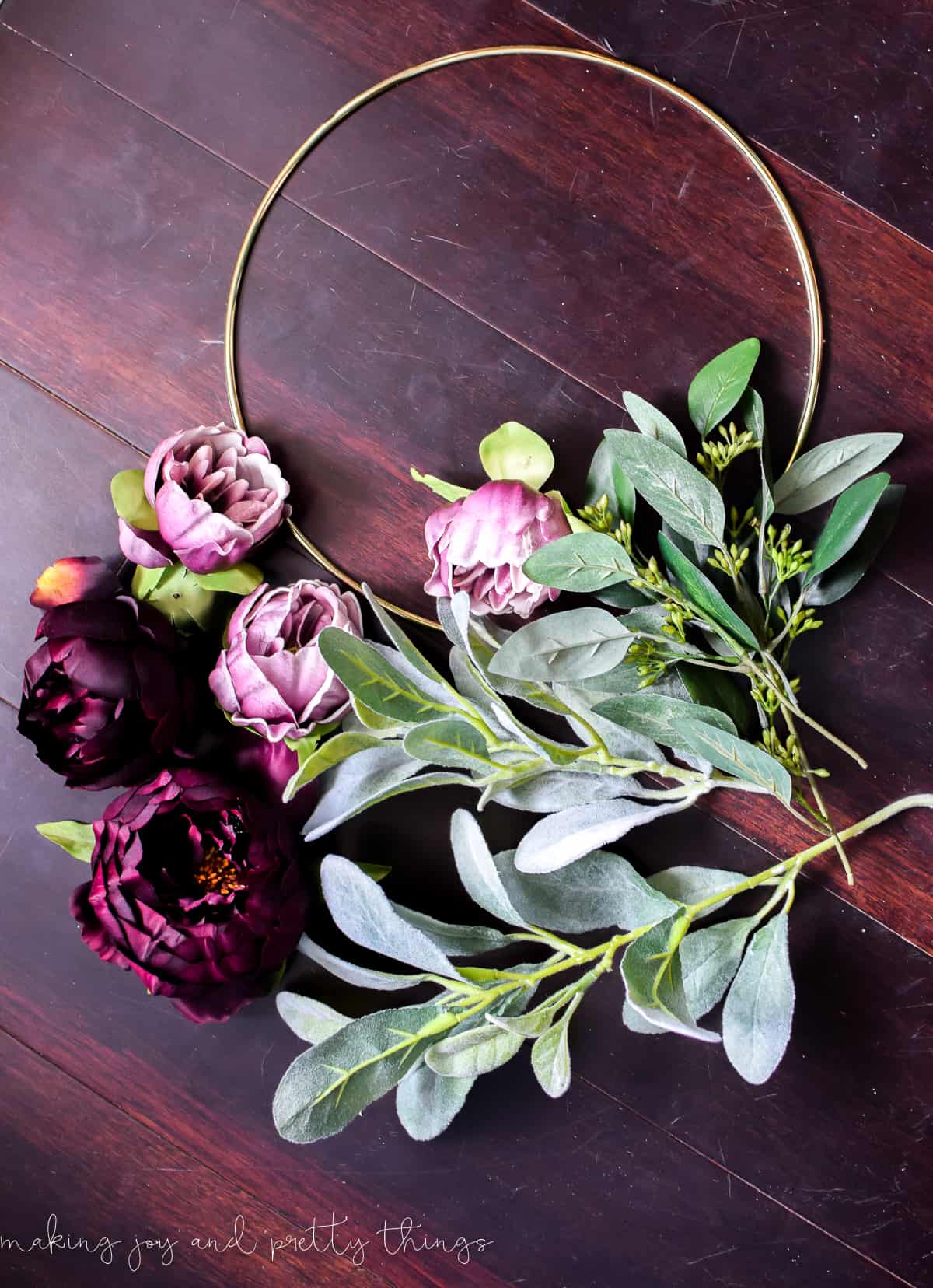 Step 2. Attach floral to gold ring wreath with floral wire
Using the floral wire, I attached the lamb's ear to the gold ring. I had the two ends meet without overlapping. This area where they meet is where you'll attach the bigger peony bulbs soon.
The floral wire extends almost the entire length of the lamb's ear stem. I wanted it to stay close to the hoop instead of being able to fall or drape down.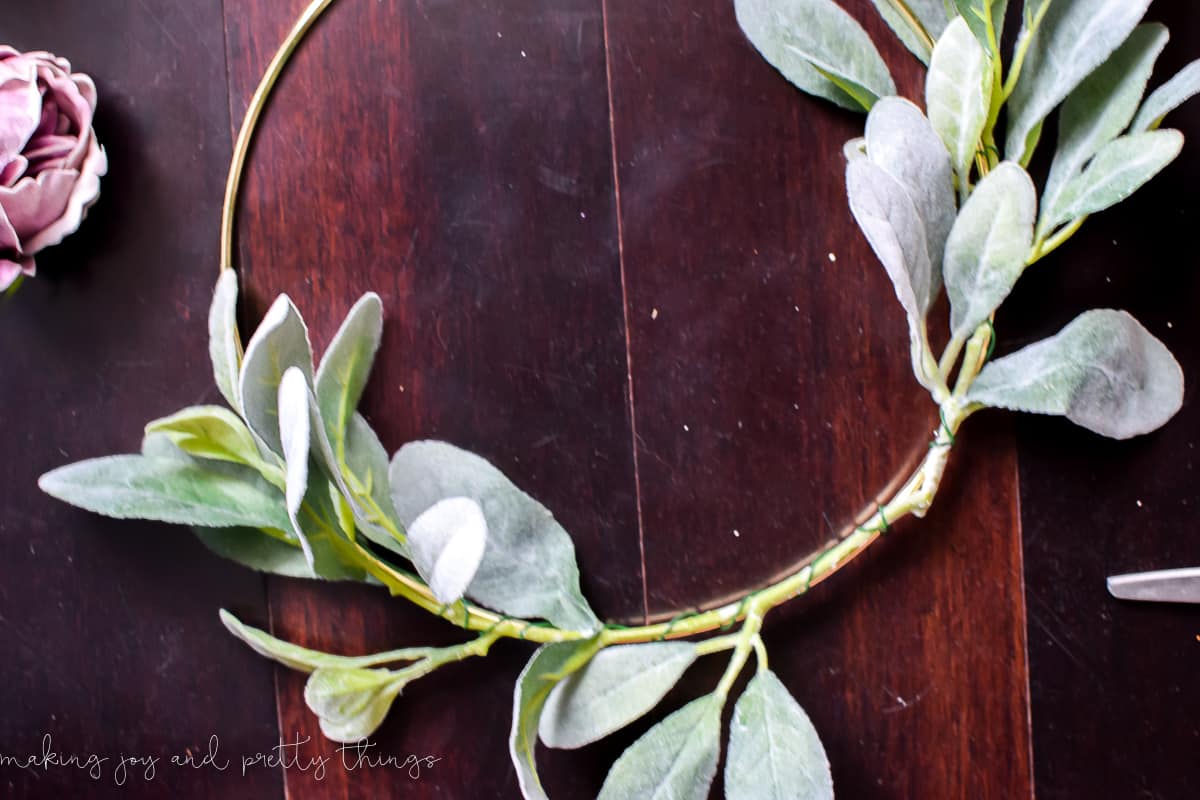 Once the lamb's ear was on, I attached a piece of seeded eucalyptus over top of the lamb's ear using the floral wire again. With this step, you want to try and keep the floral wire a little more hidden.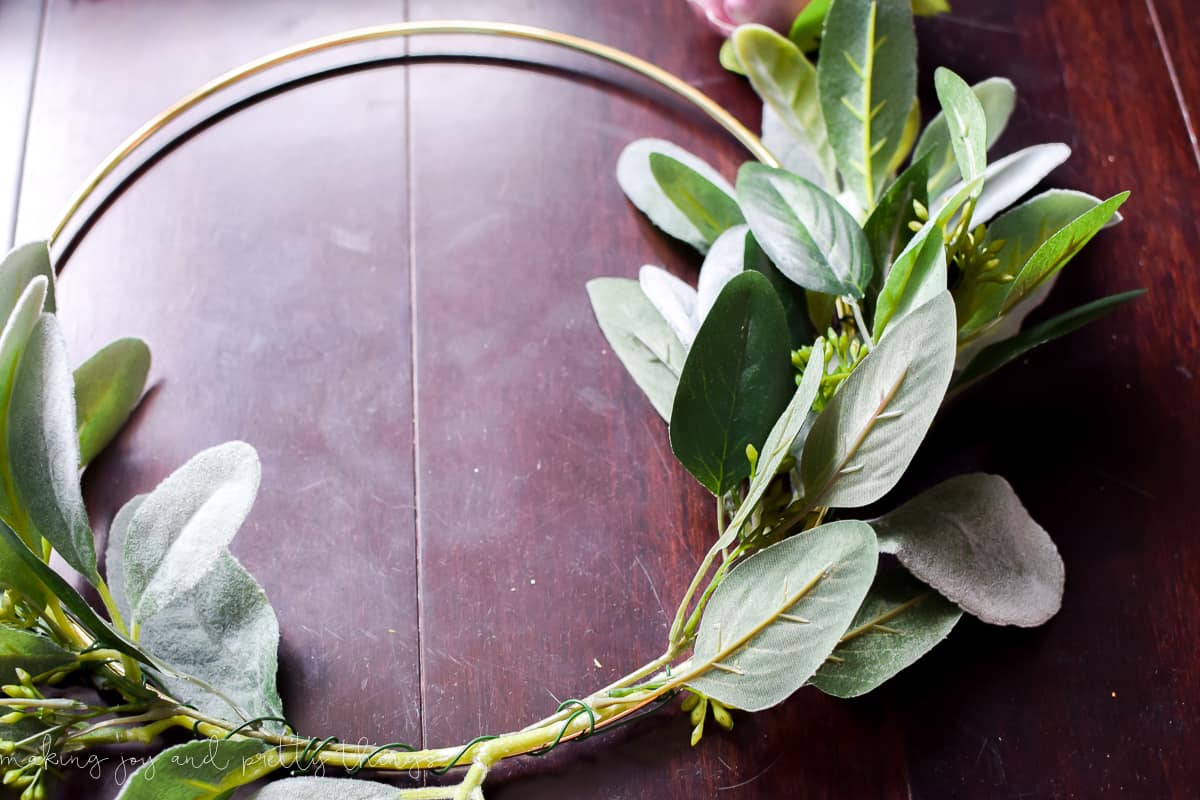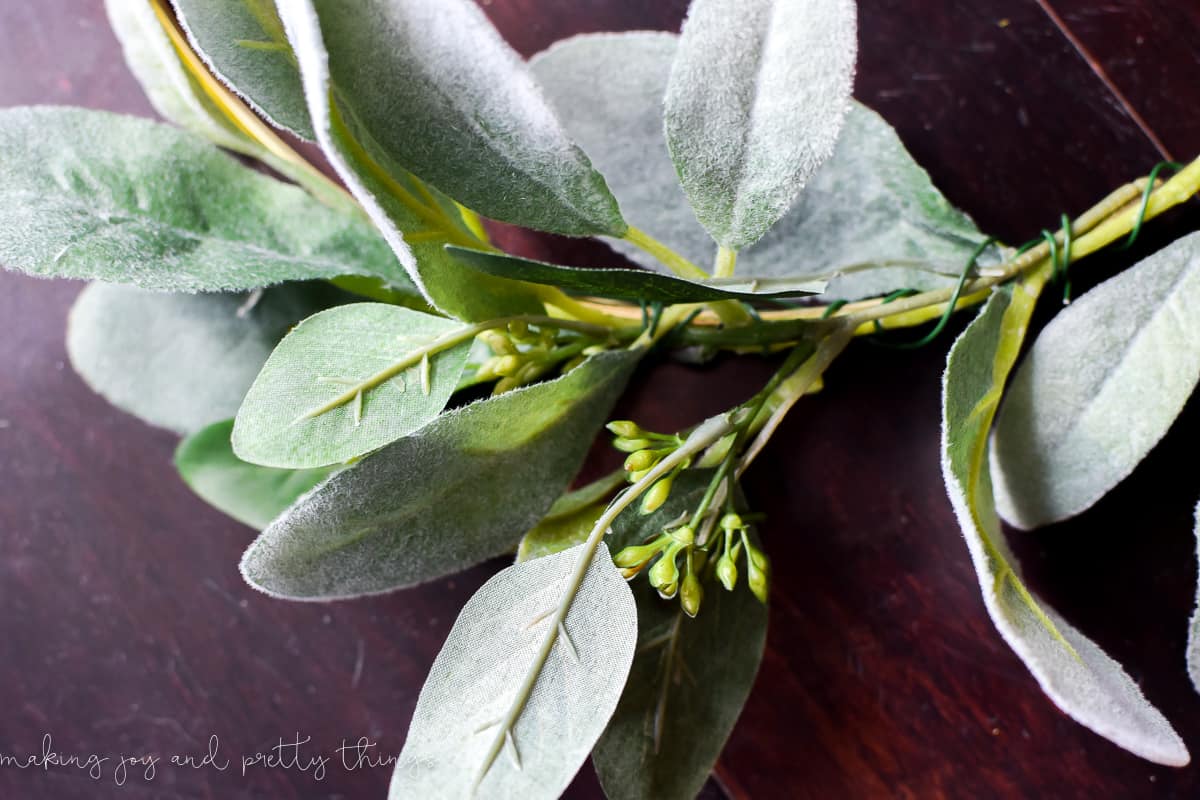 Now to the fun part!
Step 3. Add peonies to your gold ring wreath
I laid out how I wanted the peonies to go on the wreath before I actually glued them on. Starting with the bigger burgundy peonies, I applied a generous amount of glue from the hot glue gun to the back. Then I pressed them onto the area where the lamb's ear stems meet.
Last, I added the lavender peonies using a glue gun. I tried to place them along the wreath where the floral wire was most visible.
And, that's it! I did this whole project in about 20 minutes!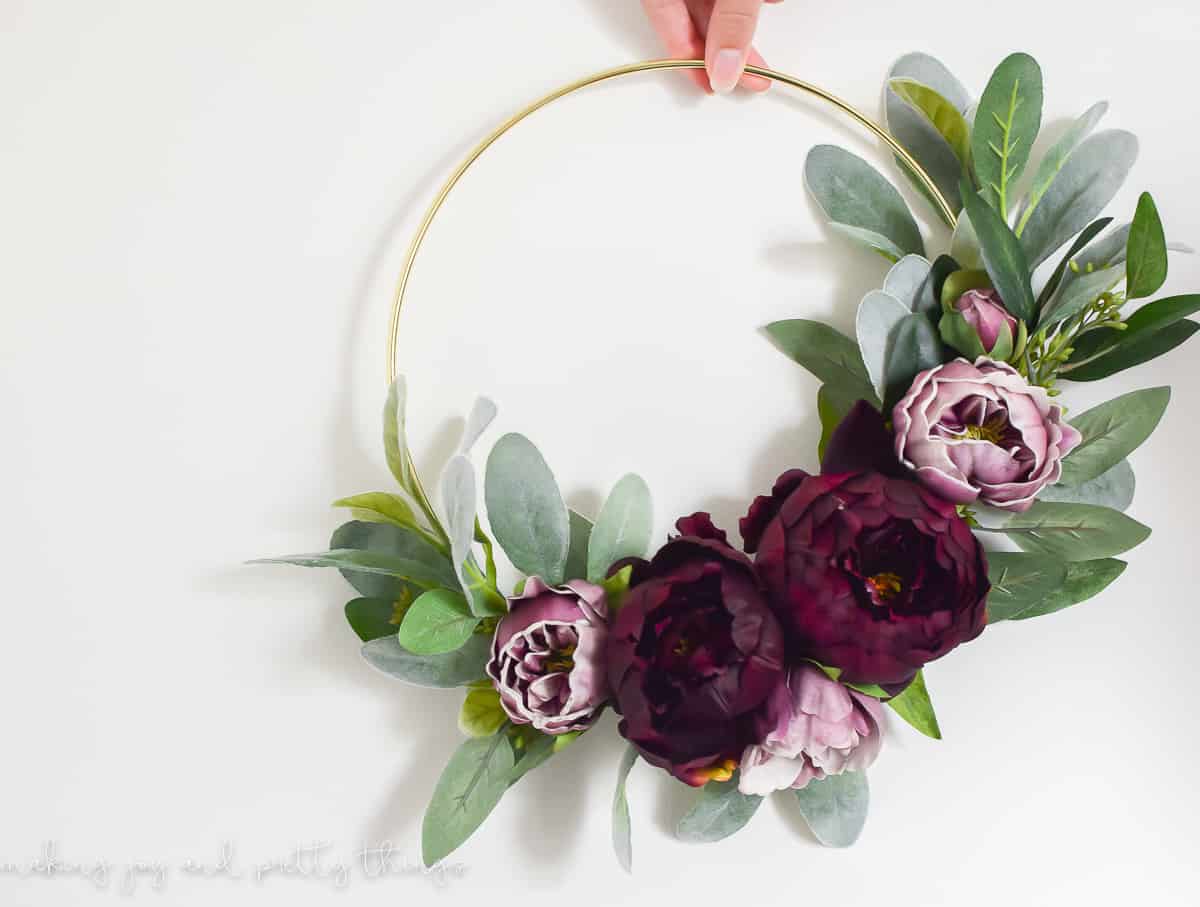 I honestly think it looks amazing. The gold ring with the moody, dark flowers is just perfect and really "fall" without being overly obvious.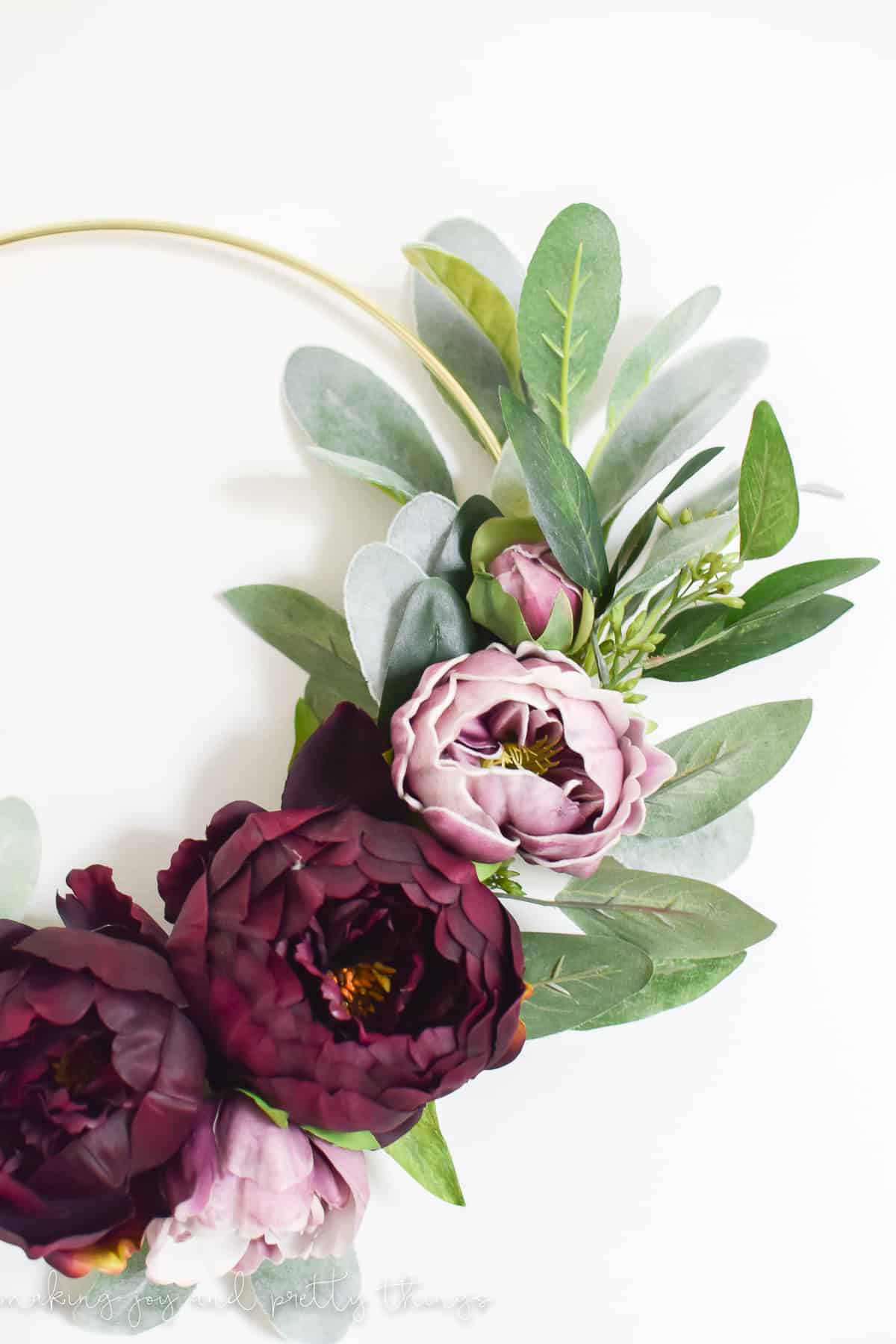 I hung it on our front door using a cheap-o 3M strip hook thing.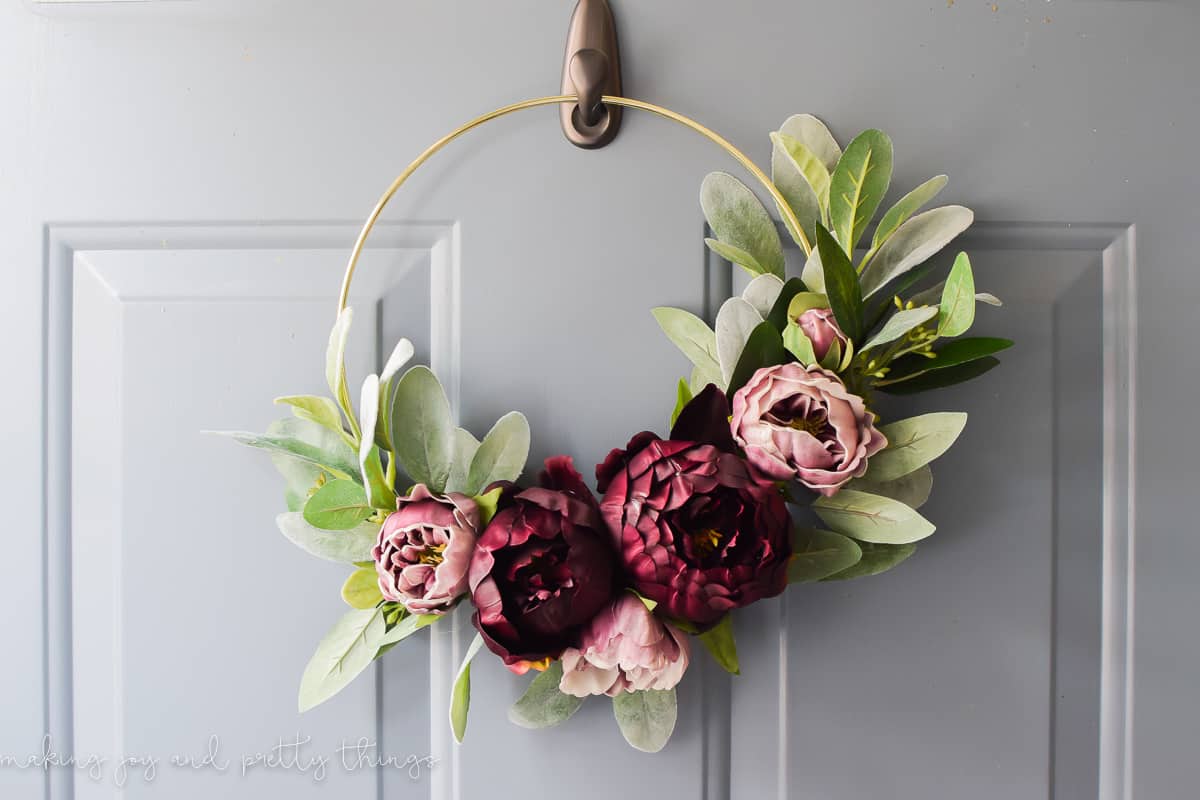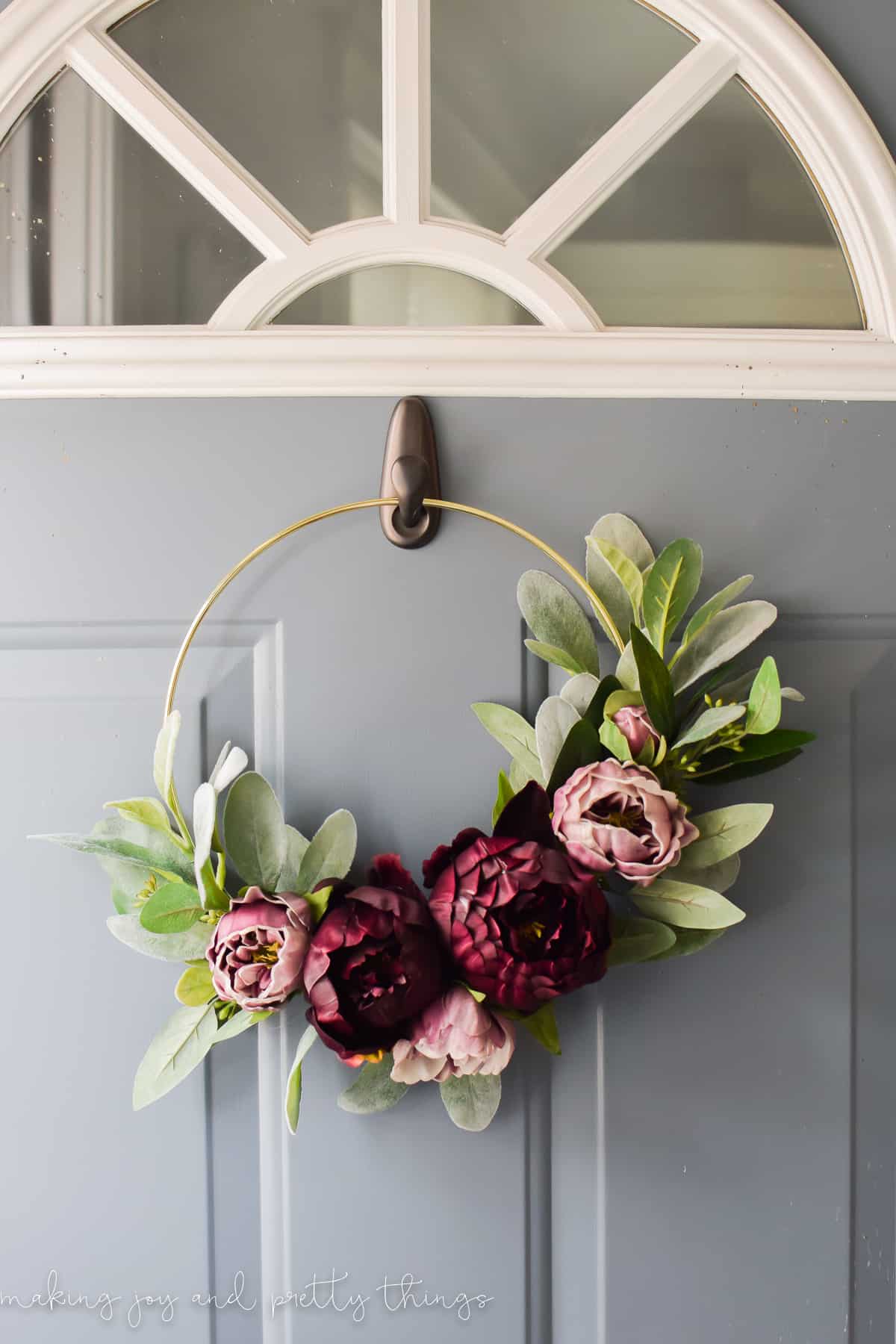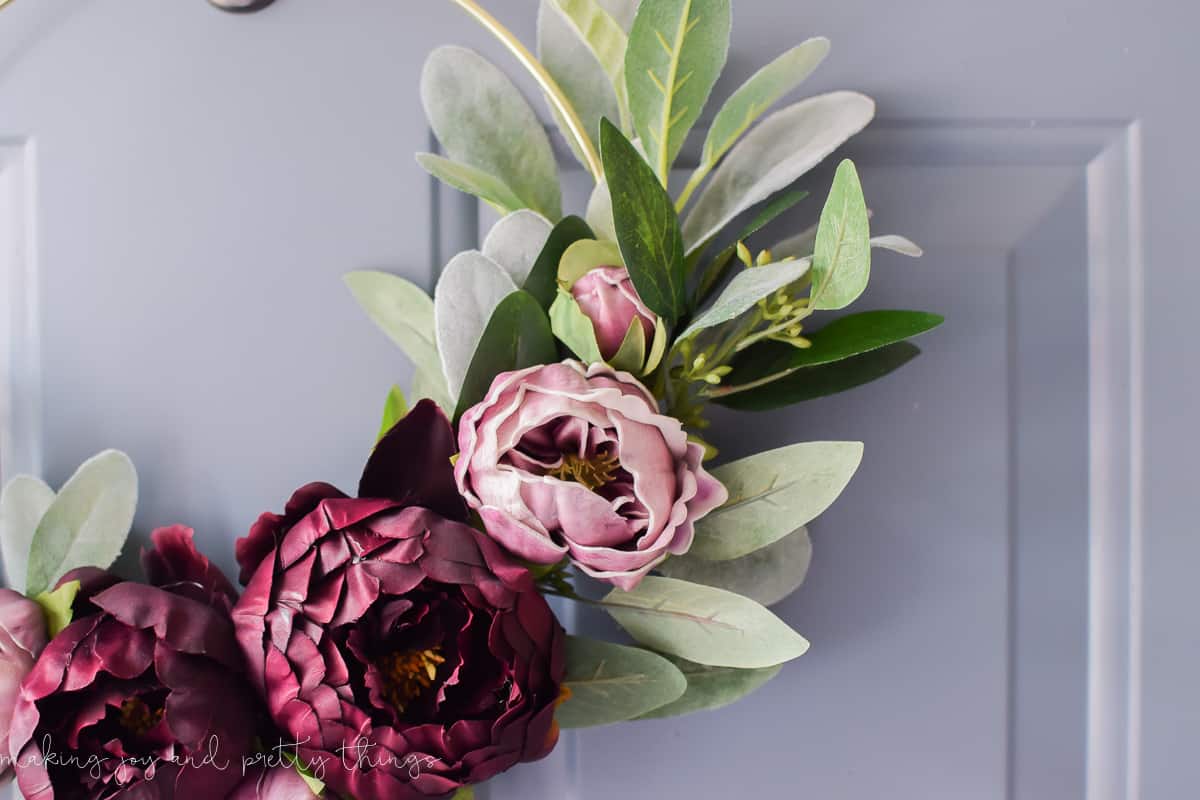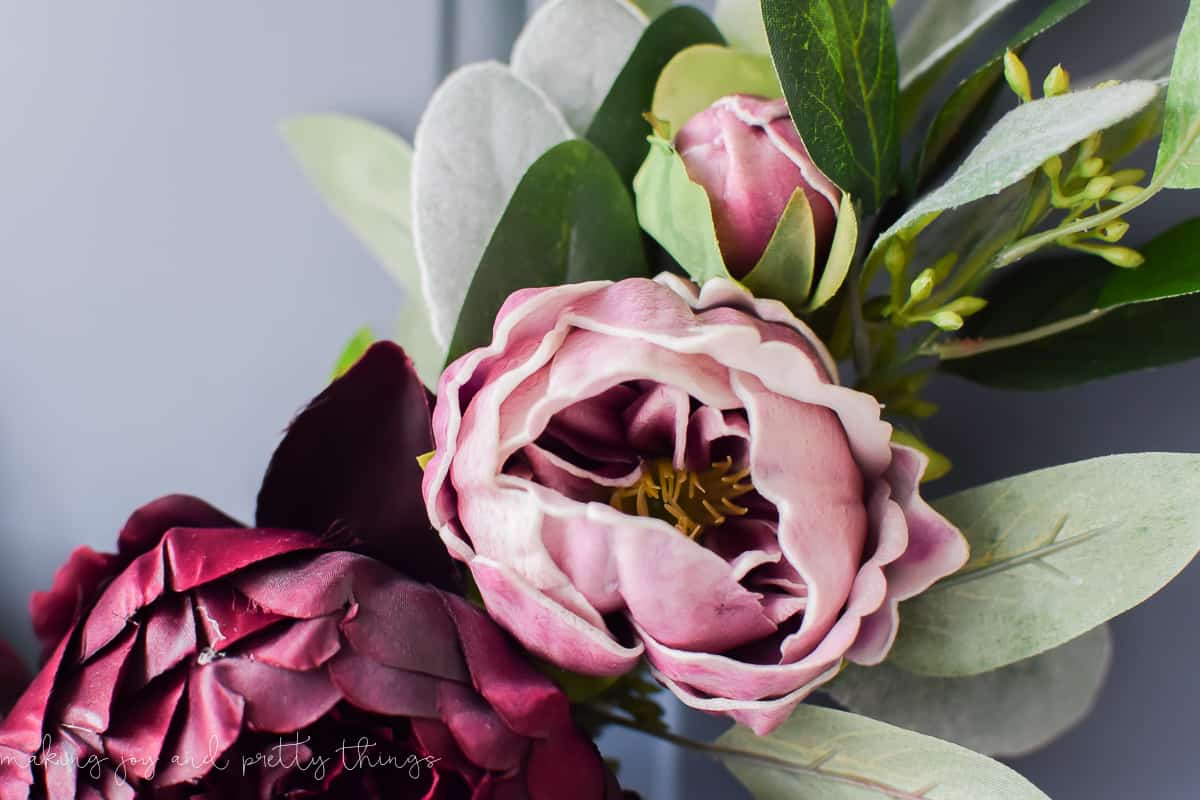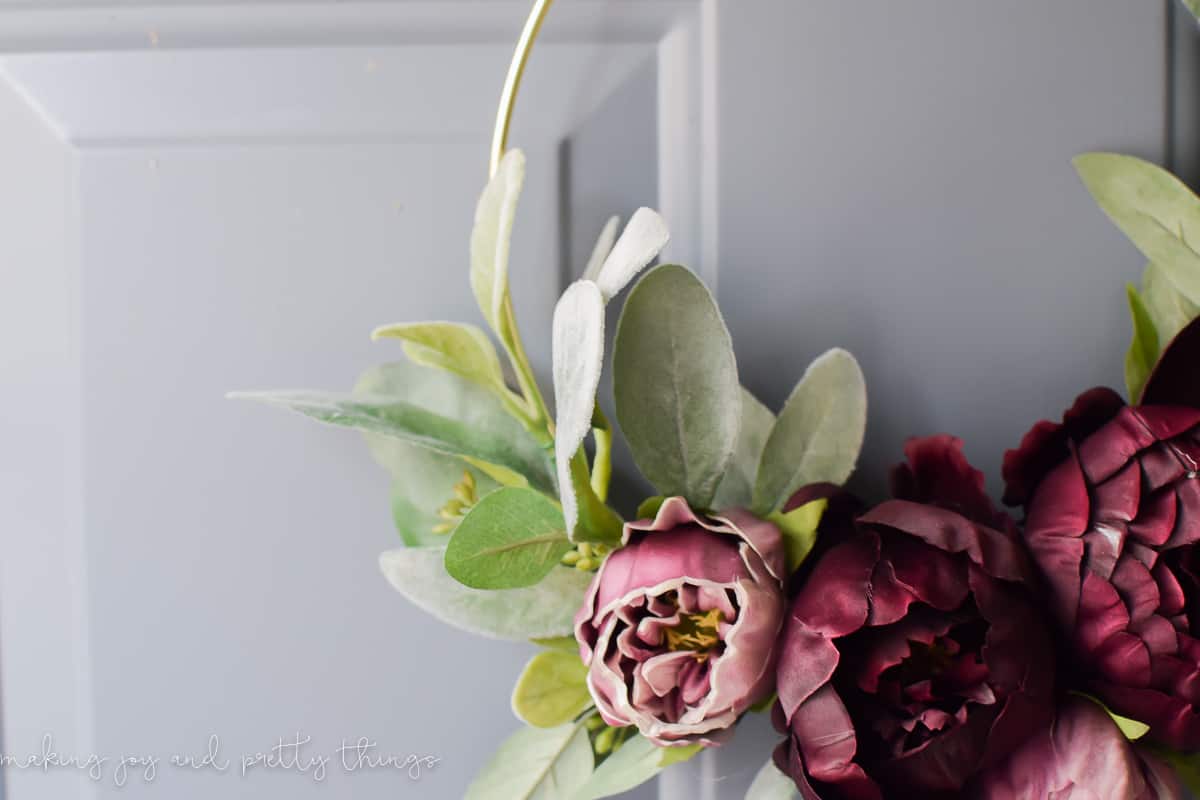 Remember to check out what the other ladies of Inspire Me Creativity made this month for the Fall Theme!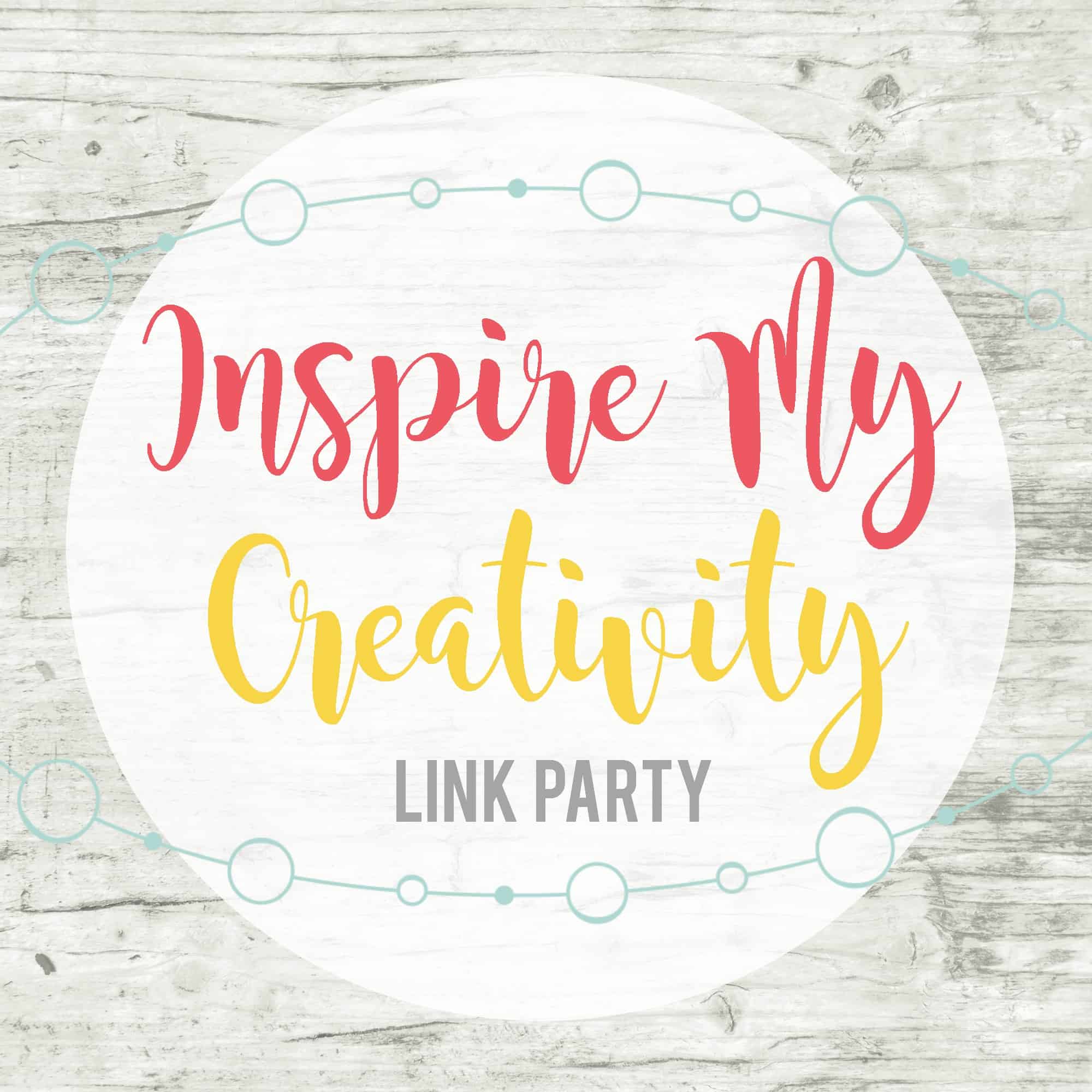 Next month we'll be making something with…embroidery hoops!! Check back next month to see what we make 🙂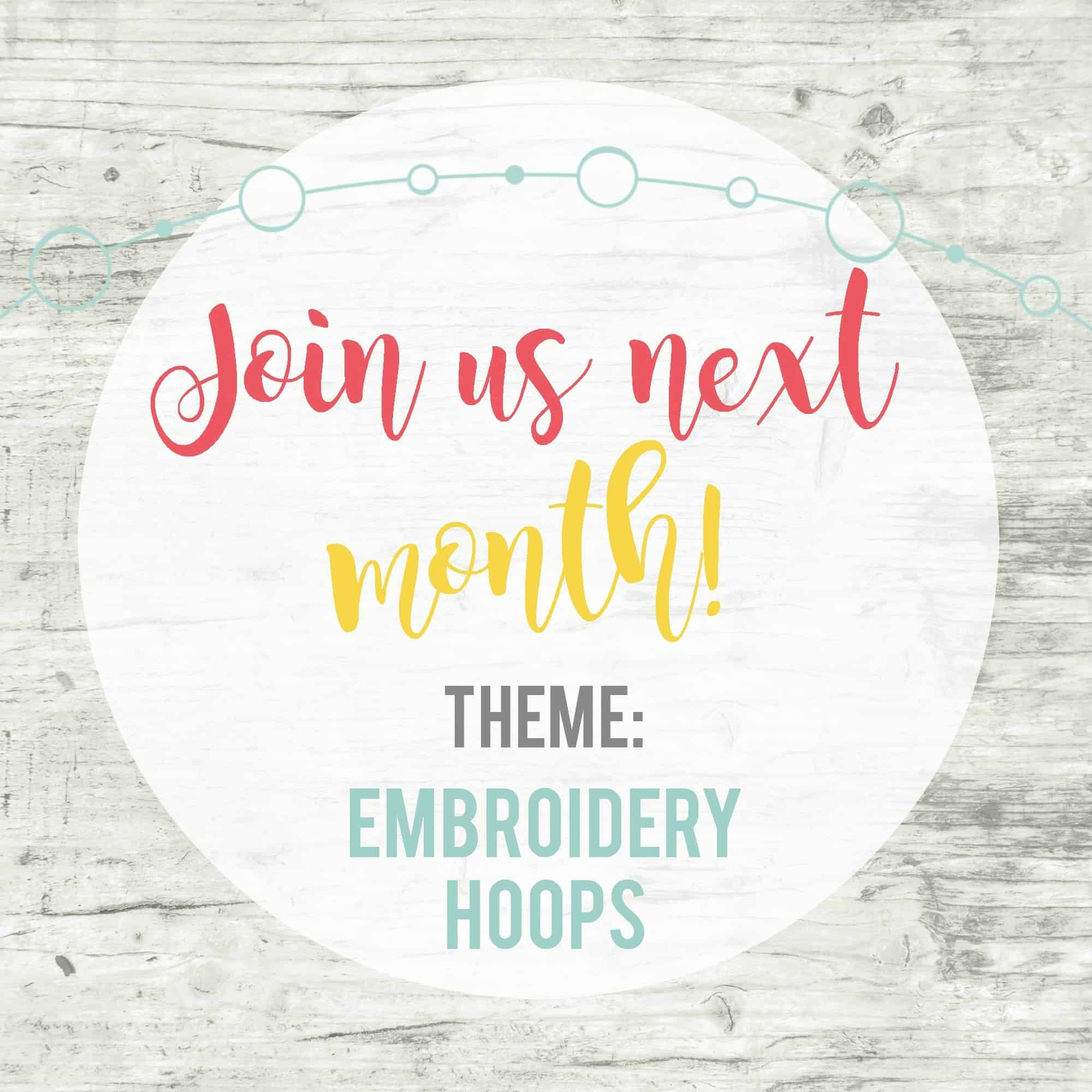 Wishing you a joyful day!
How To Make A Gold Ring Wreath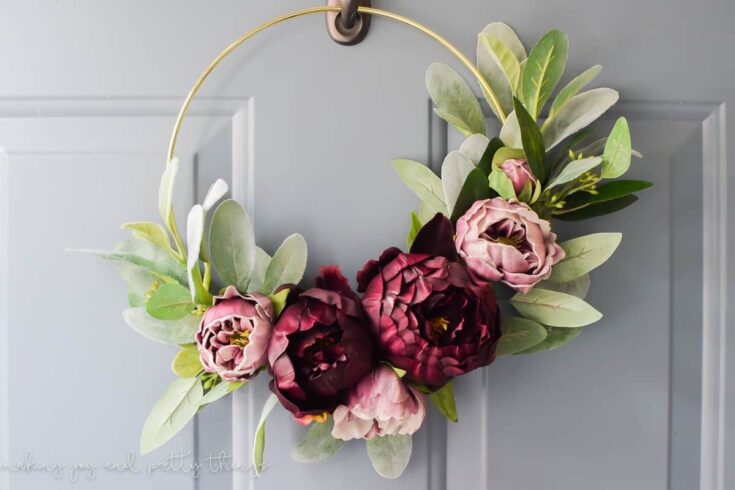 See how I made a gold ring wreath using a macrame ring.  If you're looking for wreath ring ideas it's the perfect DIY modern wreath with moody fall colors.
Materials
Instructions
Cut the flowers for the gold ring wreath
Attach floral to gold ring wreath with floral wire
Add flowers to your gold ring wreath