5 Ways to Update Your Fireplace
Whether you have an old or new house, chances are you have some type of fireplace in your home! Check out these 5 ways how to update a fireplace.
That's why I'm chatting about all thing fireplace today! Let's explore 5 ways to update your fireplace!!
We moved into our new home a little over a year ago. While we've slowly been redoing some rooms (office and dining room so far!), the living room has stayed the same.
And, that's about to change!!! *cue happy dance*
Here's what it looked like for our new home tour last year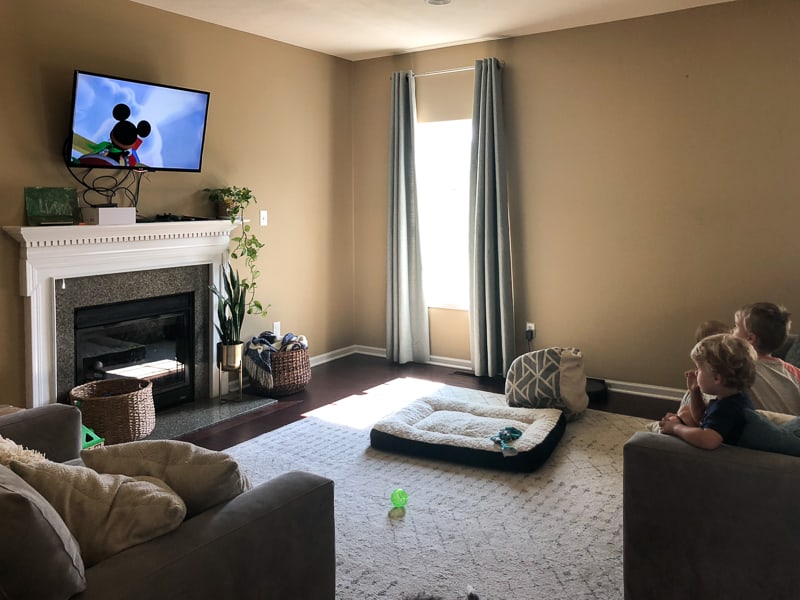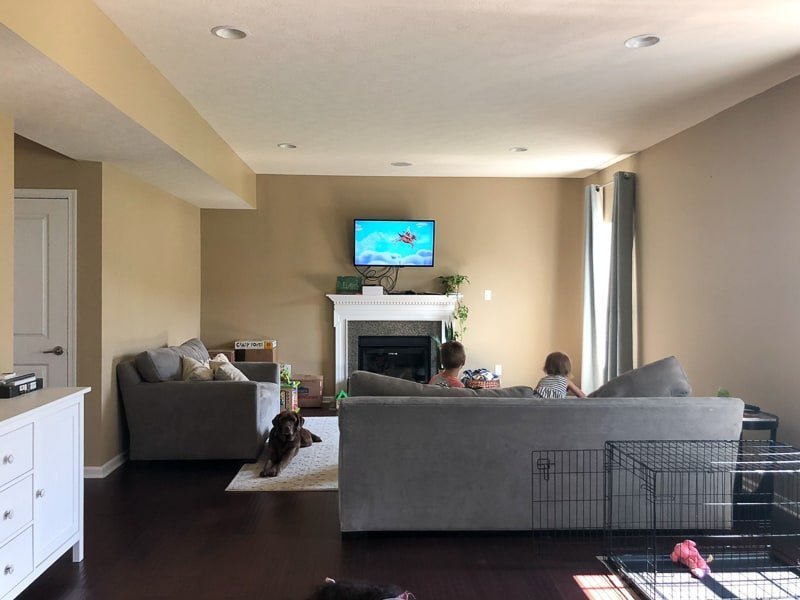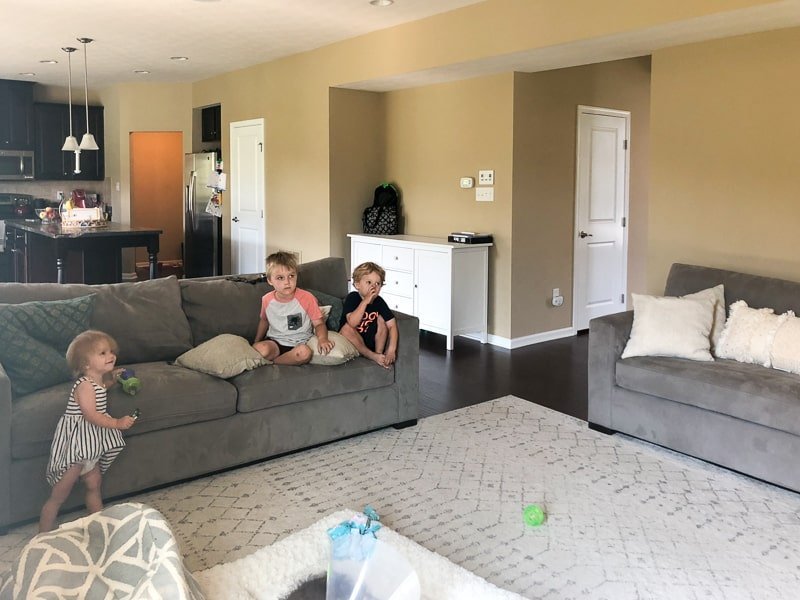 Note the fireplace. Ugh.
It's *fine*. But, that's about the nicest thing I can say about it.
If you read my last post about creating a focal point in your room, you know that a fireplace is a built-in, obvious choice for creating a focal point.
But, does that fireplace look like a focal point? NOOOOOO!!
Check out these design options for our fireplace makeover!!
But, until then, let's take a look at some different options we're considering to update any fireplace.
1. Update a fireplace with paint
While this isn't really an option for us, this is a GREAT option for anyone with a brick fireplace.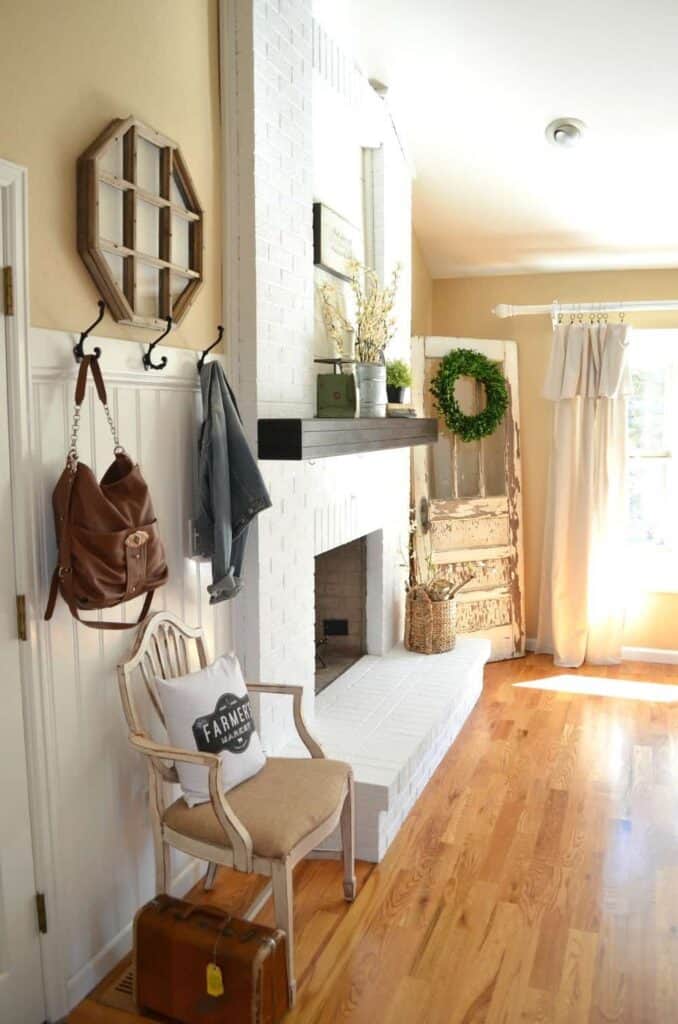 There's really no easier way to update a dated brick fireplace. Sarah Joy Blog shares how she did this in just one day!
I know a lot of you probably have an old brick fireplace. While I think brick can look stunning, I'm also all for painting it.
Unfortunately, this isn't an option for us as our home was built 6 years ago and no one was putting in brick fireplaces then.
Here are some more examples of painted brick fireplaces with DIY tutorials. Especially loving that black one!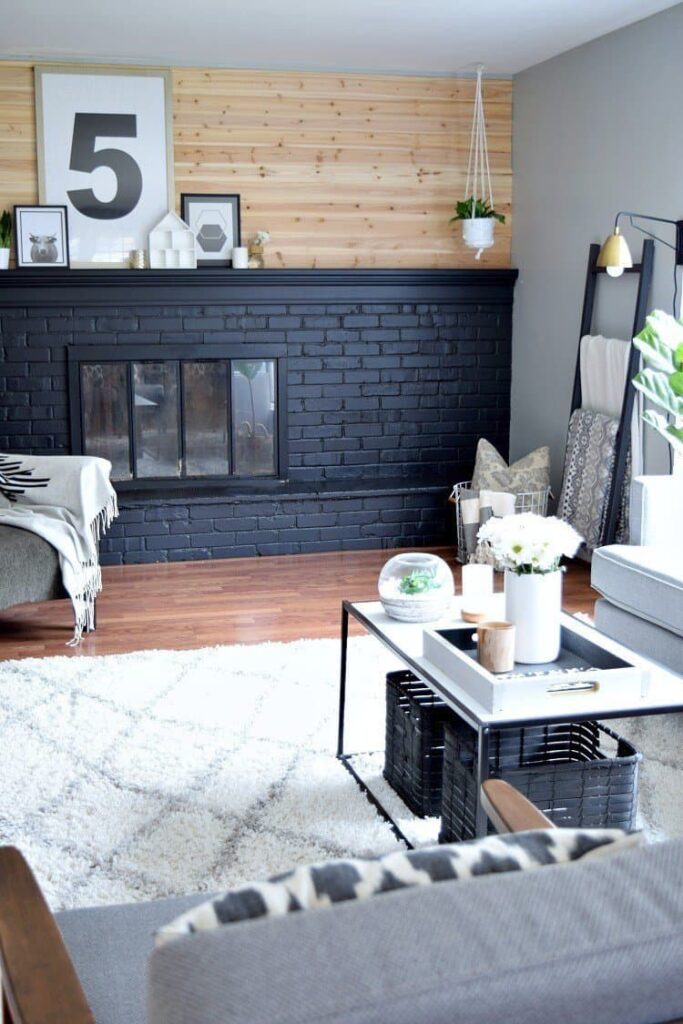 Houseologie shares how to paint your fireplace black and never look back!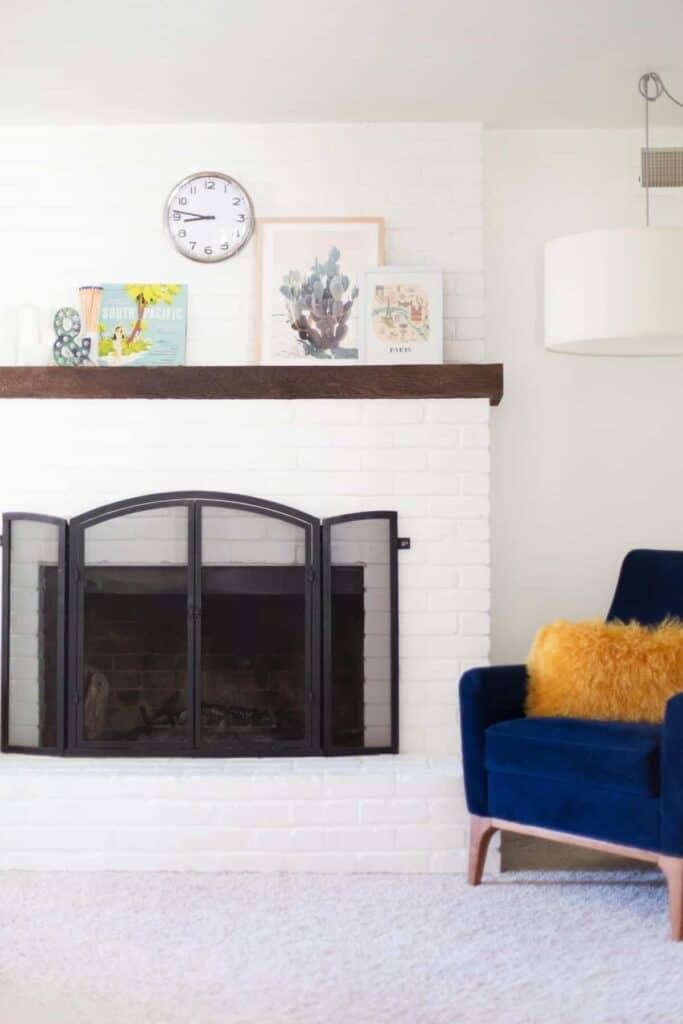 Lovely Indeed shares how she painted her brick fireplace white!
2. How to Update a Fireplace with Floor to Ceiling Tile
Note I said: FLOOR TO CEILING.
This goes back to the focal point post I wrote last week. I really feel like in order to have the fireplace be the focal point, it needs to be floor to ceiling. Whether that's floor to ceiling brick, tile, cement, whatever. It can be your done in your own style – there's no right or wrong way to do that!
But, it's gotta be floor to ceiling to realllyyyyy be a focal point.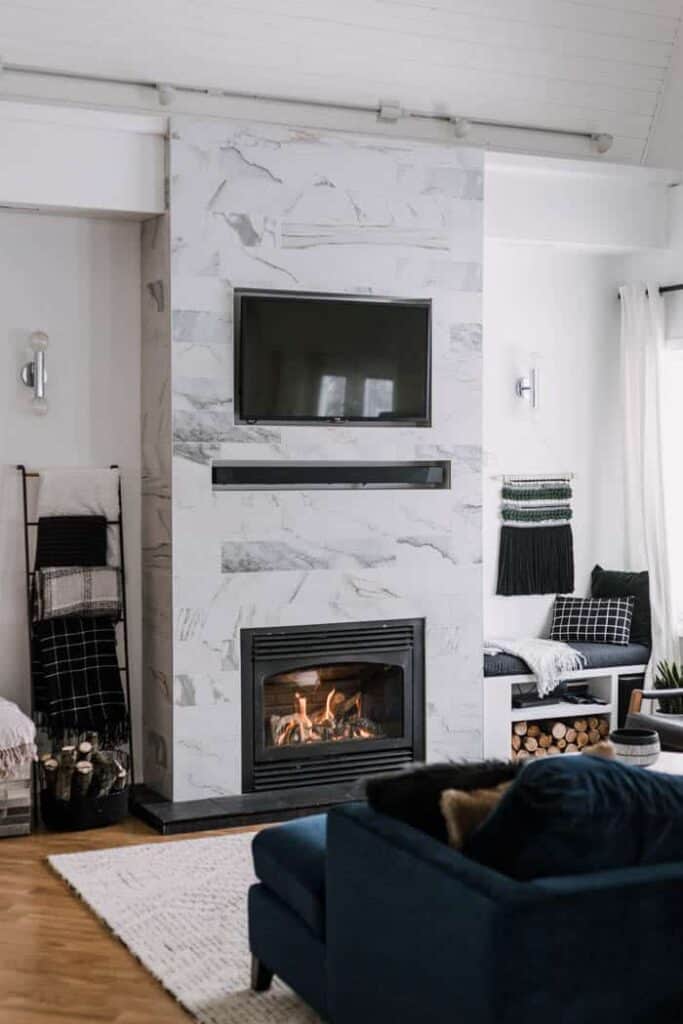 Love Create Celebrate actually built out an entire fireplace – so impressive!! Love her use of tile (also that it's floor to ceiling!)
This is a great option for almost anyone. Maybe not those of you with a brick fireplace – though that's not saying it's impossible!
I definitely like this as an option for us. The only problem is that we have the granite surround. I'm sure we could tile over that – but that's such a pain!
Here are a few other floor to ceiling tile options. And, don't limit yourself to just these choices! You can use almost any type of tile here and it would make such a difference!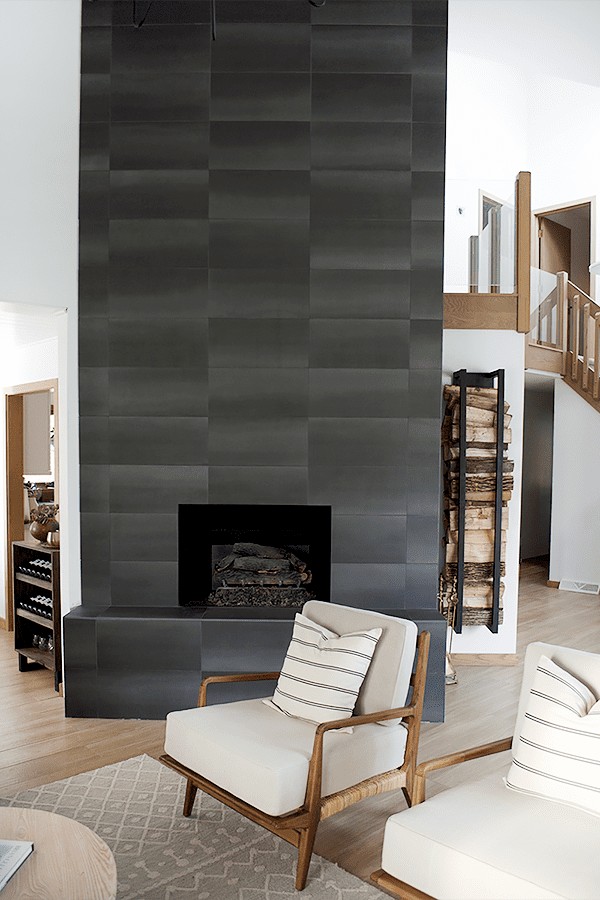 Brepurposed redid her fireplace in the most gorgeous tile!
Kristina Lynne shares a similar tiled fireplace – just with larger tile. I'm obsessed!
3. Use Cement to Update a Fireplace
Yes, you read that right. Cement.
And you guys, this is really maybe my top choice for our current fireplace situation.
It's so sleek, chic, and modern. It's clean and simple.
LOVING this look.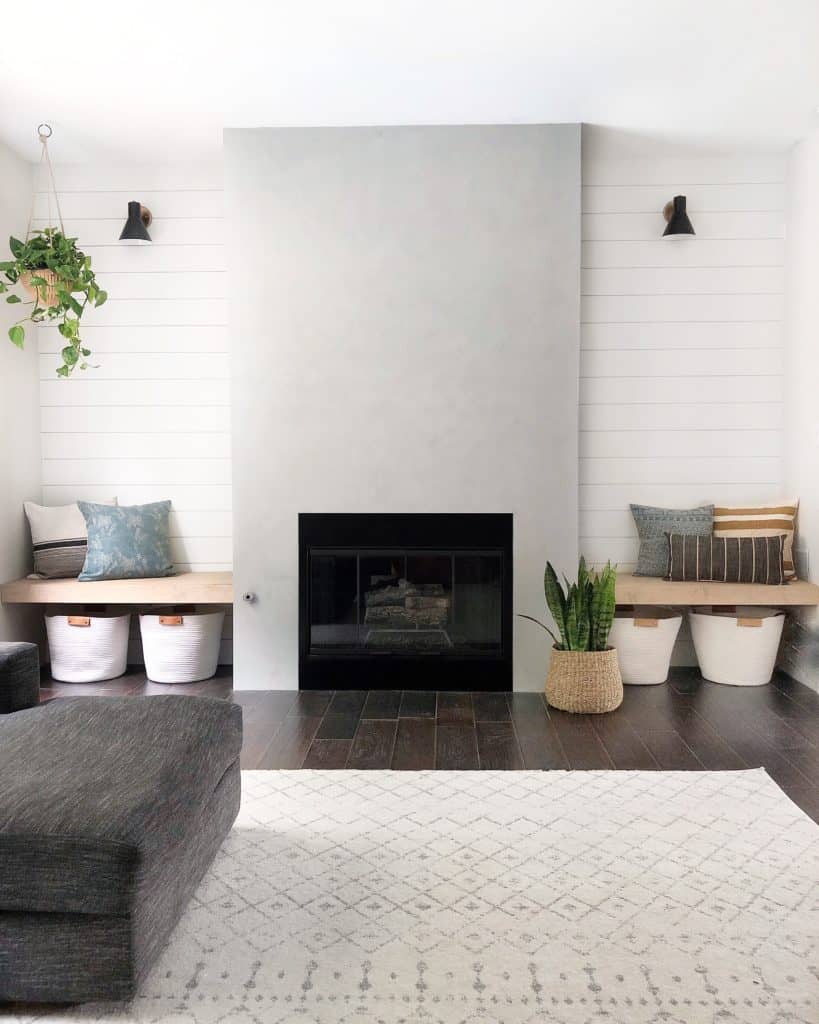 Angela Rose Home KILLED it will this fireplace makeover. You'll never believe what the before looked like.
This is a great option for anyone, really.
It does only fit with a few design styles. I'd say it works best with modern, eclectic, and farmhouse styles.
That's not to say you can't mix and match with other design style – I'd just be careful doing it!
Here are a few other cement looks. Do you think this would work in our living room?? (Hint: the answer is yes!)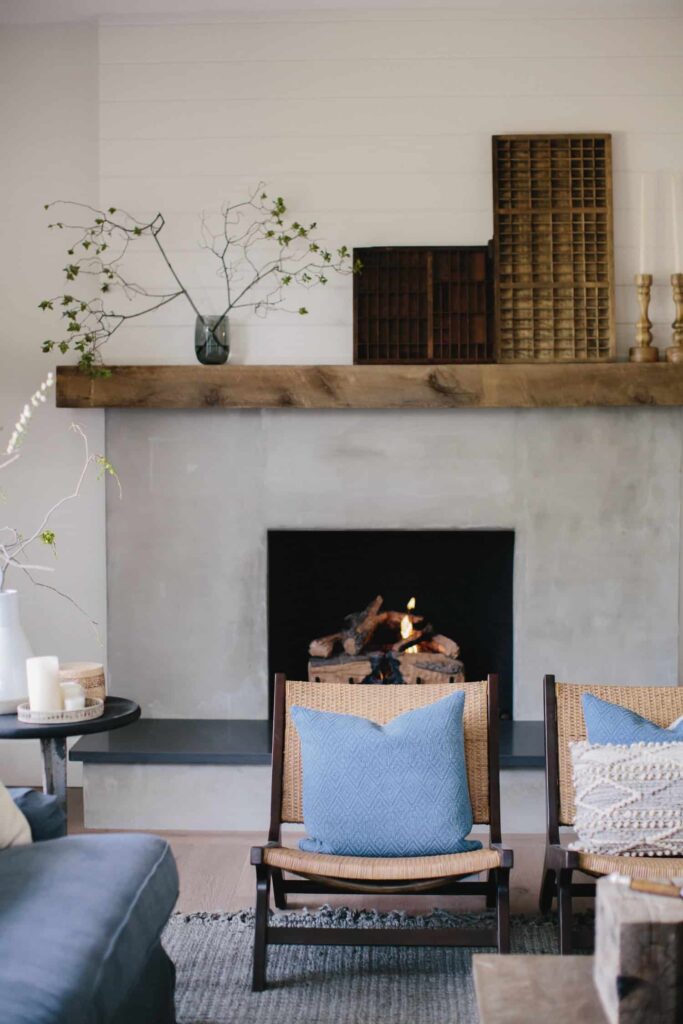 Boxwood Avenue turned her dated brick fireplace into a beautiful modern fireplace! While she didn't extend it from floor to ceiling, she did add shiplap at the top!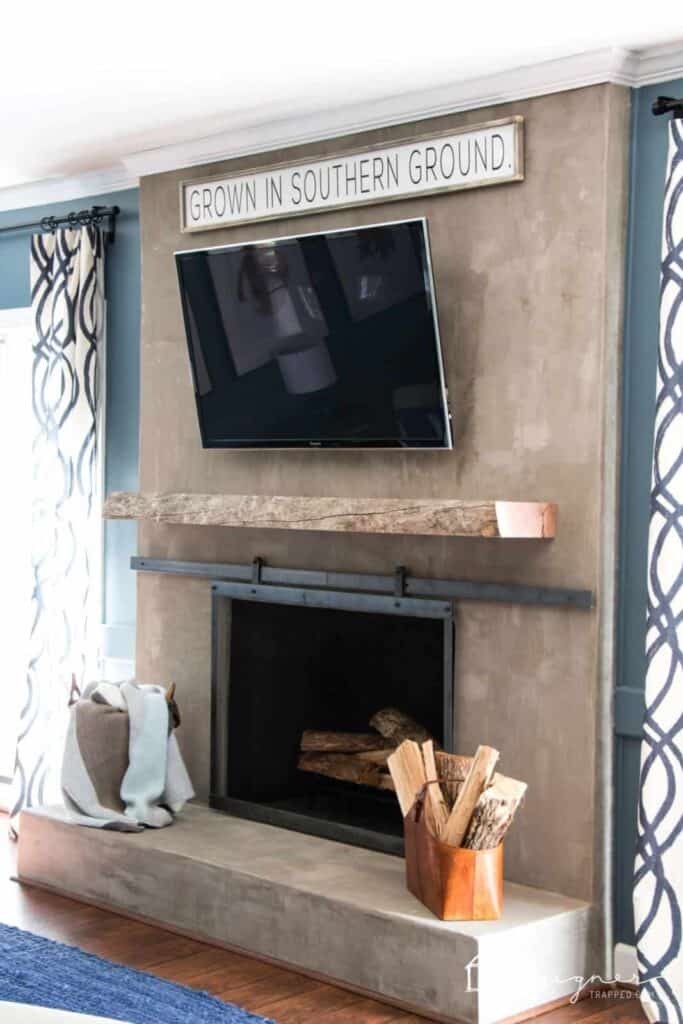 Designer Trapped updated a dated fireplace with concrete!
4. Update a Fireplace by Adding Shiplap!
While I may not love shiplap quite as much as I did before (though I don't hate it!), it's still a great option for updating your fireplace.
It's especially nice when trying to extend a fireplace from floor to ceiling, really making it that focal point in your room.
Basically, you keep the surround the same (or update it if necessary), and add shiplap above the mantel. This makes the fireplace that focal point we're looking for without you having to tile or cement or some other project to get it from floor to ceiling.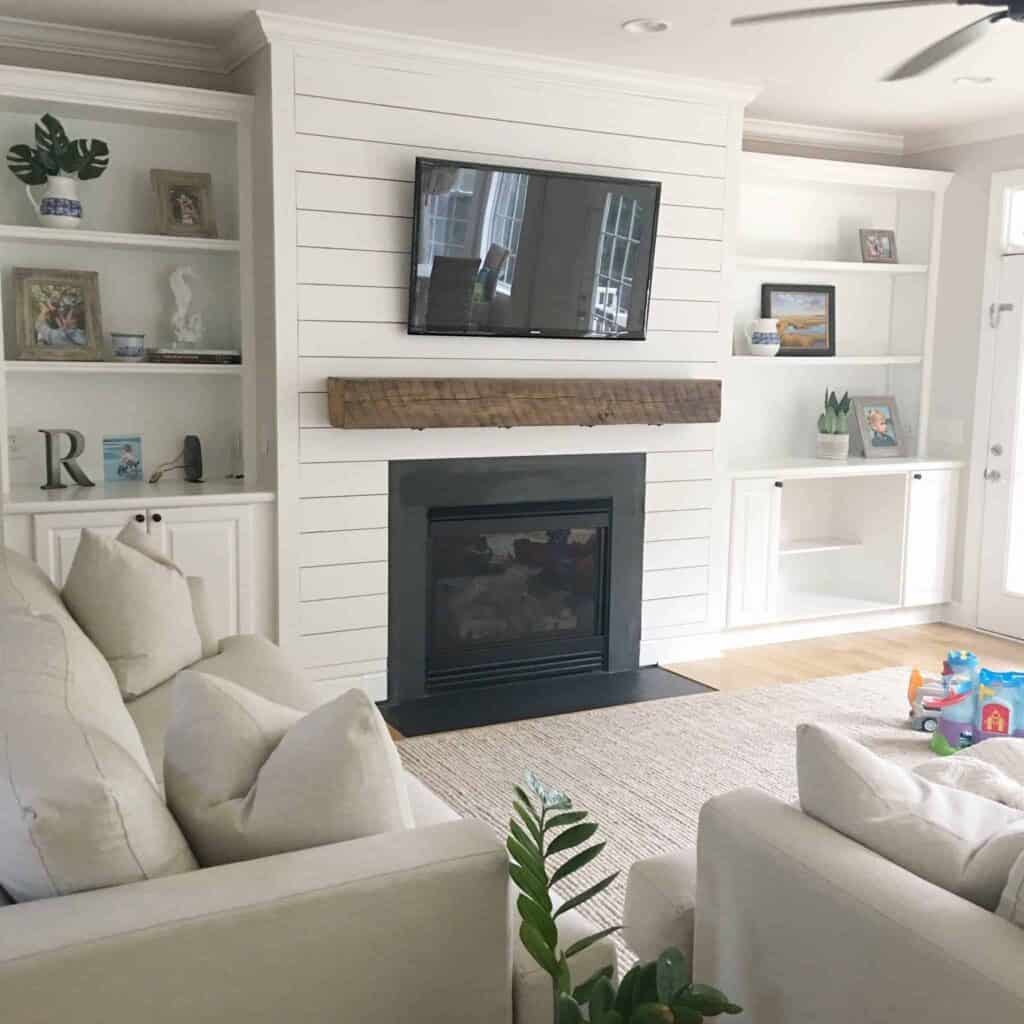 The Coastal Oak added shiplap from floor to ceiling and I LOVE how it looks!
I love this option for anyone wanting to update a fireplace.  While shiplap tends to get associated with farmhouse style exclusively, I don't think that's actually the case.
It's a great option to extend a fireplace from floor to ceiling. Or, as my previous example did, for redoing the entire fireplace!
Here are a few other shiplap looks. I'm seriously considering these for the fireplace, too!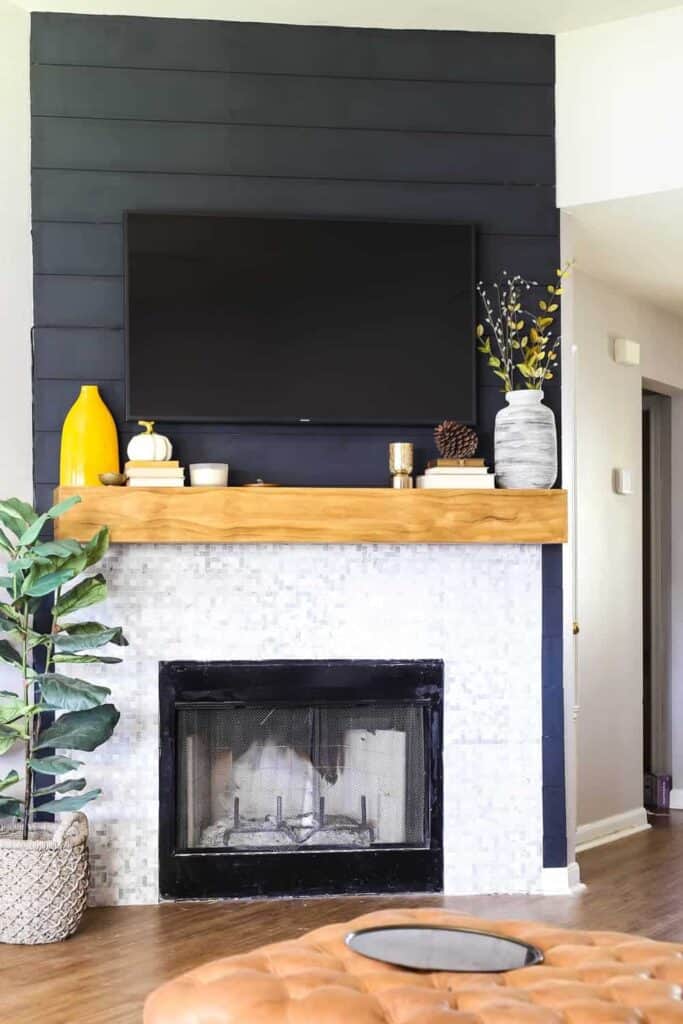 Love and Renovation added shiplap to her fireplace and I LOVE it. Especially the dark paint!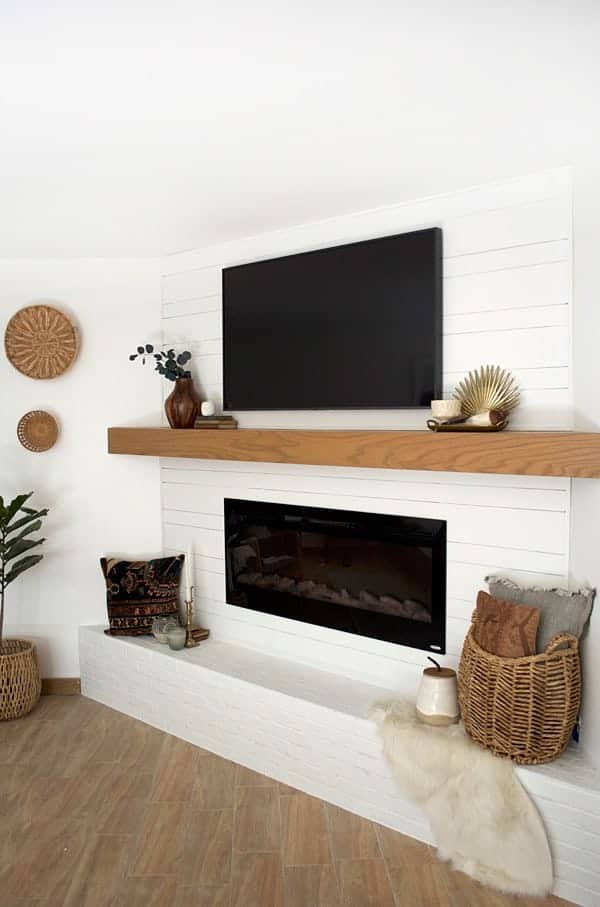 Brepurposed added different size shiplap boards to her fireplace renovation. It's such a unique touch!
5. Make Use of Stencils
The final option to update your fireplace is by stenciling!
This is definitely not an option for those of you with a brick fireplace – unless you want to cover the brick entirely first and then stencil that.
I love this idea for a unique and budget-friendly version of using actual cement tile.  We used cement tile on a fireplace in the boys' room and I loved how it looked!  It's just not a budget-friendly option for an entire fireplace.
This would also look nice paired with shiplap above the mantel!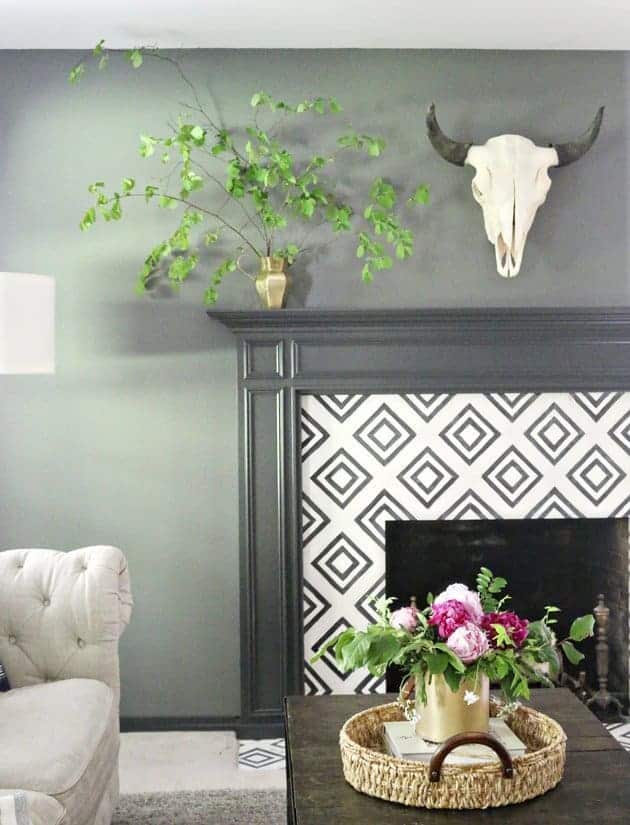 Jones Design Company DIY'd the cement tile look and it's amazing!
I like the idea of stenciling a fireplace for us, especially, since we have that gross granite surround. It's already smooth so it can be easily painted. Add in some shiplap above a new mantel and we'll have a whole new room!
Here are some other DIY stenciled fireplace ideas!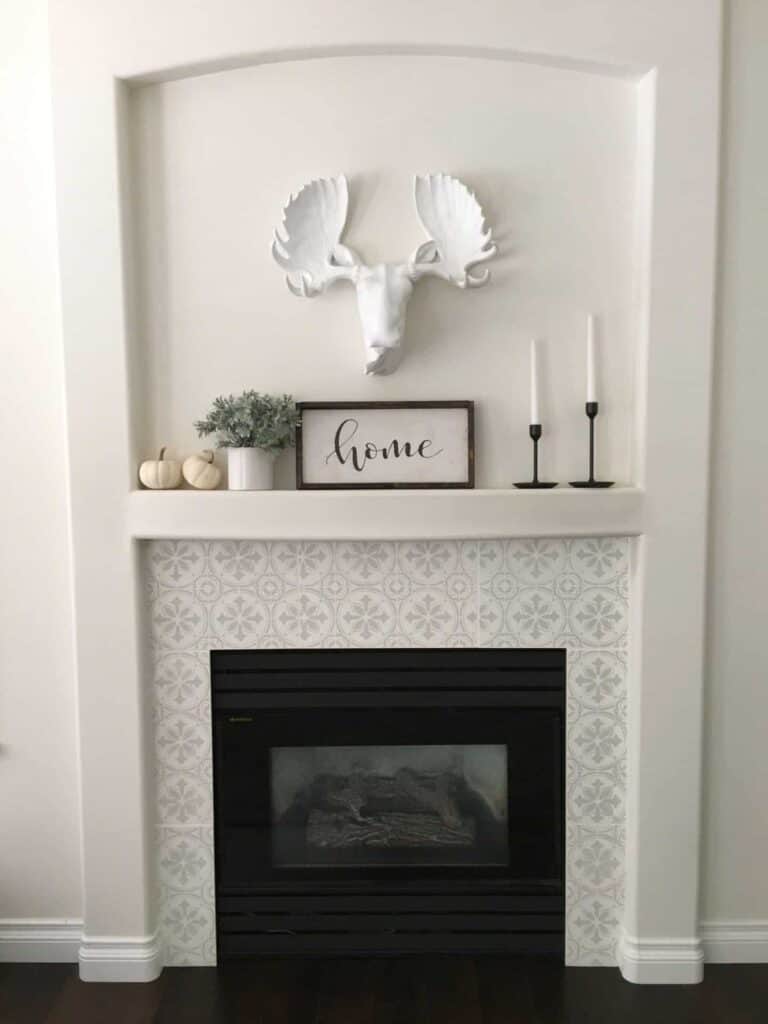 Life is Better at Home stenciled a muted, beautiful fireplace surround!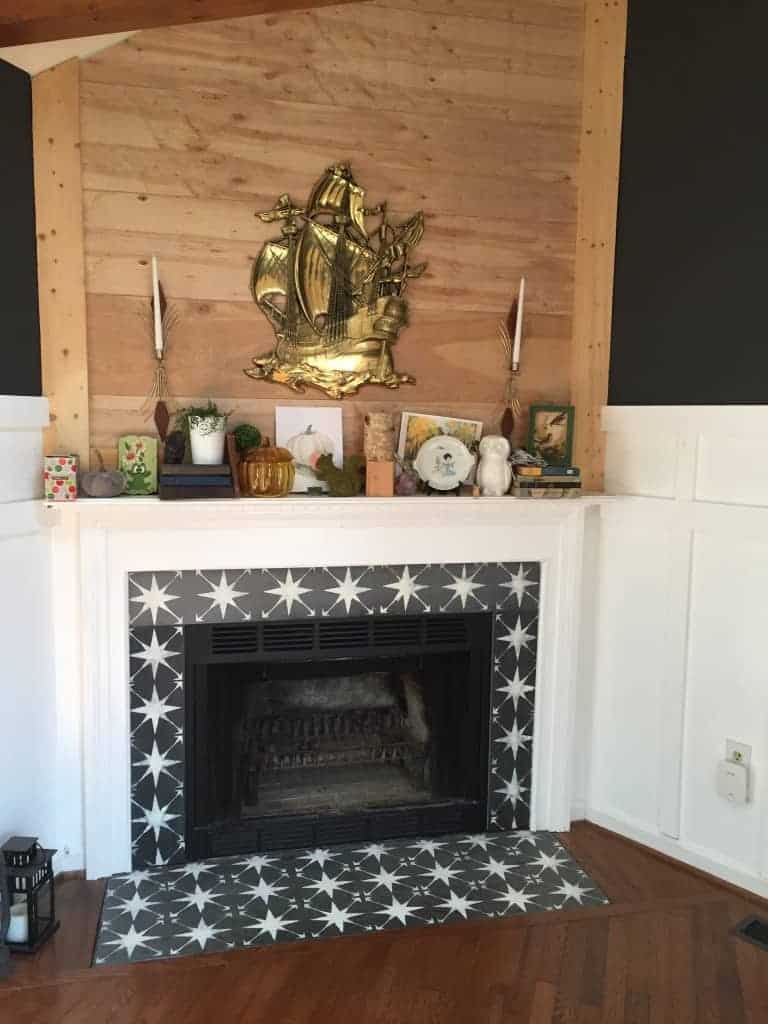 Semigloss Designs designed her own stencil for her fireplace makeover. So impressive!
Let's Recap How to Update a Fireplace!
1. Paint an existing fireplace
2. Add floor to ceiling tile
3. Use cement
4. Add shiplap
5. Stenciling
I'm working on coming up with a design for our current fireplace situation.
Right now, I'm thinking of stenciling the granite surround we have, then using shiplap to extend the fireplace from floor to ceiling.
From there, we'll add some built-ins and storage to the side of the fireplace and some open shelving above that.
It's going to be a big project but a much-needed project for the living room.
What do you think? Ready to update your fireplace?!