Rustic Gift Wrap Ideas Using Pinecones
DIY gift wrapping is the perfect way to add a personal touch to a gift this Christmas. Learn how I used pinecones to create two different rustic gift wrapping ideas.
I'm so excited to be participating in my second Create with Me challenge hosted by Lindi from Love Create Celebrate and Samantha from Little Bits of Home.
At the beginning of each month, we ask you (our readers!) to vote on a material. Then, we have to use whichever material wins to create something that we share at the beginning of the next month. SO fun!
Last month,  our lovely readers selected pinecones (though, I should mention I missed last month because my project turned out HORRIBLE!).  
I was actually pretty excited to use pinecones this month.  It's the perfect time of year for some nature-inspired decor or crafts.
I first thought of making a pinecones garland or some pinecones ornaments. Even pinecone Christmas trees could be fun, like this! But, I decided instead to make some chalkboard-dipped pinecones that would look perfect as gift wrapping toppers!
Rustic Gift Wrapping Ideas with Pinecones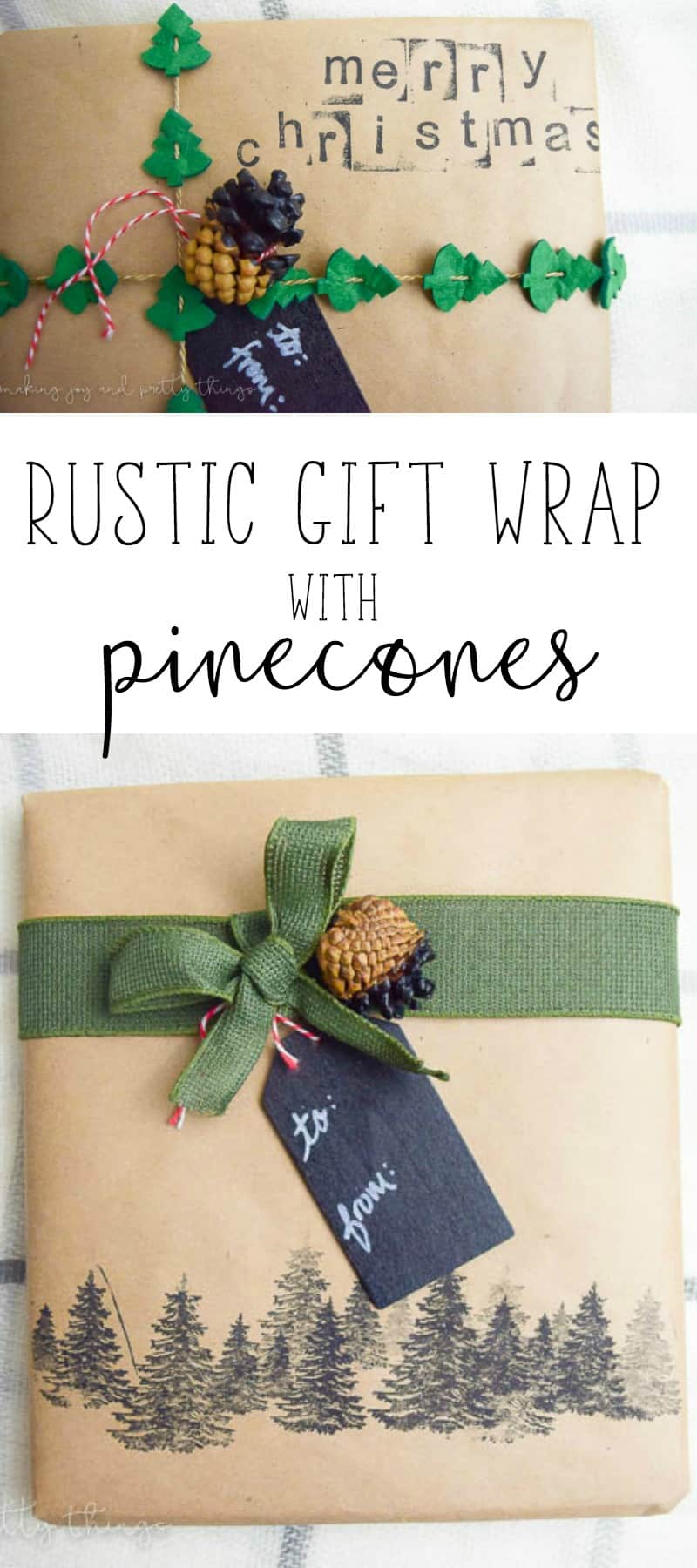 This post contains affiliate links. Please, click here to read my disclosure policy.
Supplies needed for rustic gift wrap:
Green Ribbon
Scissors
Mini Tree Garland (Michaels)
Mini Pinecones, similar
Wow, that seems like such a long list!! Don't worry, it's not nearly that complicated 🙂
Step 1: Wrap Presents & Paint Pinecones
First, wrap those presents in some brown kraft paper!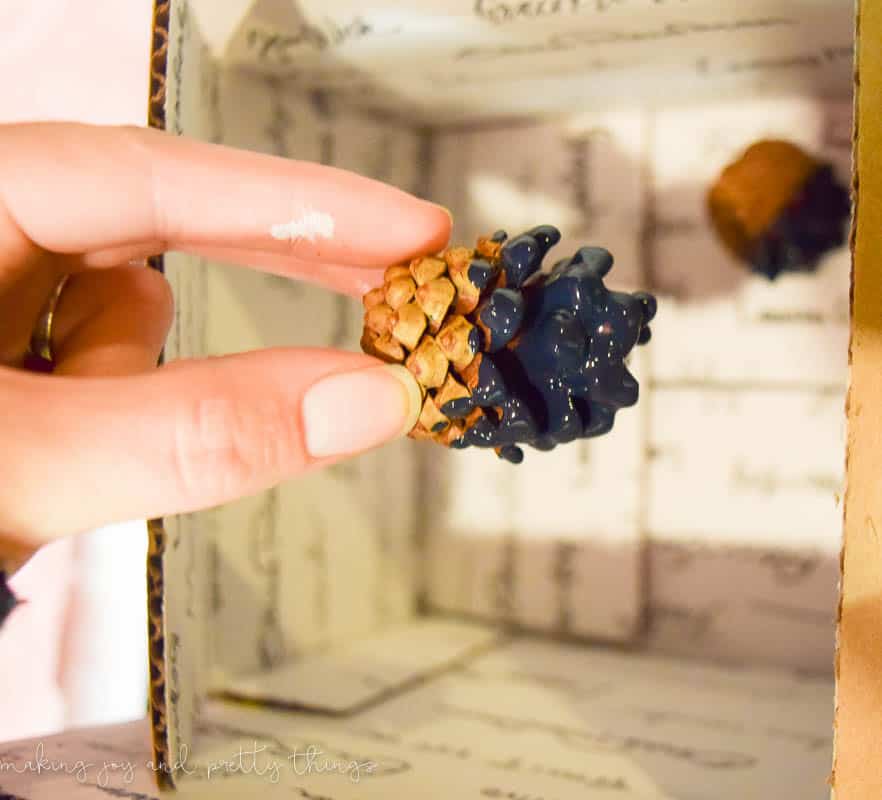 For the pinecones, I simply opened the can of chalkboard paint and dipped half the pinecone in, making sure to gently shake off the excess paint. I left the pinecones to dry in a cardboard box.

Once the presents are wrapped and pinecones have dried, it's on to the embellishments!
Step 2: Add Embellishments
For the first present, I happened across what might be the cutest tree garland ever made at Michaels. Of course, it's not sold online so I couldn't find a link for it but, seriously, go to Michaels and get it. So stinkin' cute.
I used the letter stamps to stamp out "Merry Christmas" in the top corner.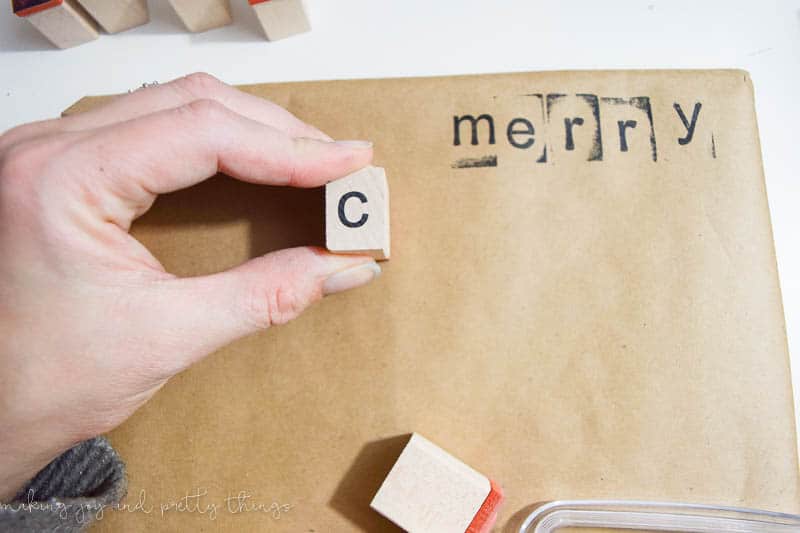 Then, I wrapped that cute tree garland around the present.
I cut a piece of twine and pushed it into the grooves of the pinecone. Luckily, they're so close together that simply pushing the twine in actually holds the pinecone in place!
I used the same piece of twine to thread on a chalkboard label, then tied that to the area where the tree garland meets.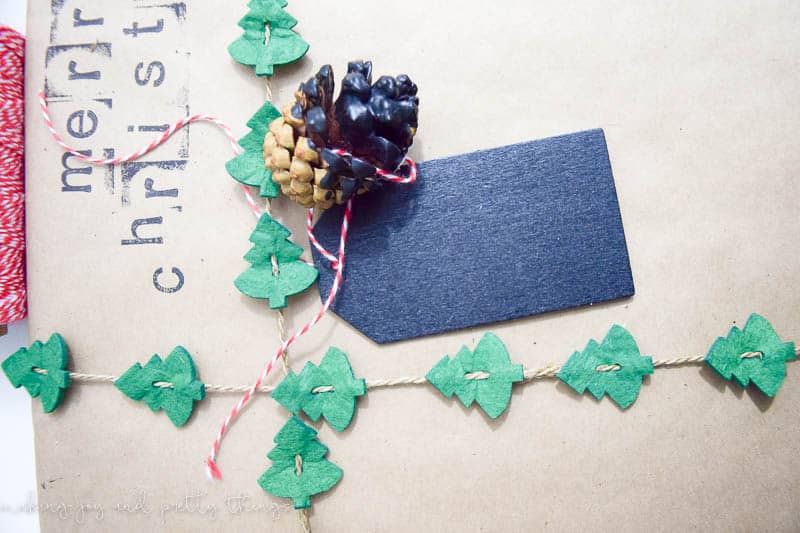 Write a little Christmas message or simply "to" and "from" and one present is complete!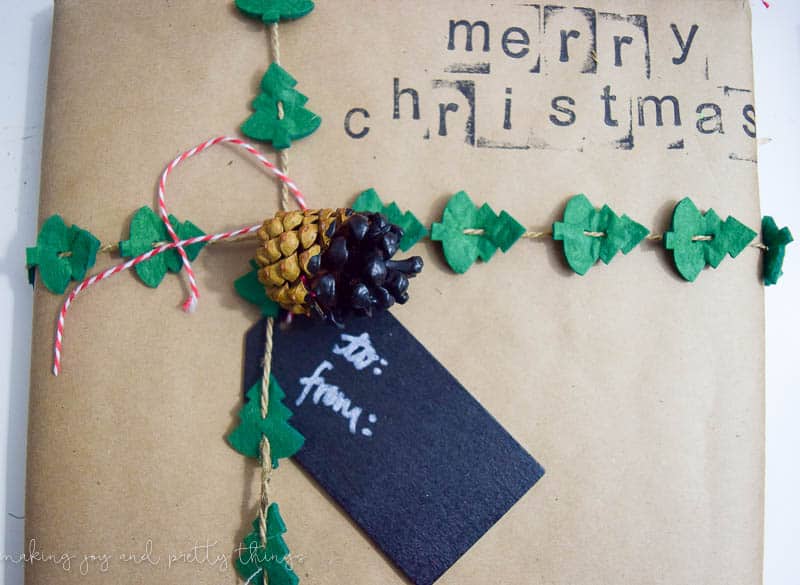 Rustic Gift Wrapping with Tree Stamps
For the second present, I initially wanted to stamp a pine tree pattern all over the paper. But, when I couldn't find a single pine tree stamp, I decided to use a 3D pine tree forest stamp. And, gosh, I love how awesome the 3D stamp looks (didn't even know a 3D stamp was a thing!!)
This is after one ordinary stamp.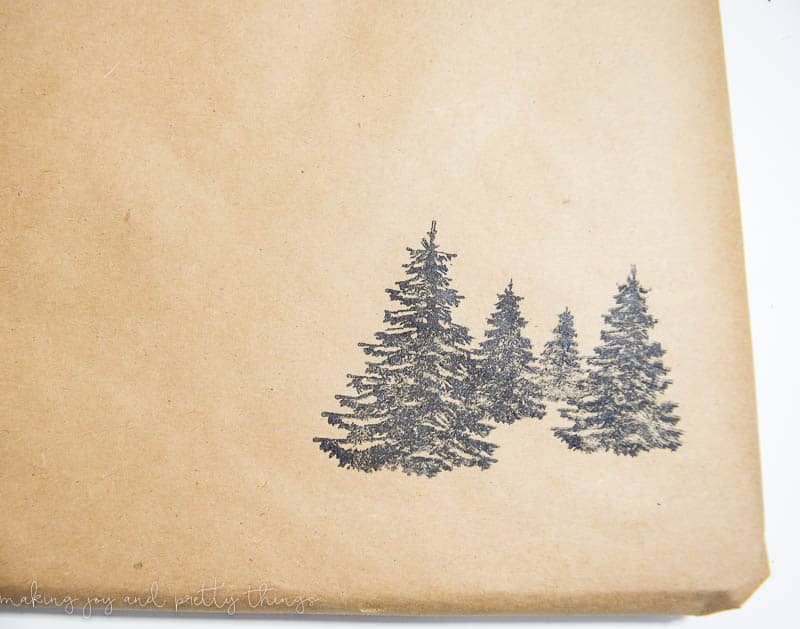 And after stamping 4 times: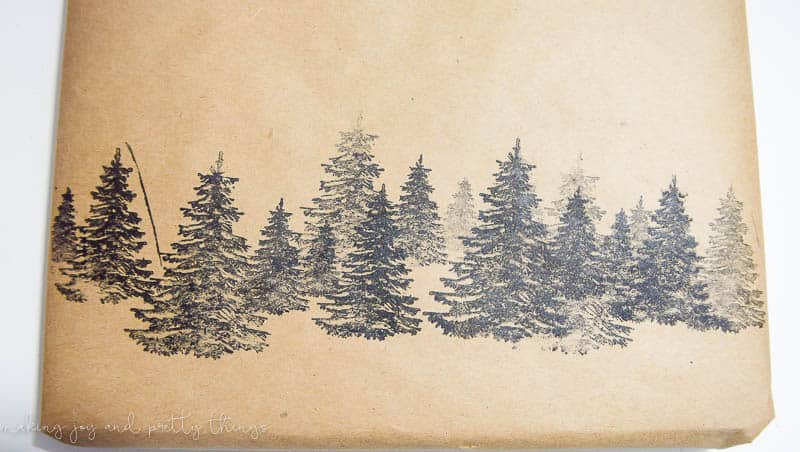 AHHH isn't it so neat!! The trick is to not put more ink on the stamp pad. Load it up at the beginning and then continue to stamp. The faded effect looks like a forest.
Next, I grabbed some olive green ribbon and wrapped a piece around the present, securing it to the back of the gift with tape. I had the same color just in a thinner ribbon so I used that to tie a bow to the larger ribbon.
Once that was on, I used the same twine as the first present, wrapped it around the pinecone (pushing up into the grooves), and attached a chalkboard label. The whole thing was then tied to the bow on the ribbon.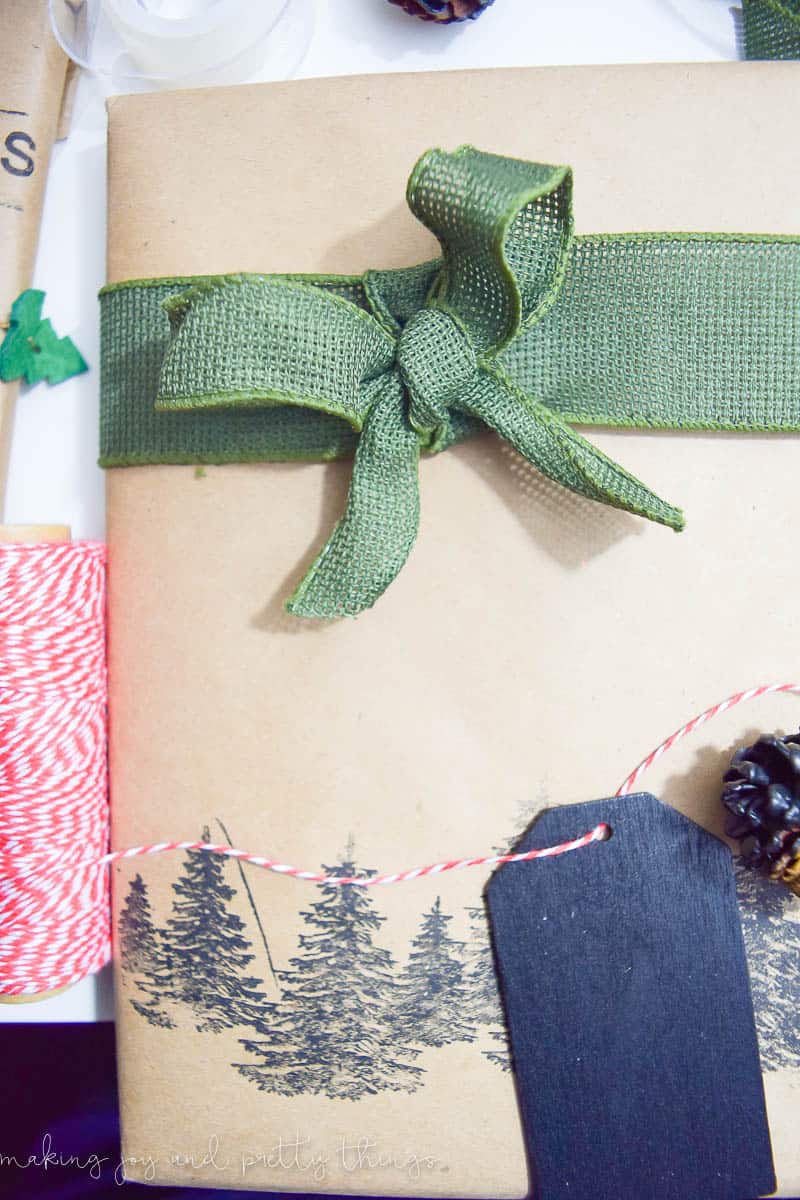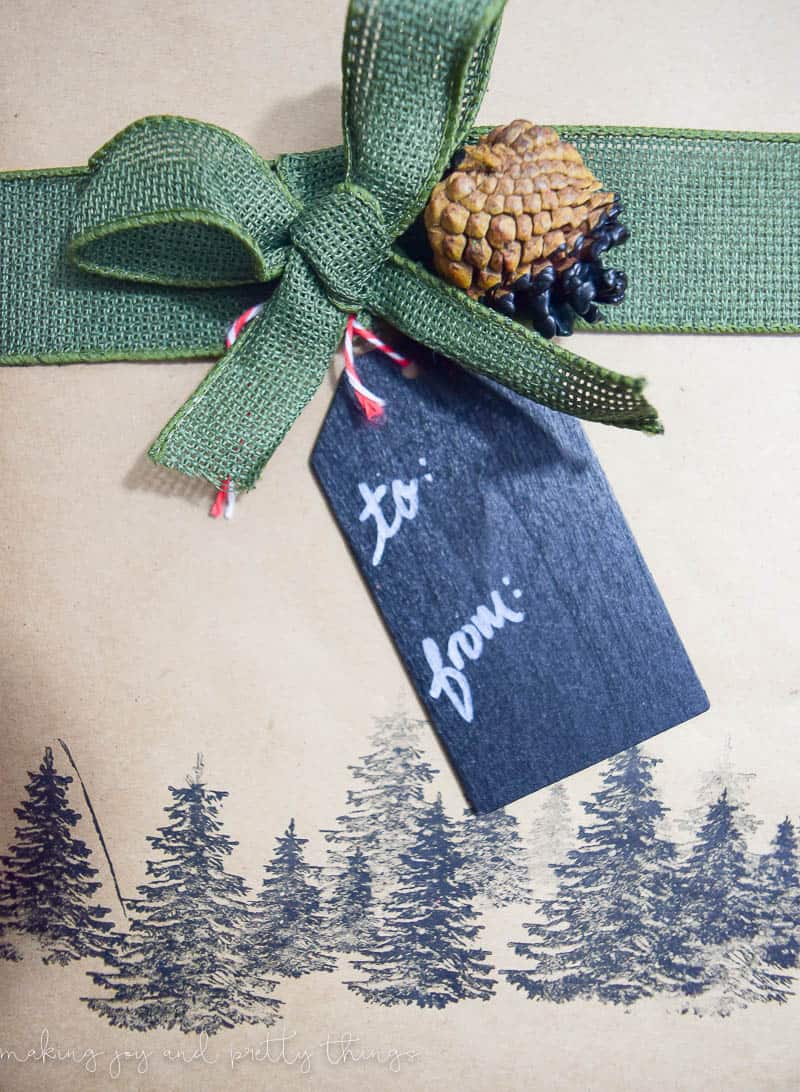 LOVE!!
That's it! Here are the finished gifts together. Do you have a favorite?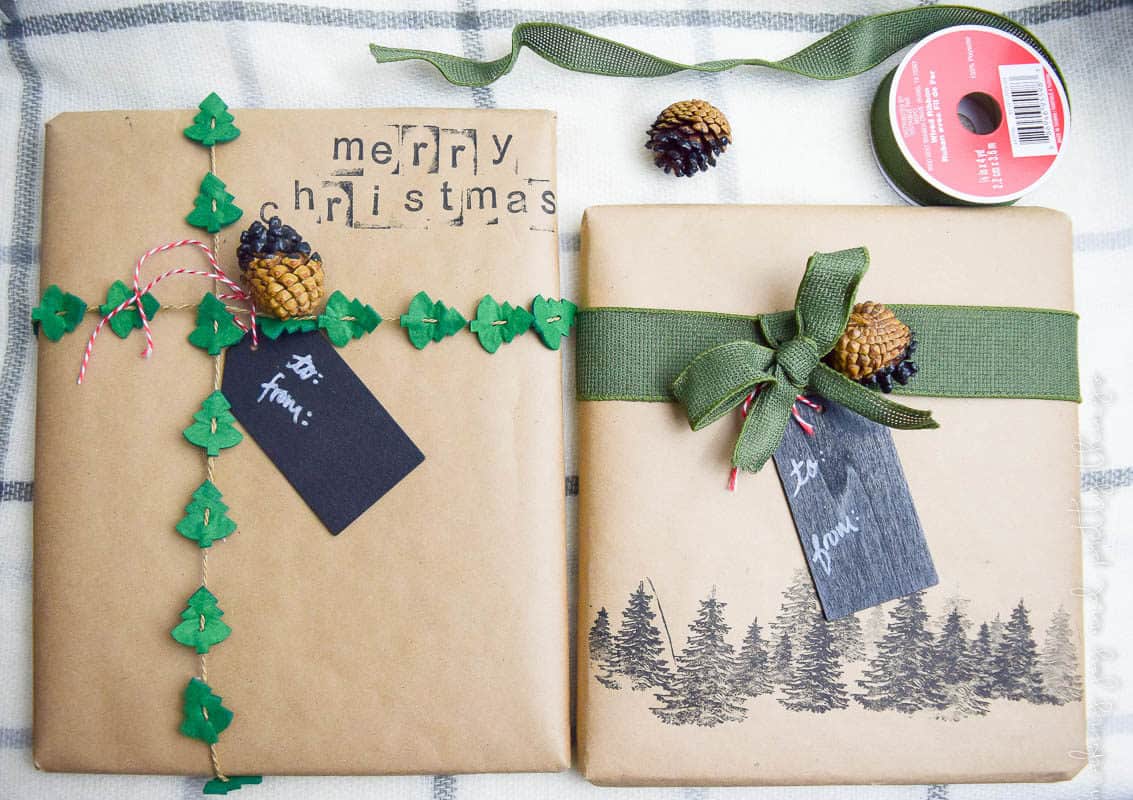 I just can't get over the 3D forest stamp.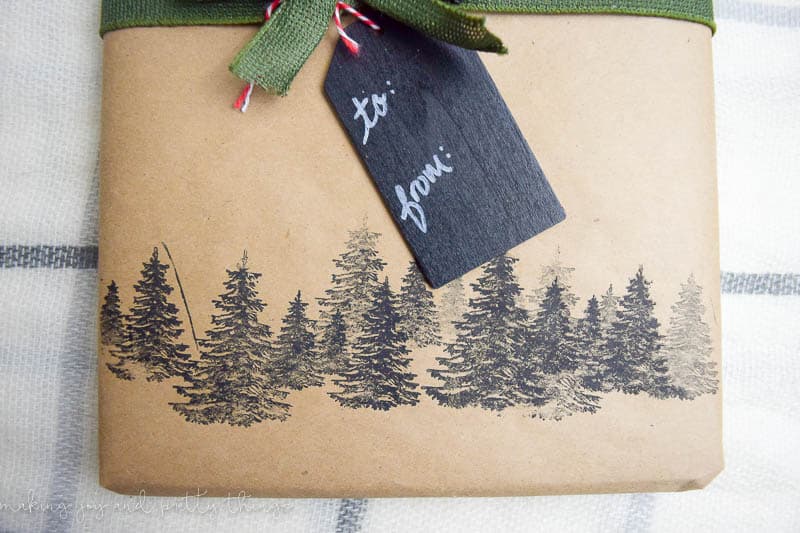 I think this one is my favorite!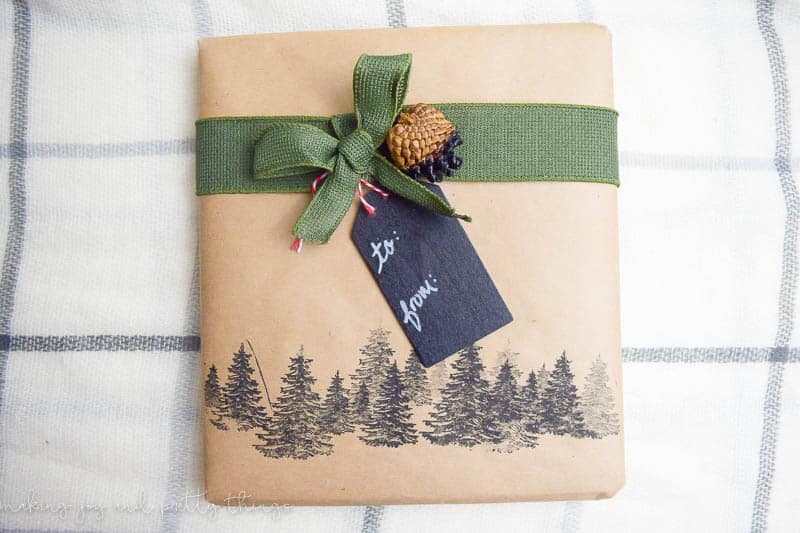 But, then again, that tree garland!!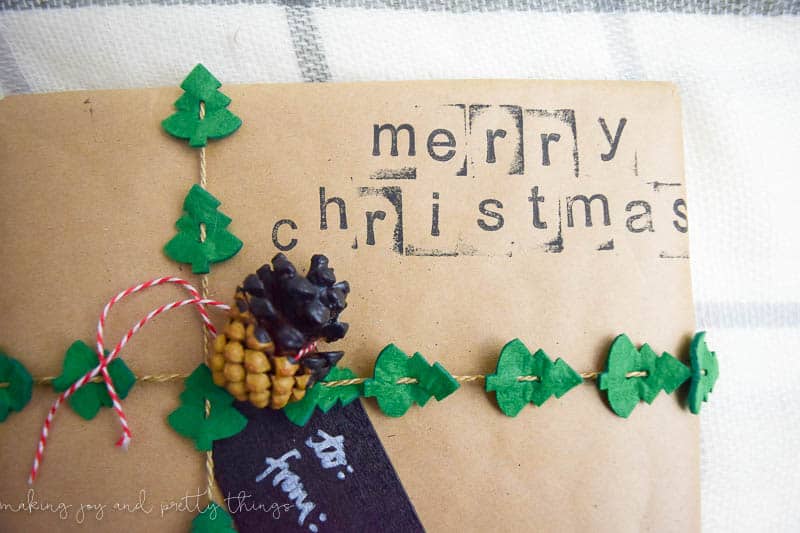 I don't think I can decide! Either way, neither of them would be as pretty without the rustic touch of the pinecone. Since it has some chalkboard paint on it, it blends with the chalkboard label and the stamping on both presents.
Don't miss more Christmas decor ideas here…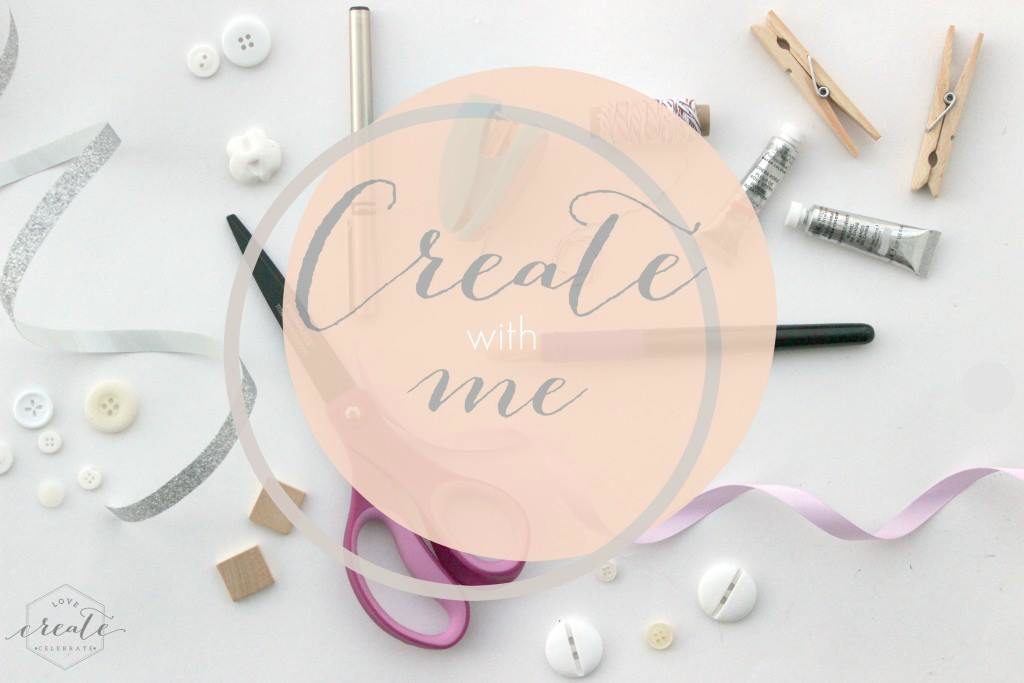 Remember to hop on over to these other ladies' blogs to check out what they made using pinecones. It's always amazing to me how you give the same material to 6 people and you get 6 totally different (and yet still beautiful!) projects.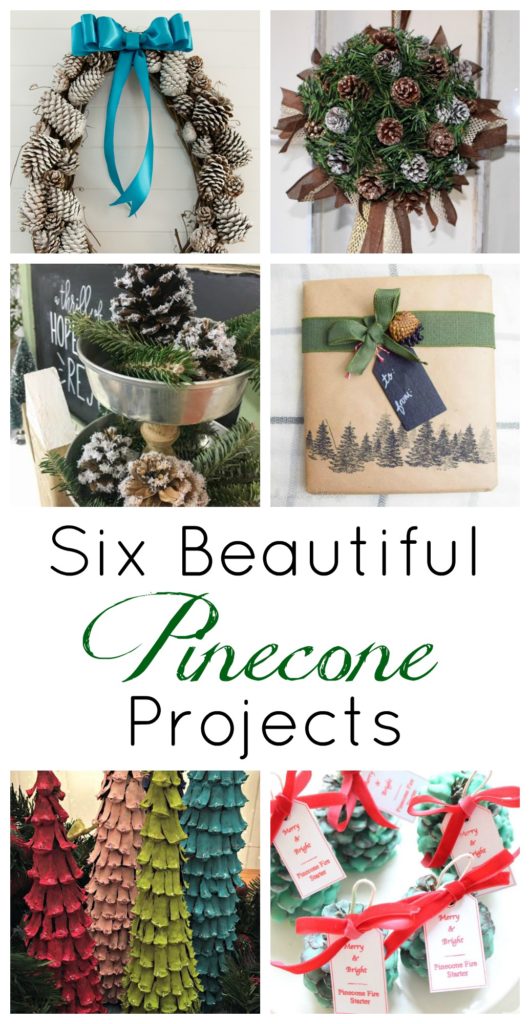 Snow Tipped Pinecone Wreath- Little Bits of Home
Pinecone Kissing Ball- Our Crafty Mom
Snow Covered Christmas Decor- Refresh Living
Dipped Pinecone Gift Wrap Embellishment- Making Joy and Pretty Things (that's me)
Jewel Toned Pinecone Trees- Knock it Off Kim
Pinecone Fire Starter- My Life from Home
Wishing you a joyful day!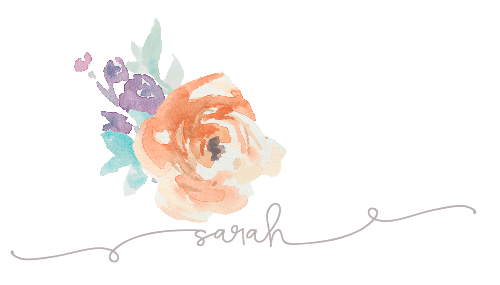 Rustic Gift Wrapping with Pinecones and Stamps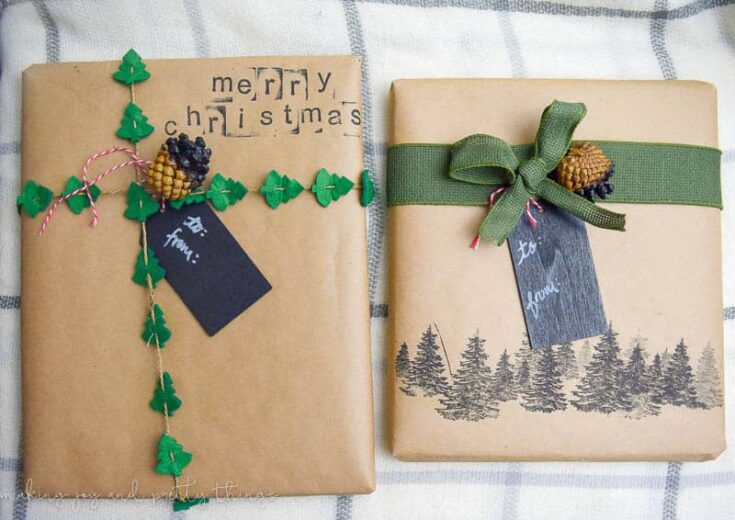 Love the look of rustic gift wrapping? Here are a few rustic gift wrapping ideas using pinecones, stamps, and ribbon. Perfect for all your Christmas gift wrapping needs!
Materials
Green Ribbon
Scissors
Mini Tree Garland
Instructions
Wrap your presents in brown kraft paper
Dip the pinecones in chalk paint, let dry
Add embellishments! Use stamps to add decoration, wrap with ribbon and garland, etc.
Create the dipped pinecone gift tags and attach to gifts.