Hello, friends! I have something SO exciting to share with y'all today.
I'm going to be taking the next two weeks to improve my blog but didn't want to leave you hanging with no posts at all. So, a few of my blog friends agreed to hop over to share some fabulous DIYs with you!
Today, my bloggy friend Colette from Restyle it Wright has stopped by. She is seriously SO funny (I'm constantly laughing when I read her posts) and she has the most beautiful style. I absolutely love this project she made; it's the perfect marriage of our two styles.
I hope you enjoy it!!
---
---
Hi friends! I'm SO excited to be guest posting for you today you on Sarah's little happy place, a.k.a Making Joy and Pretty Things! Sarah and I have been blog friends for what feels like forever and I feel so honored to be here with you all. Sarah does some AMAZING farmhouse decor so I thought I'd try and find a way to merge our two styles together into something fabulous. I live life on the glam side — I love gold, glitter, pink and all the fancy things I can find. While I totally appreciate the farmhouse style, I prefer a more glammed up version for my own home. So, with a healthy balance of stained wood, painted stripes, and some shiny gold this farmhouse glam wall planter came to life! I hope you love it as much as I do! Let's dive right in shall we?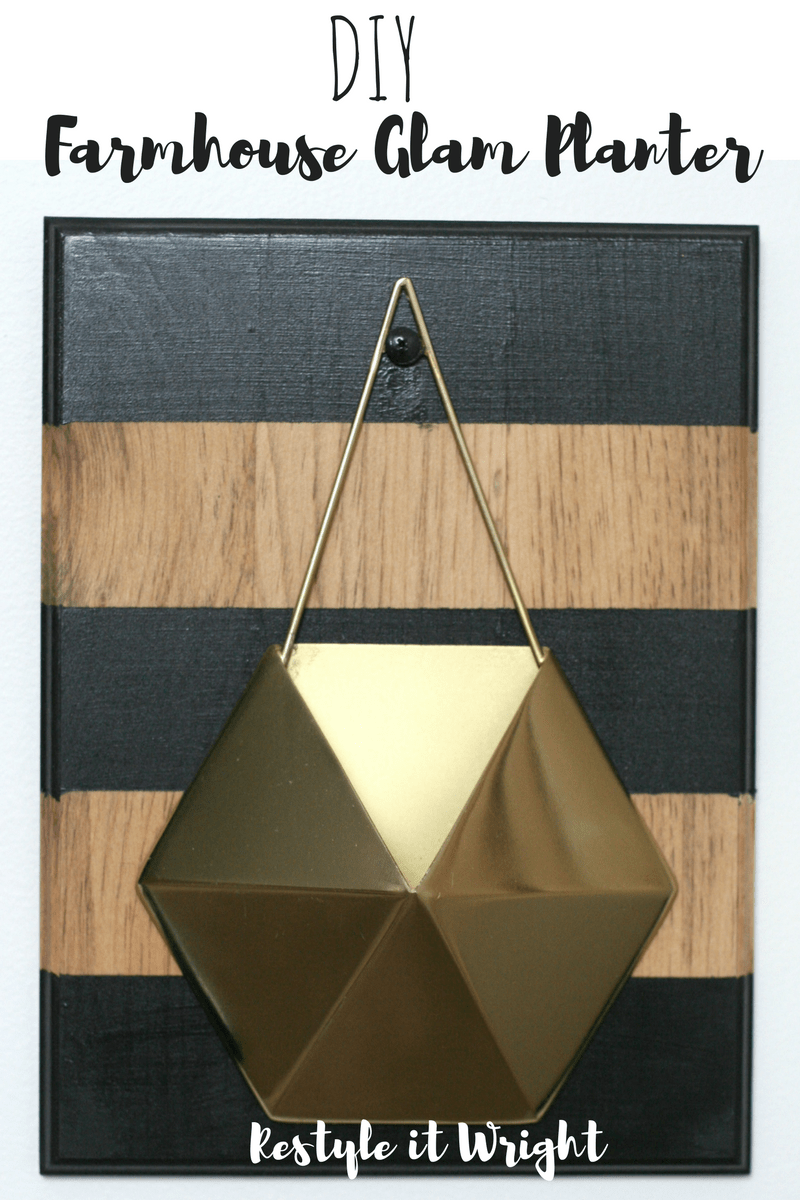 This wall planter was SUPER easy and I tackled it between house cleaning, a hockey party we hosted, and visiting with my parents. So, definitely a quick weekend project! It was also very budget friendly thanks to have many of the items on hand but lets get to nitty gritty!
Here's what you'll need to make one:
Wall Planter (I got mine here )
Pine Board -11×14 (I got mine here )
Painters Tape
Sandpaper
Paint
Stain
Paint Brush
Polycrylic
Faux Plant/Greenery (optional)
Aside from the wall planter, pine board, and faux plant I had everything else which was great!
Here's how this little project came to be…I was wandering through the clearance section at my local Anthropologie and spotted these fun little geometric gold wall planters.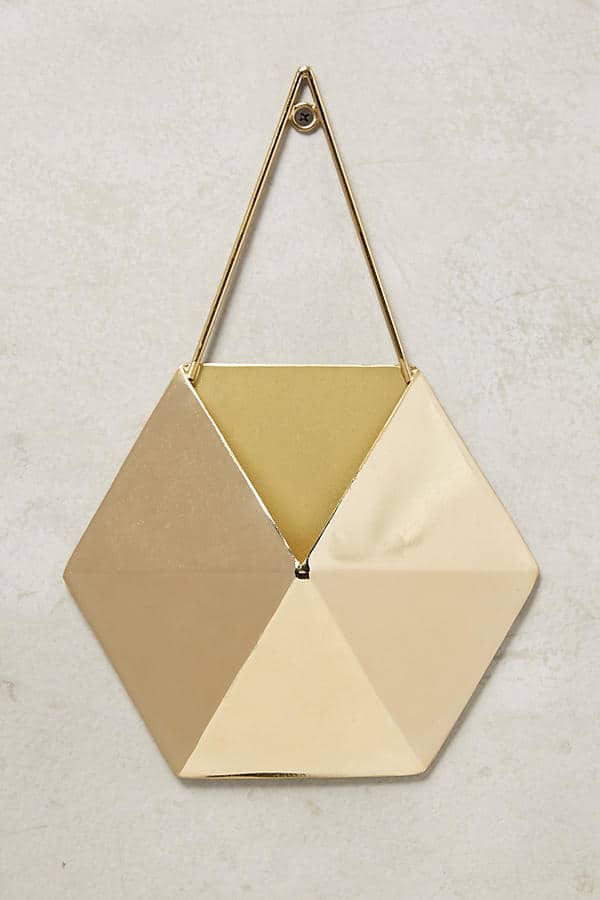 And get this! They were on sale for $7.95 marked down even 40% more off that…so basically free. I snagged two of them with no clue on how I was going to make them work in my home – but I HAD to have them! So, until this little DIY they sat in a bag. Now they are the shining star of this project!
If you can't find these exact ones, a quick google search showed many options in varying price points.
Okay, back to the tutorial.
I decided I wanted to attach the geo planter to some stained wood as a fun way to add in some warm wood tones into our home while still keeping the glam look. So, while shopping at my local craft store I found this 11×14 pine board with just enough detail.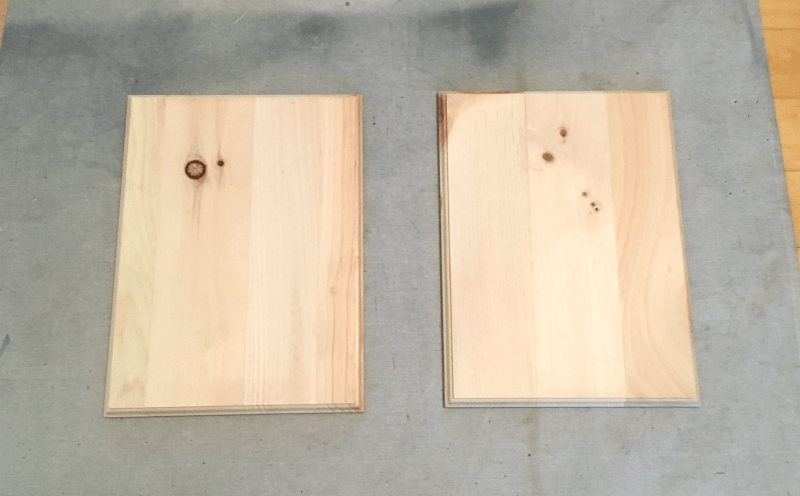 So I gave them a quick sanding to smooth. I was going to pre-stain them because Pine can be tricky but the wood looked smooth and non-blotchy so I went with it.
I had a bunch of stain leftover from various projects so I selected Minwax "Special Walnut". It's a great "goes with anything" stain color. I threw my gloves on and got to staining!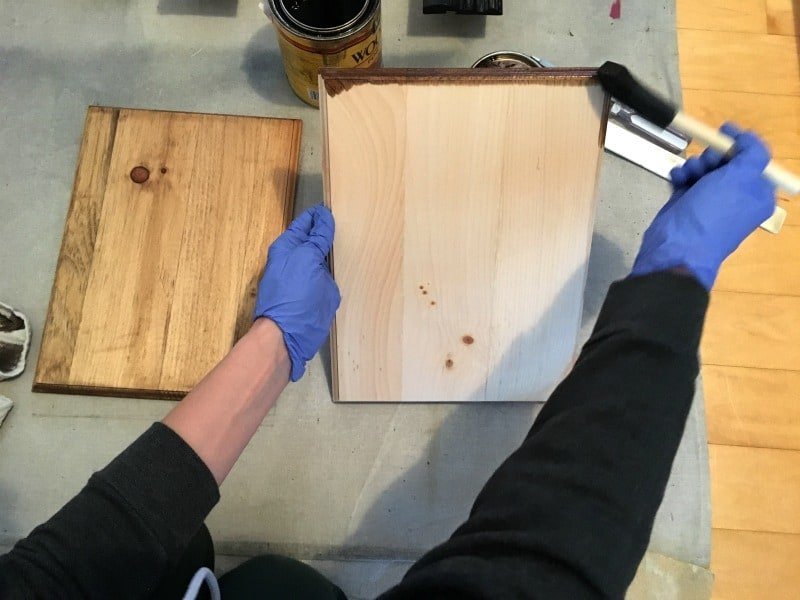 You know the drill… stain – wipe – dry and repeat for second coat.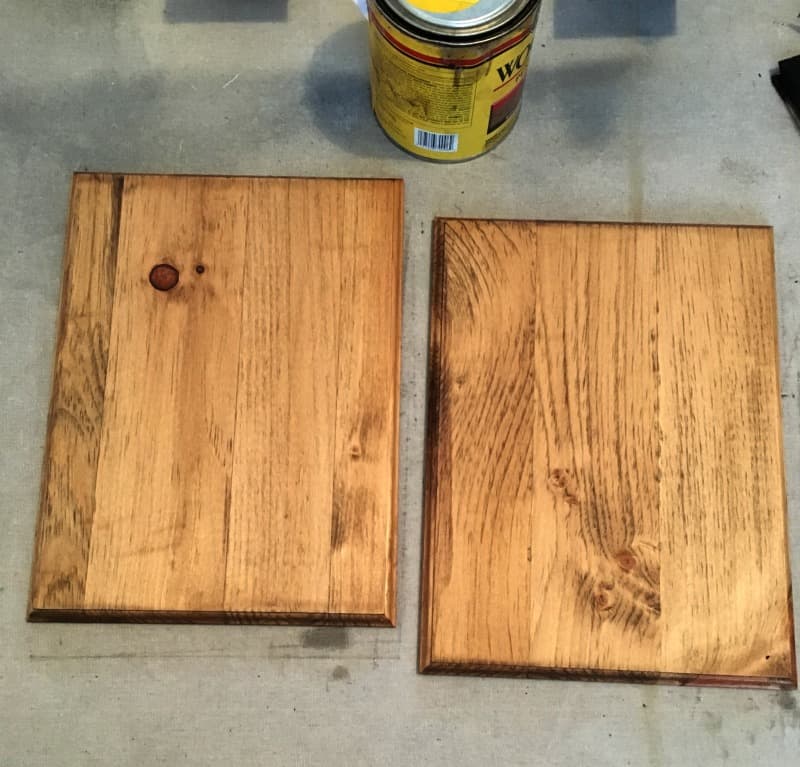 So after two coats the pine board looked like this. Once they were dry it was time to bring in reinforcements. I really want to do a little something extra so I decided to do some bold stripes. My husband is a professional stripe taper (is that a thing?) and I needed his help in figuring out how wide my stripes should be. After much deliberation I went with a 5 stripe look.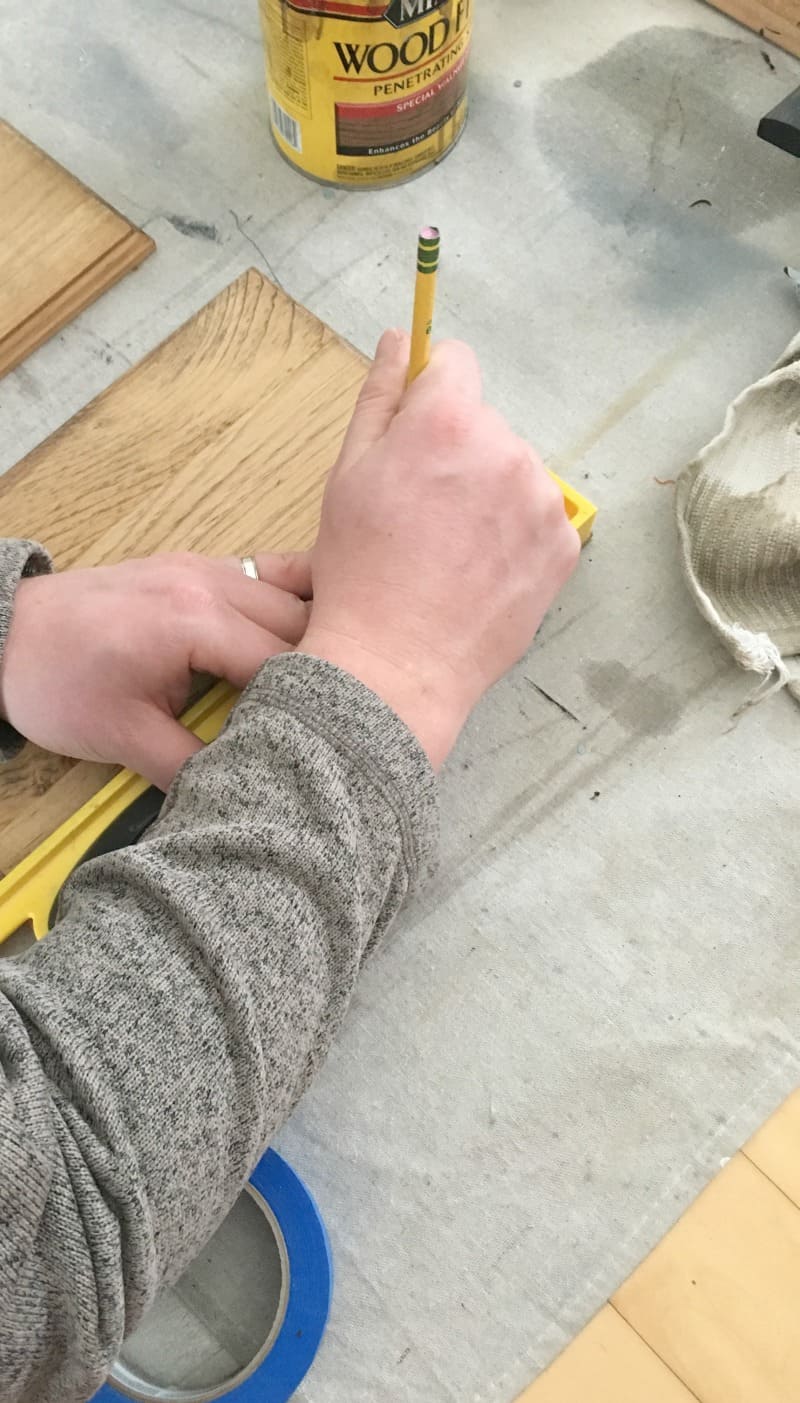 The husband measure the face of the board and it was 29 cm. So he divided that by 5 and that left each stripe to be 5.8 cm wide. With a level he marked 5.8 cm from the top down across the board. Then he placed a line of tape that was 5.8 cm thick.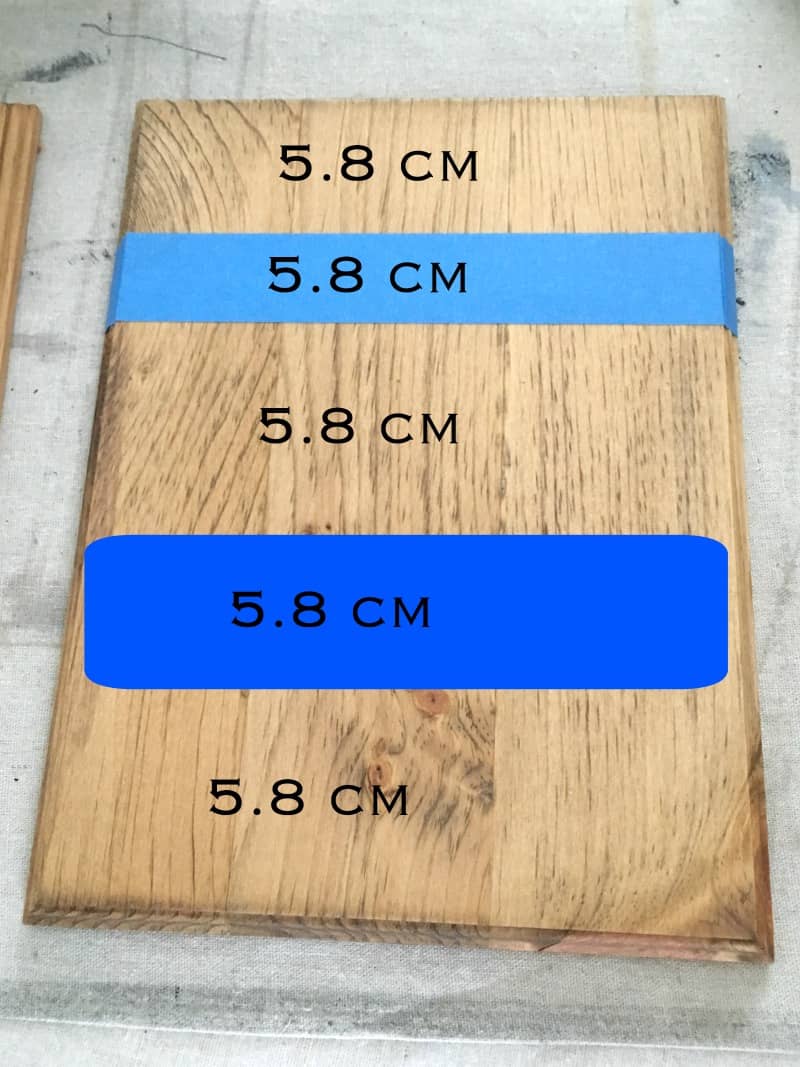 The bad blogger in me forgot to photograph the board with all the tape so I added in a faux stripe to give you an idea. Now the boards are ready for paint!
I had some black enamel paint left from when I painted our railing so that's what I used. But, honestly you need such little paint for this job a can of sample paint would work great.
Ensure your tape has a nice seal to the wood before you paint to avoid sealing through.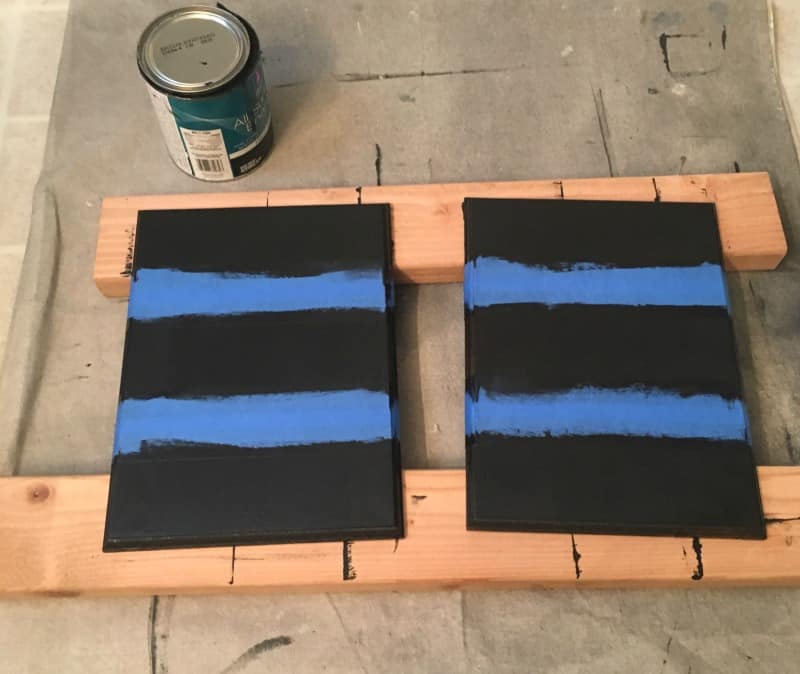 I recommend two coats (especially if painting on a lighter color) just to ensure coverage over the stain.
SUPER IMPORTANT: Once you apply the second coat of paint, it's time to remove the tape very carefully. You want to do it when the tape is wet to avoid the tape peeling off the paint once dry. Learned that one the hard way from previous projects…
Once the tape is removed your left with this!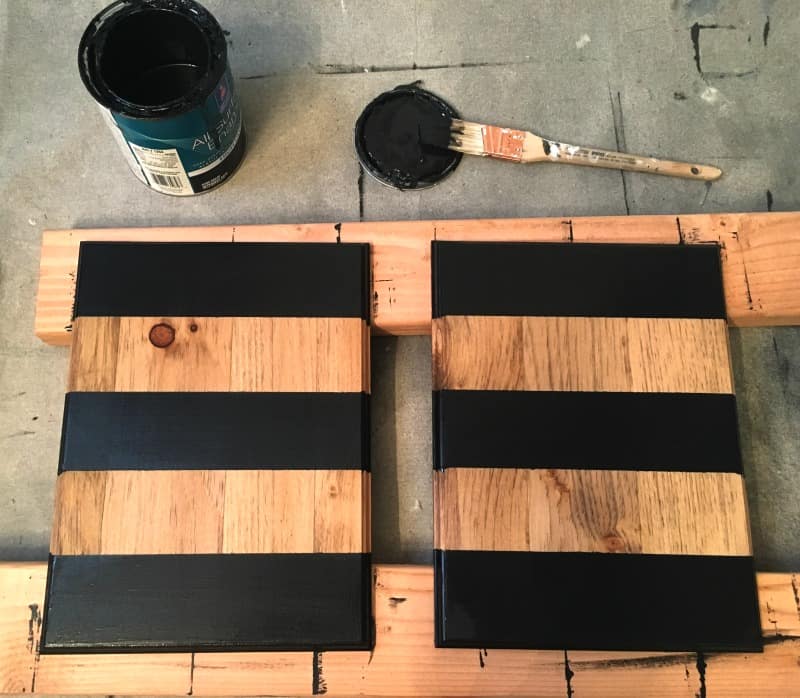 Cue the oohhhhhhhhs and aaaahhhhhhhhs
It was starting to look so fabulous!
I threw on a quick coat of poly to protect it.
Once they were dry it was time to add the gold planters. I decided where I wanted them placed on the board and got to work pre-drilling the hole where the screw would go.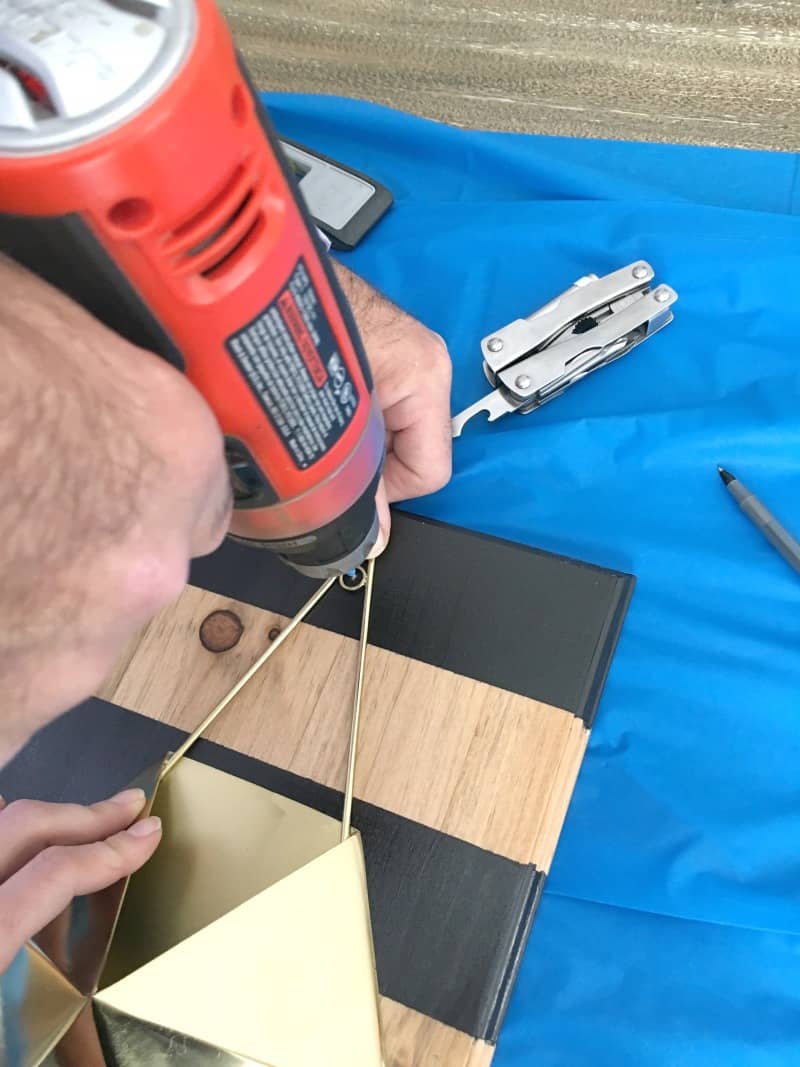 (Thanks Dad for the help!) I then attached a 5/8″ long screw to secure the wall planter to the board. Sadly, the screw was silver. So, I threw some black paint on it so it would blend into the stripe but you could also spray it gold.
Oh, and I attached a little saw tooth hook on the back of the board to hang on the wall but you could also use command strips to avoid holes.
Then…it was complete!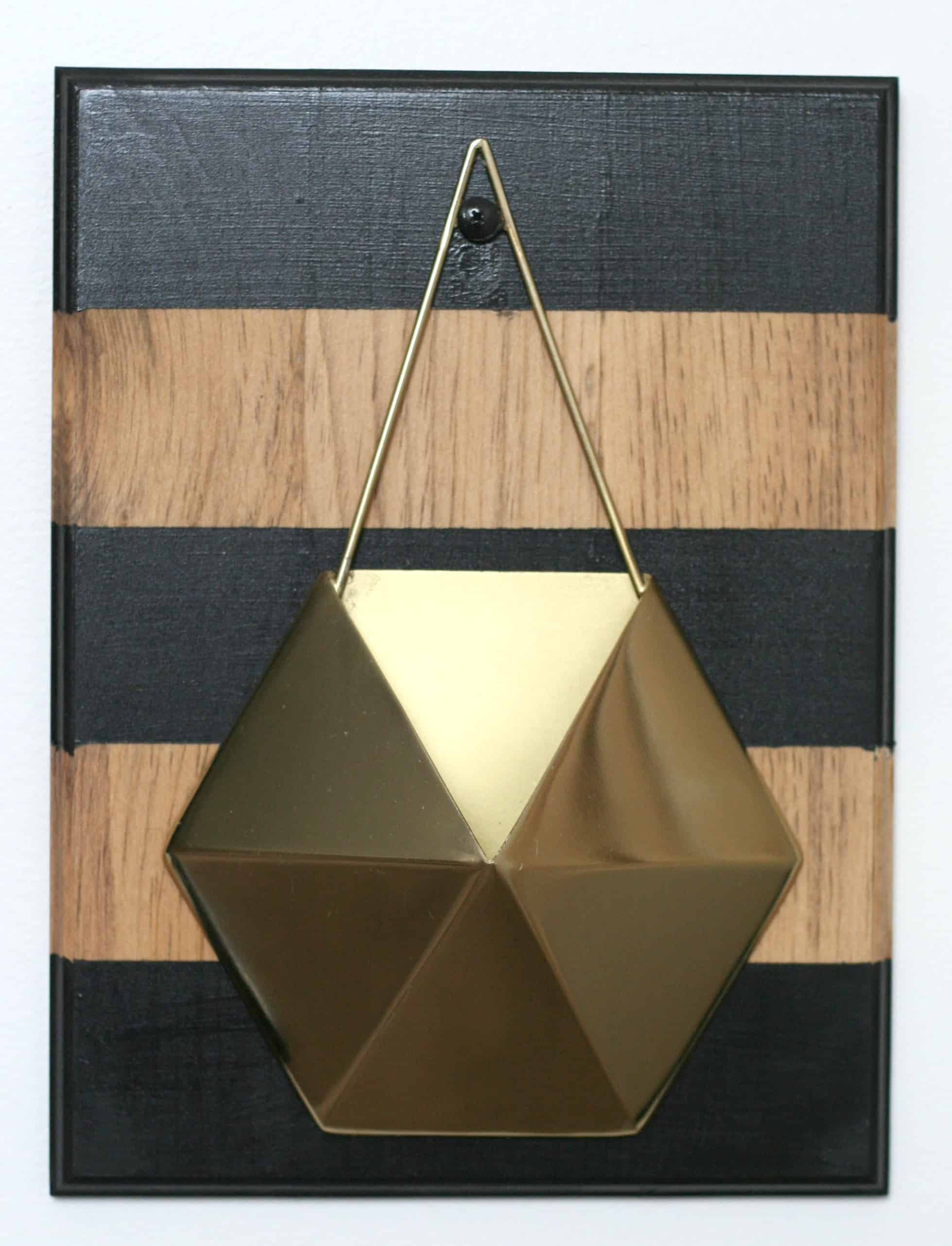 It turned out even better than I had hoped! But of course I had to put something in those fab planters so I played around with a few options.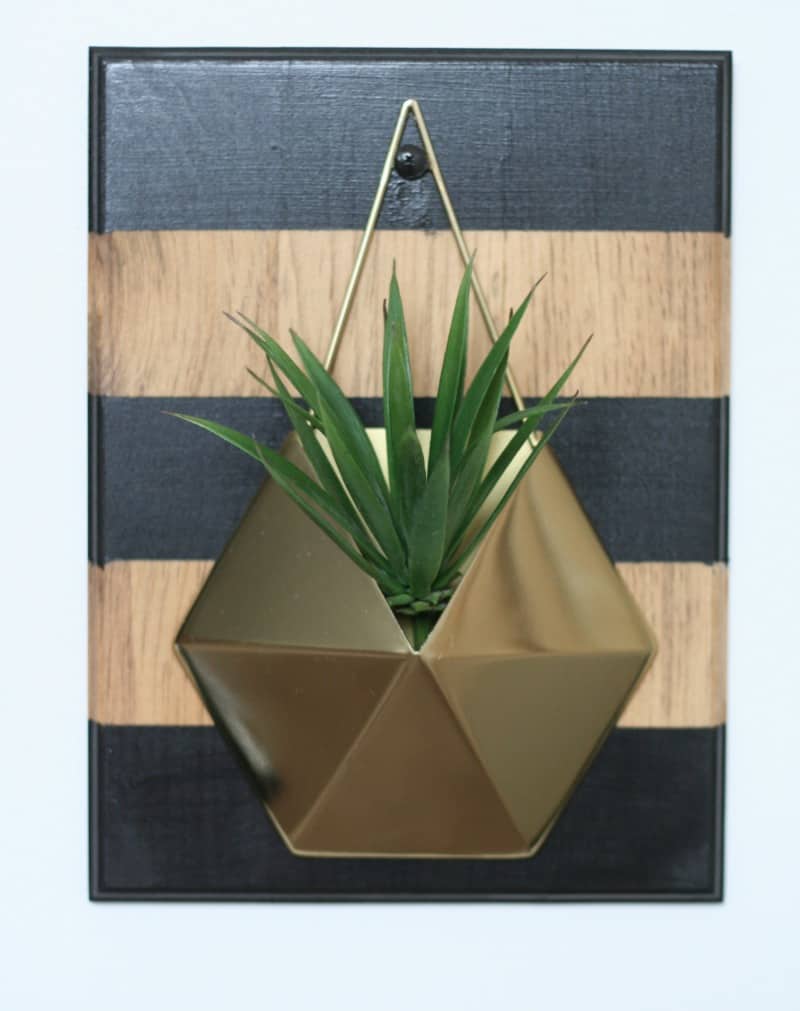 A more modern look with a faux aloe.
And for a festive holiday look :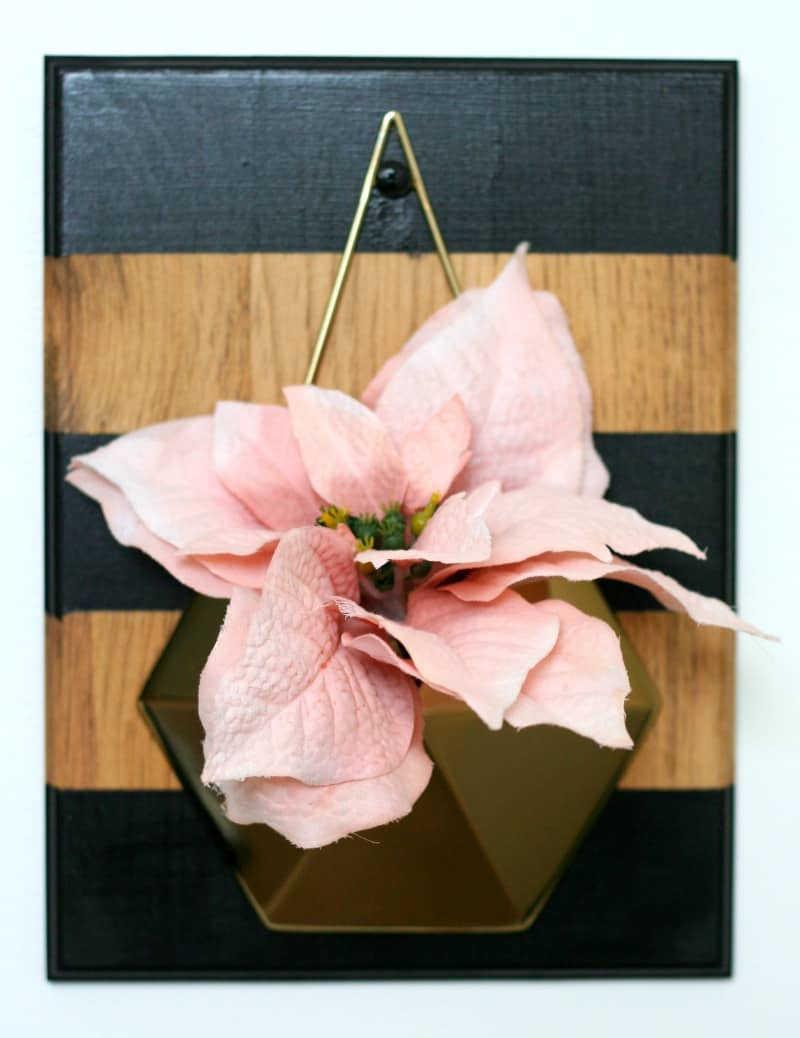 That's what so great about these…the possibilities are endless. And they go with almost any decor style! Glam, Farmhouse, Modern, or a combination of all of the above. They are now living happily in our gallery wall.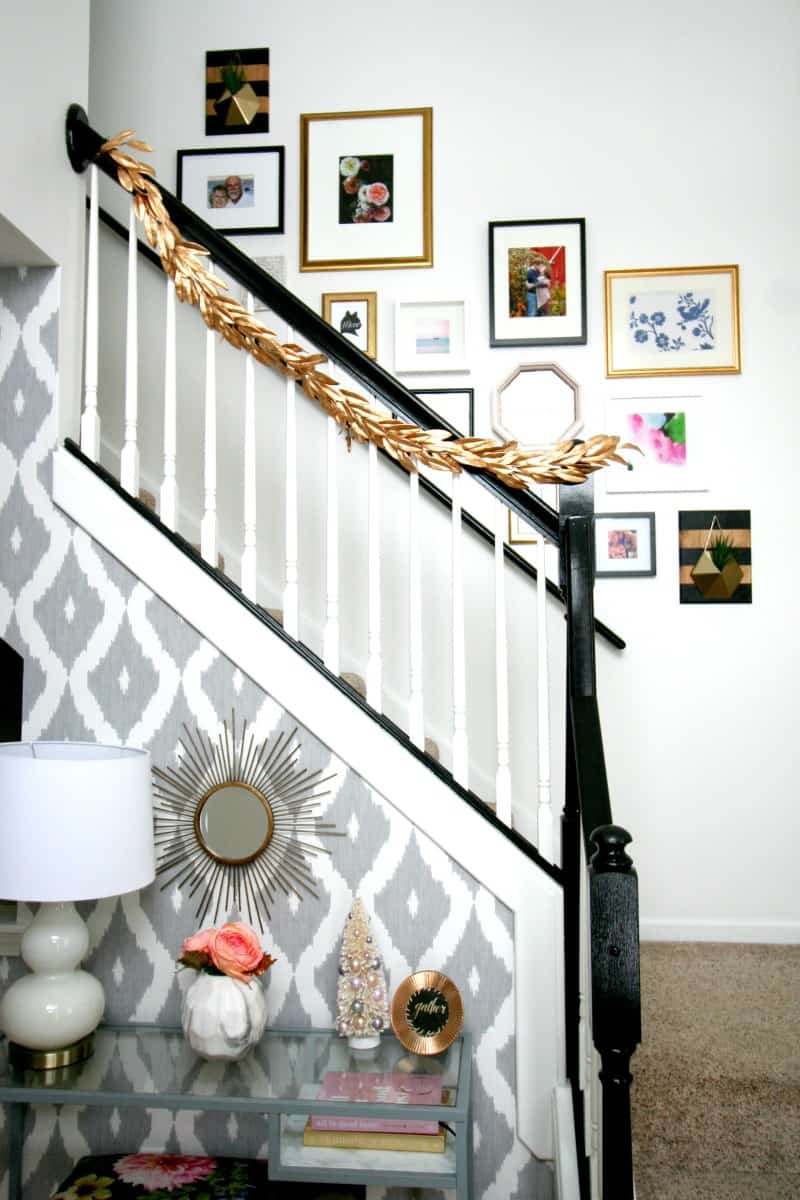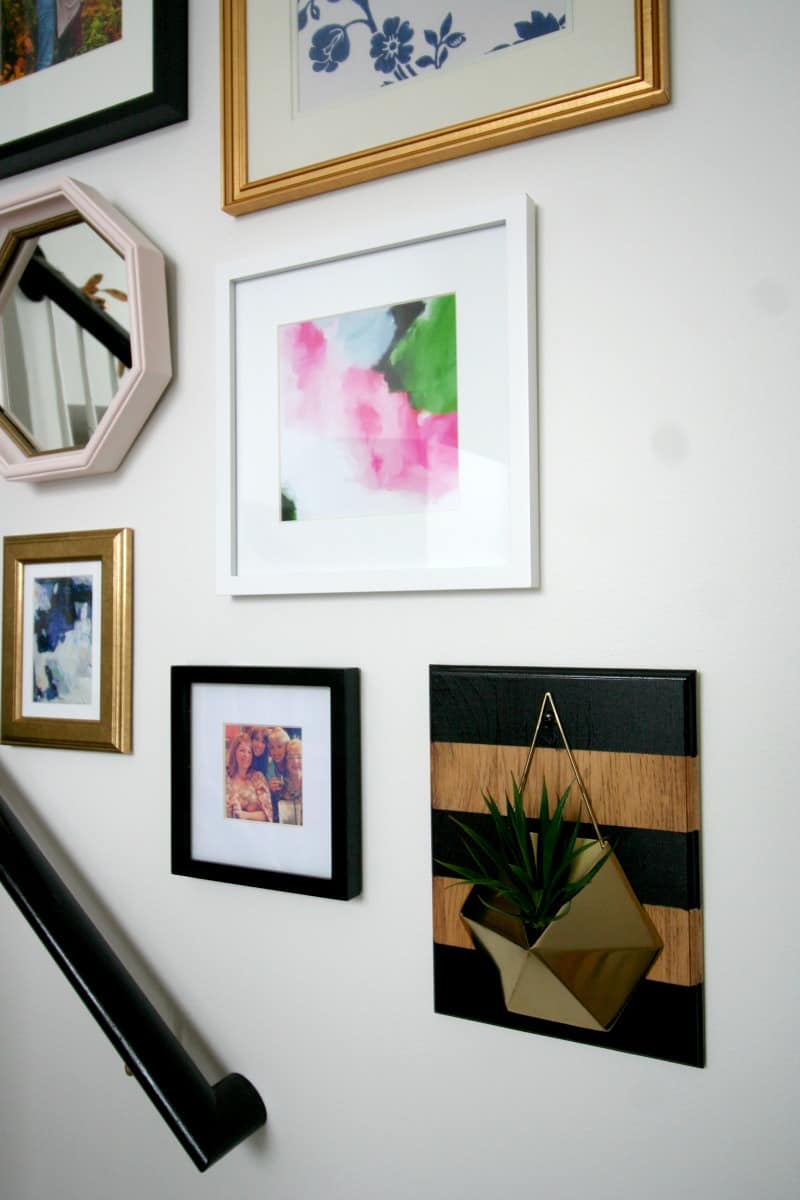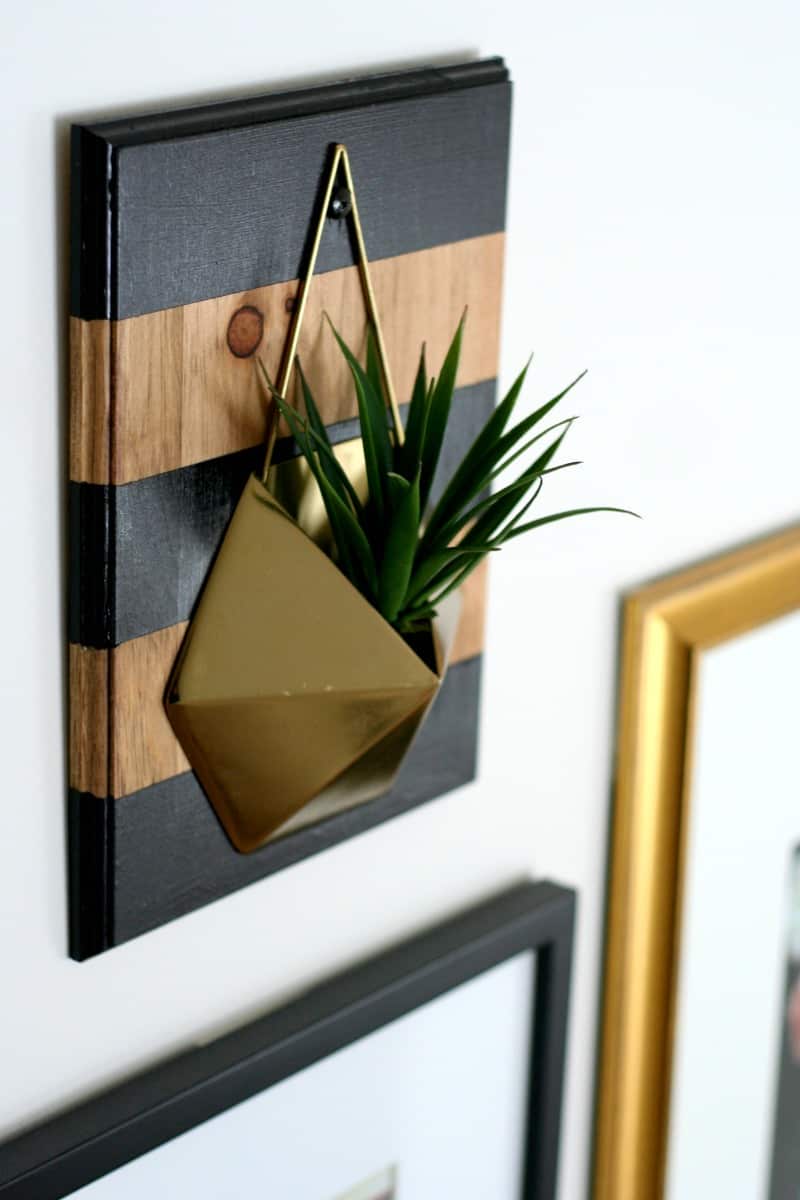 And that's a wrap! !I hope you enjoyed this fun little DIY! Be sure to check out some favorite Restyle it Wright projects too!
One Room Challenge Formal Living Room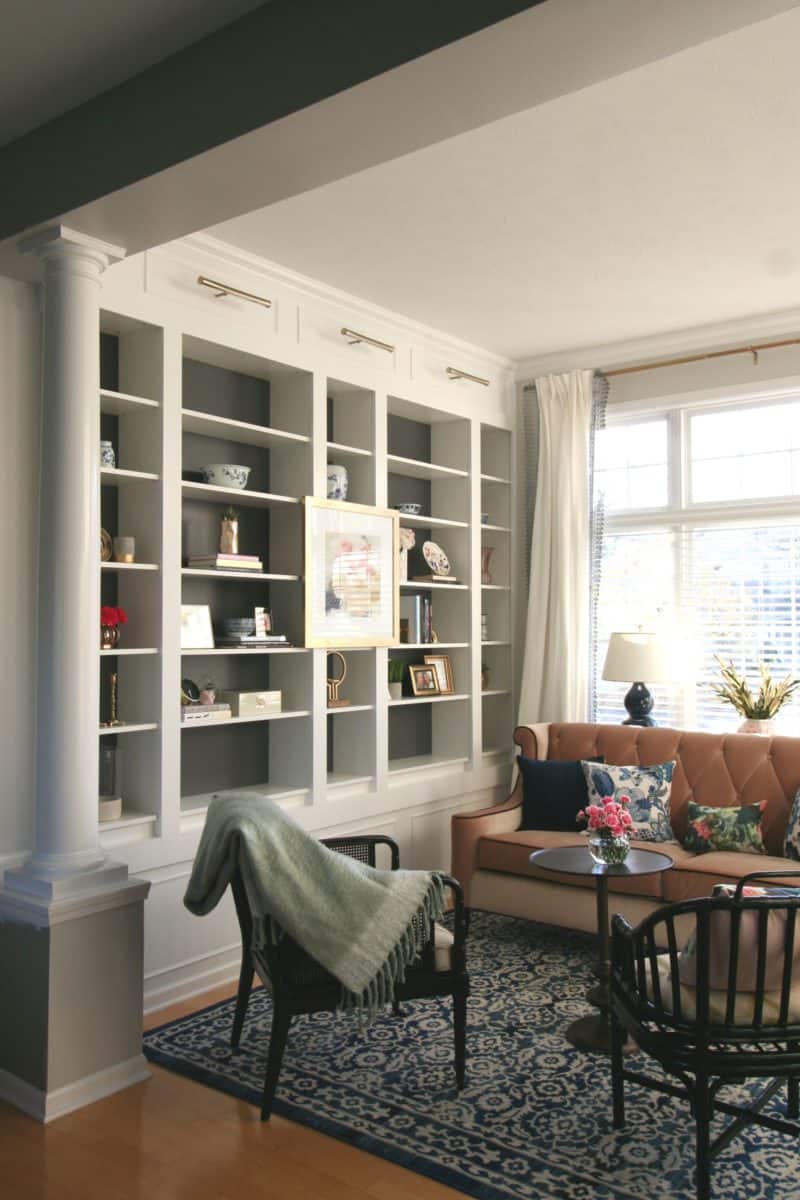 Ikea Vittsjo Hack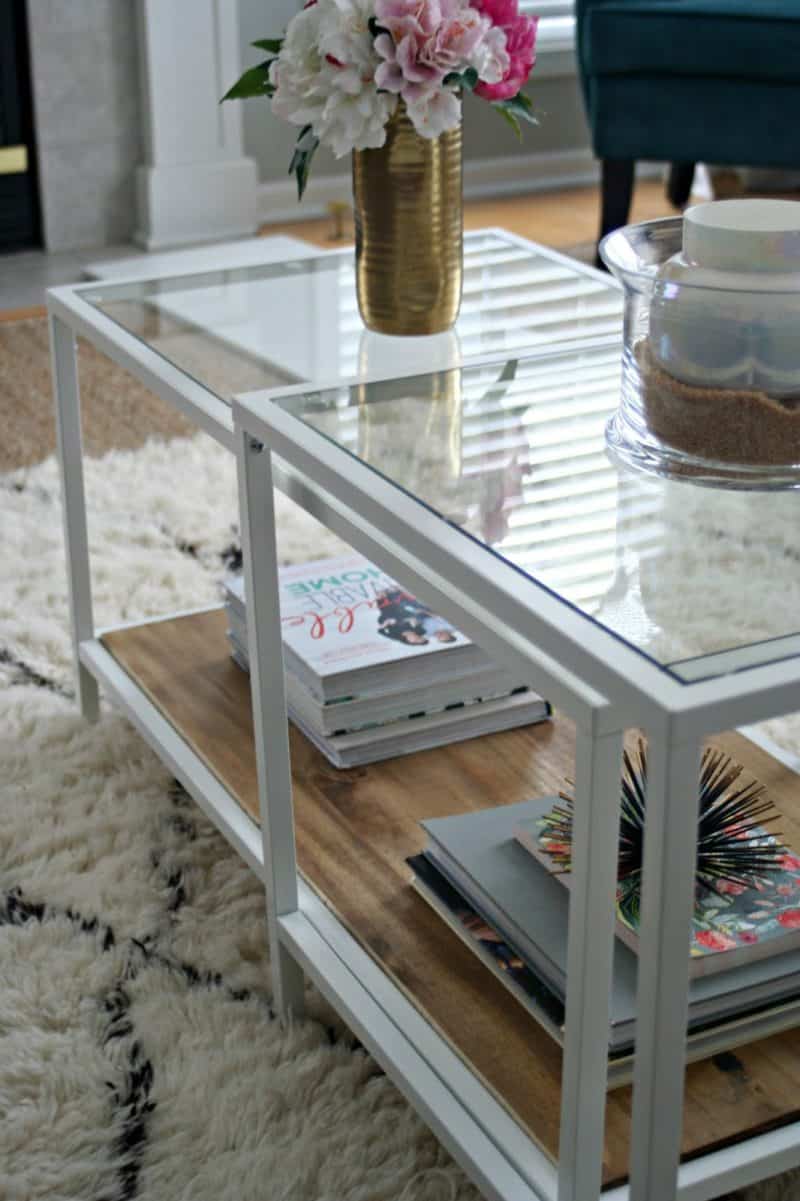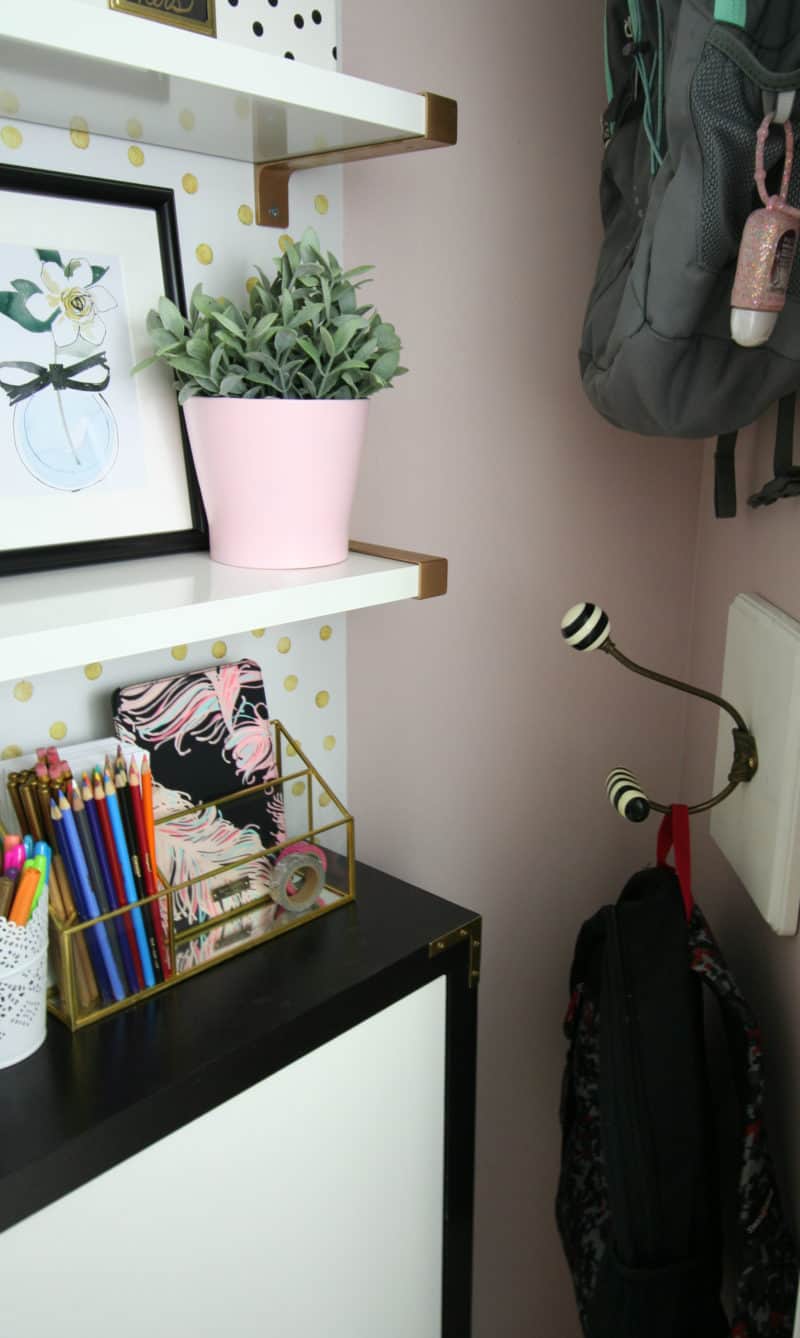 Thanks again Sarah for having me!
I hope you all have a wonderful holiday!
Colette