One Room Challenge Week 6: Modern Office Room Reveal!!
Wondering how to transform a living room into a modern office room? Follow along and get all the ideas and motivation you need.
This modern office room is our third time participating in the ORC. It's also the most work we've done by far in just 6 weeks.
I didn't even do a week 5 update post because it's been that insane. We're sleep-deprived and over it but boy was it worth it.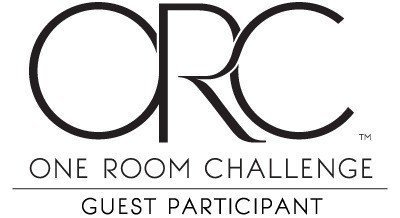 If you're hopping over from the One Room Challenge website, WELCOME! I'm so glad you're here. A little about me in a sentence.
I'm sarcastic most of the time, I LOVE design and my kids and my husband (not in that order ;)), and I have a slight obsession with art and pillows.
Enough about me … let's get to the good part!
We moved into this house just over 5 months ago. It's really our dream home and we're so very happy here. But, and this is a big but, it has zero styles.
Maybe even negative style. I've been anxious to get started really personalizing the space. We've started in the dining room and now onto the office!
Here's what the modern office room looked like before: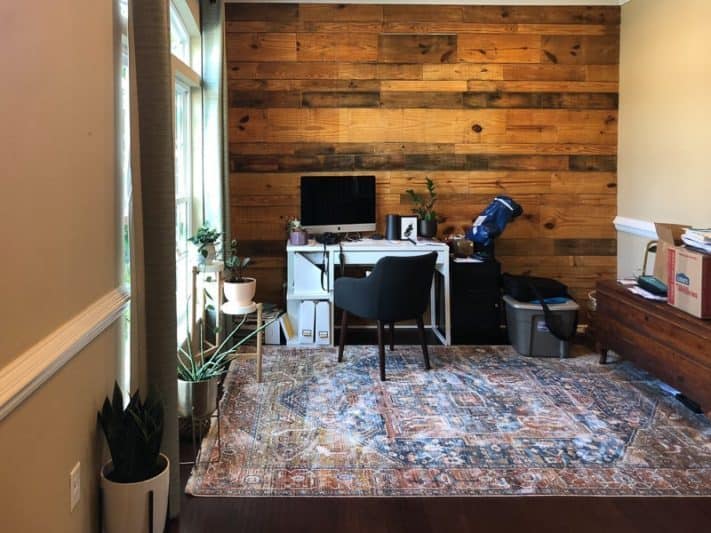 Back in week 1, I shared the controversial topic of removing the wood feature wall. Looking at it now I don't know why I even questioned myself. It is SO.MUCH.BETTER now.
I also shared the design plan to completely transform the space.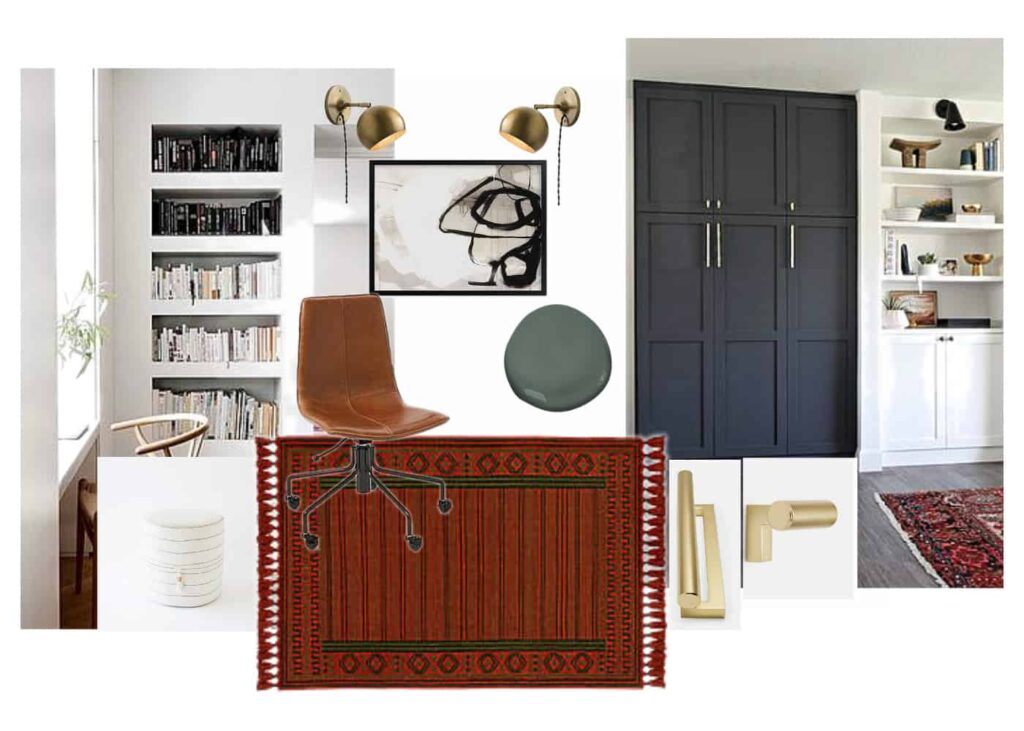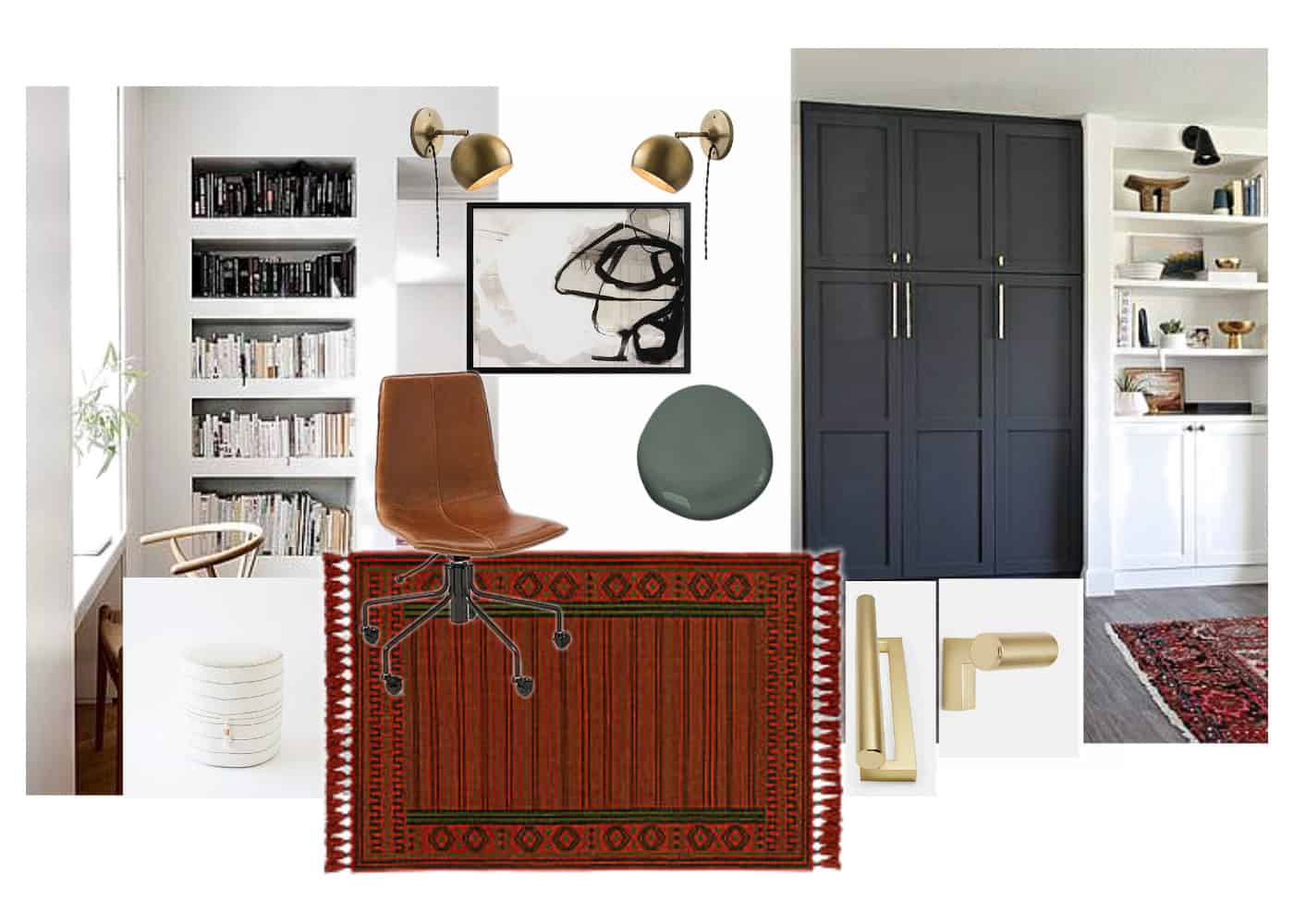 Catch up on Past Weeks Here:
WEEK 1 | WEEK 2 | WEEK 3 | WEEK 4 | YOU'RE HERE
Modern Office Room Reveal!!!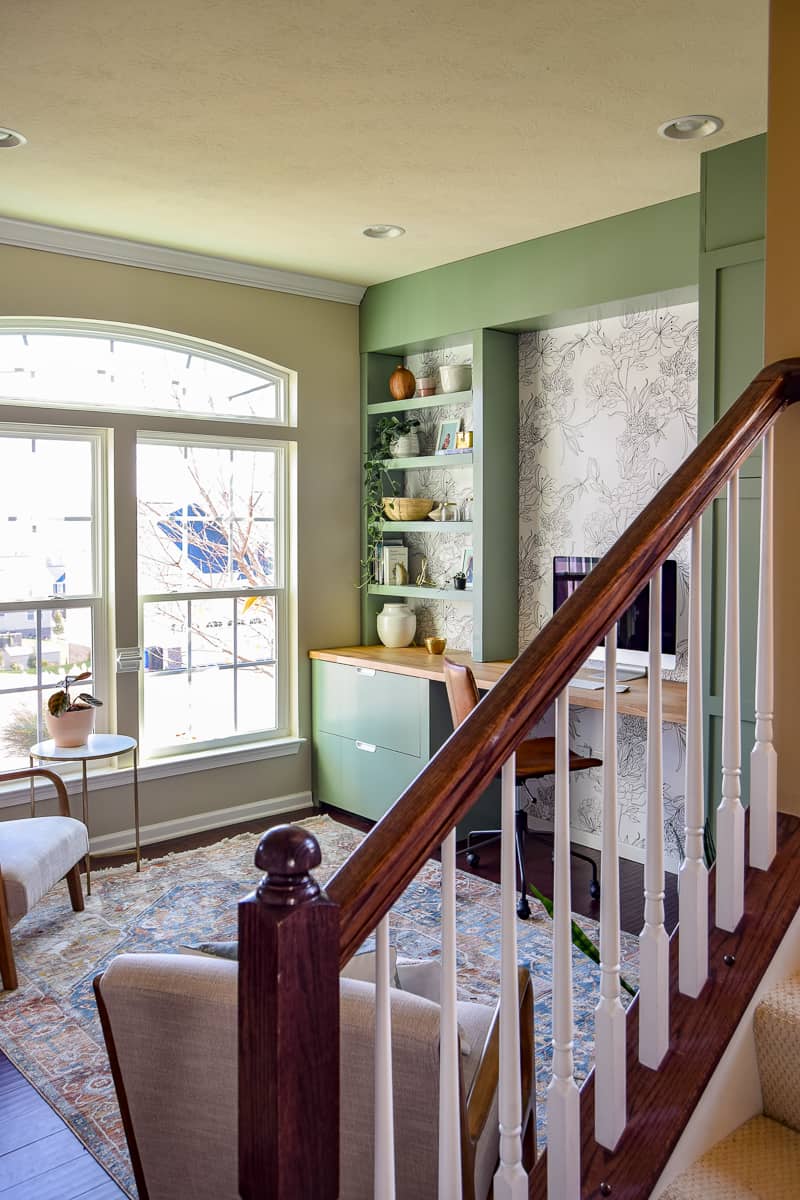 LOOOVVVEEE.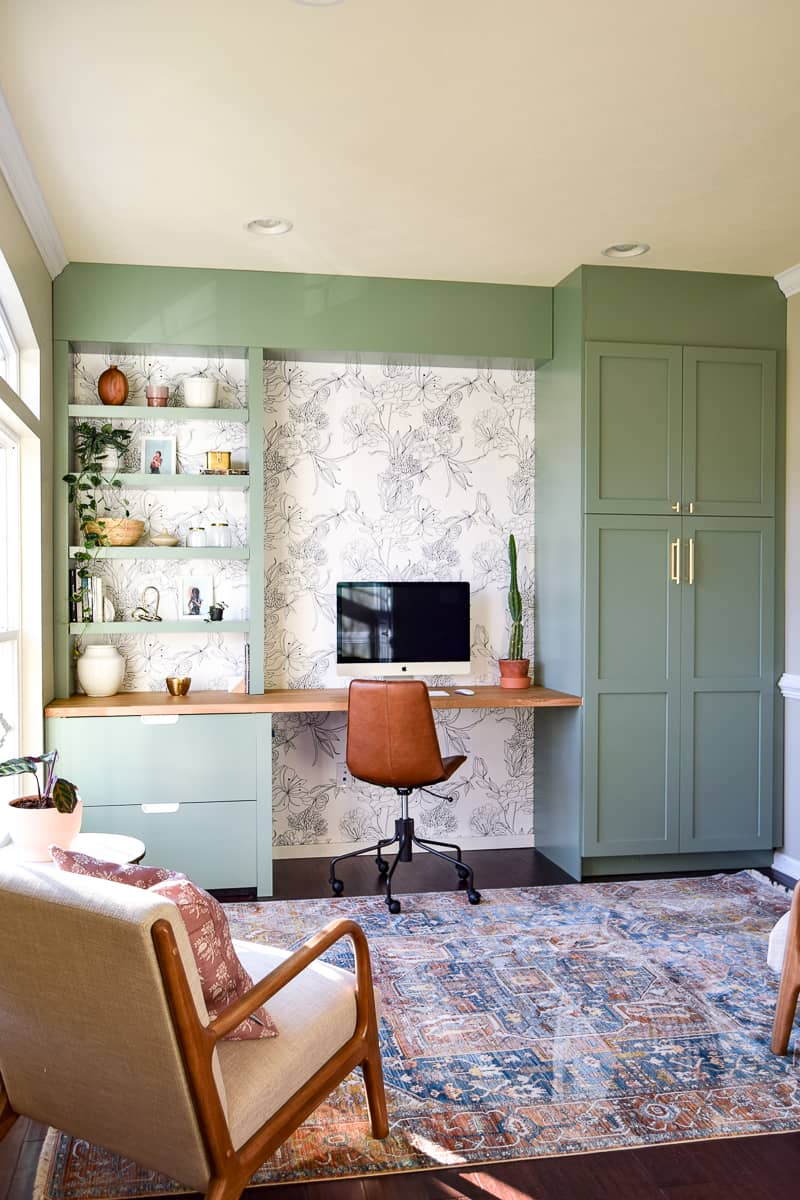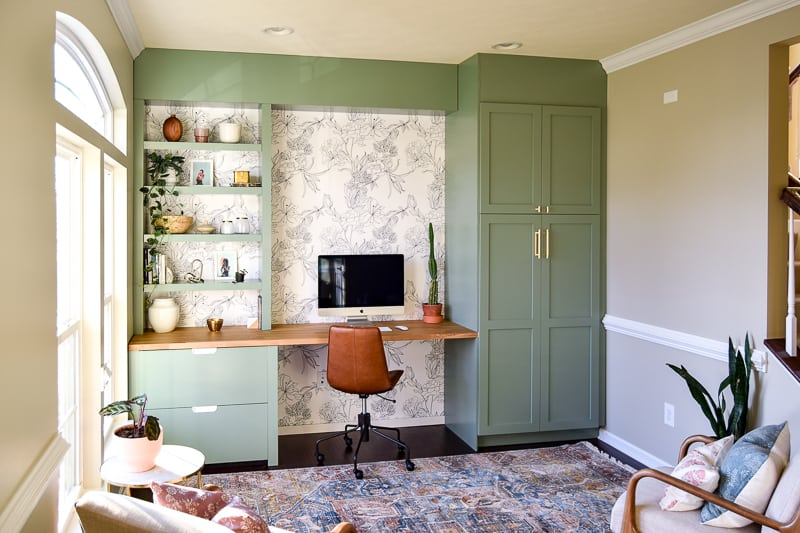 Getting Wallpaper Wall Ready for the Modern Office Room
The first thing we did was take down the wood planks. It was a controversial choice but I'm SO glad we did it.
With the wood down, we patched and sanded the wall for wallpaper!!!
Genius TJ decided to write on the wall with SHARPIE so we had to prime the wall 5 times (yes, 5 times) to cover the sharpie enough for it not to show through the wallpaper.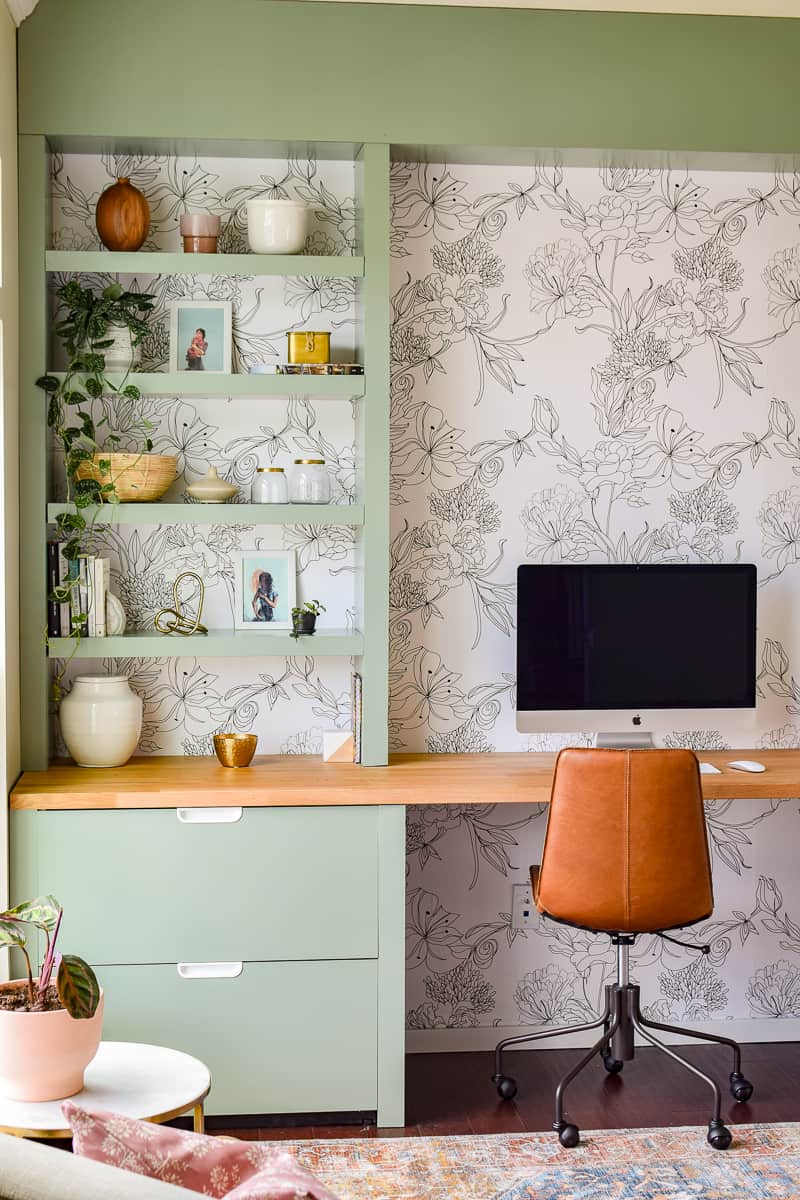 Installing wallpaper wasn't easy, honestly. But, I'm really happy with how it turned out.
Using IKEA for Built-ins and Modern Office Set up
For most of the semi-custom built-ins, we used IKEA products and then trimmed them out with wood from Home Depot.
The left-hand side was built from an IKEA filing cabinet – probably the most sturdy IKEA product we've ever used.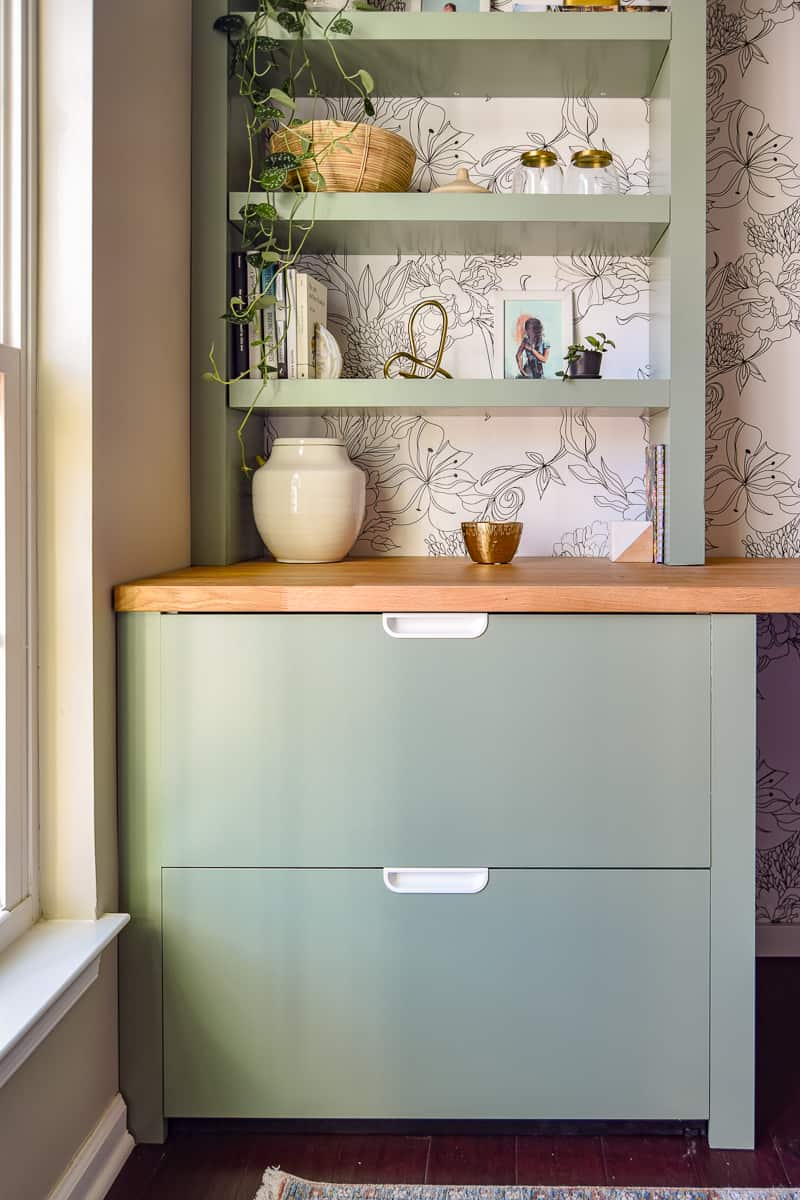 We removed the top and used a butcher block kitchen countertop (also from IKEA) as the desk surface. It rests on top of the filing cabinet.
We anchored it into the filing cabinet and the other larger cabinets on the right-hand side.
It was too long and too deep so TJ cut it down to fit the space. You never know what will happen with IKEA products when you cut them but this actually worked perfectly.
Speaking of the right-hand side, we used IKEA SEKTION pantry cabinets to give us a ton of storage. Not gonna lie, they're currently filled with scraps from the project that haven't been cleaned up. But, someday they'll be for actual storage.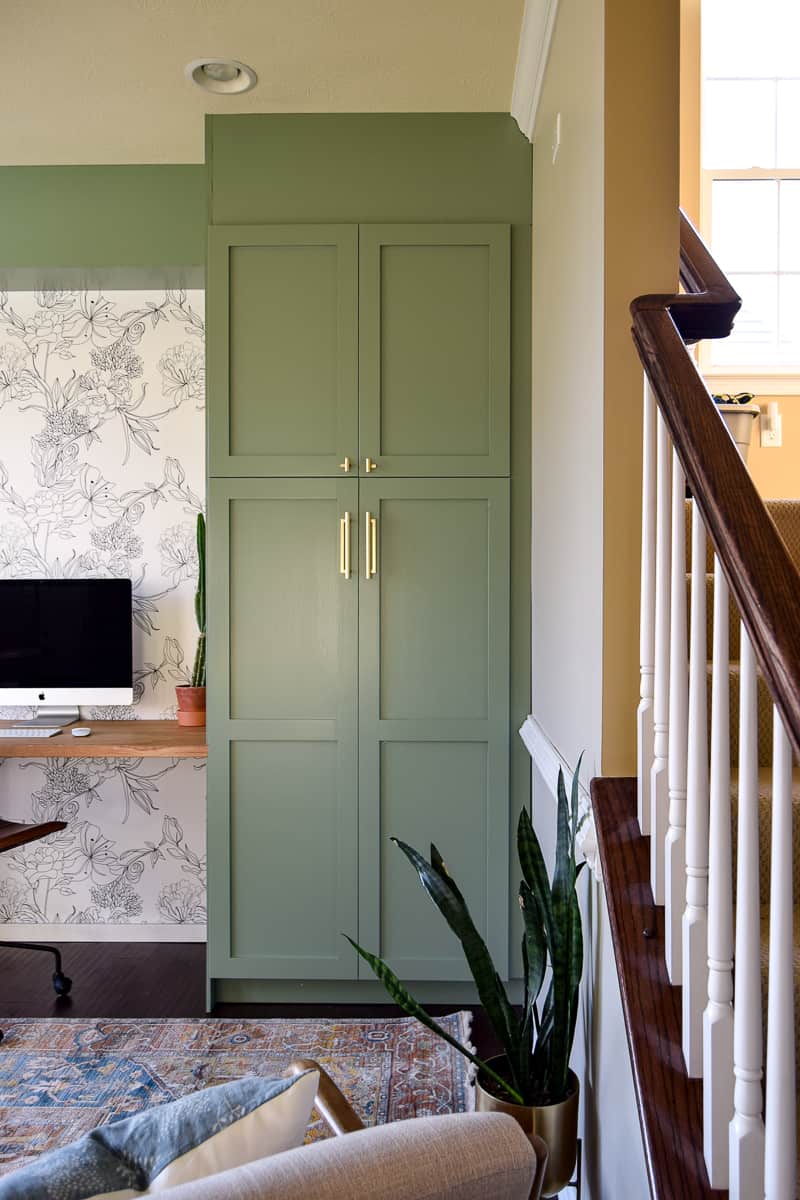 We ordered different doors for the cabinet from Semihandmade. They have some great pre-finished options that are so, so much better than the standard IKEA brownish black or whatever they offer.
I chose the DIY slab since I knew we were painting it and IKEA products aren't the easiest to paint.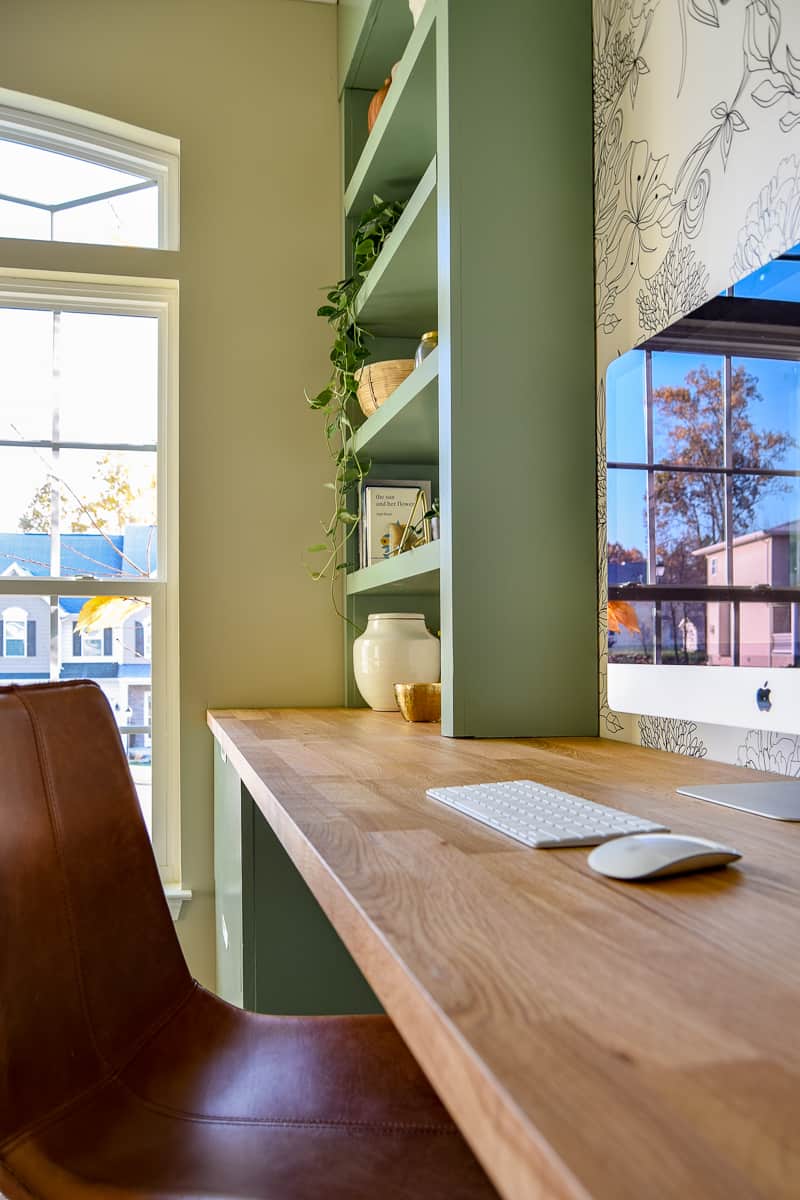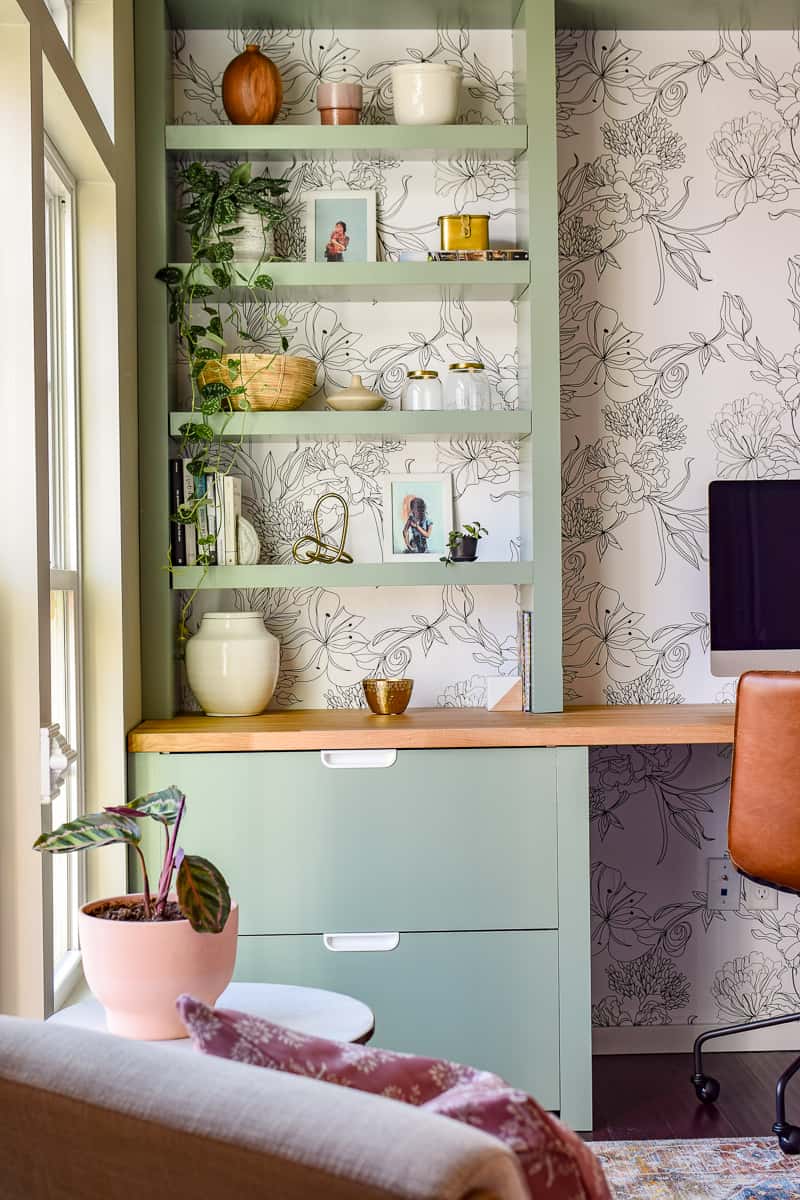 IKEA Shelving and What is Left to Finish Office
Last, we used IKEA LACK shelves for the floating shelves. TJ had to cut the wood down AND the brackets that hold them up, too. There was a lot of swearing involved. 😉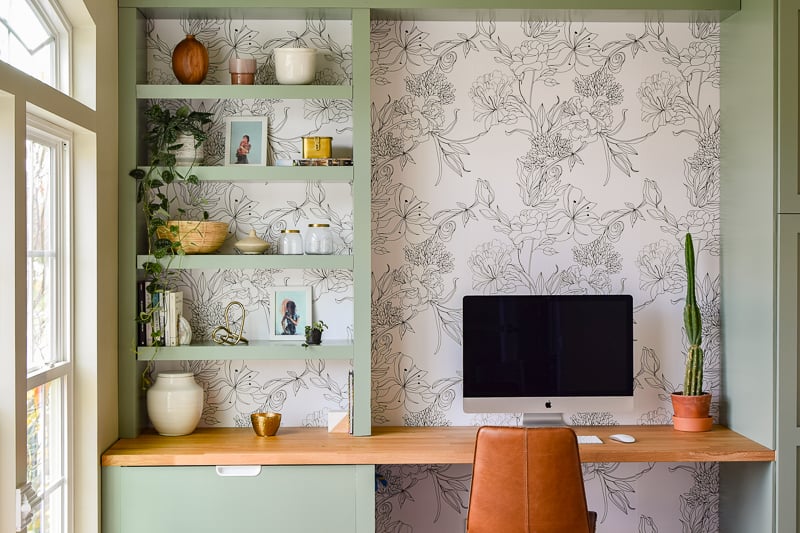 We aren't 100% finished yet. We still need to add trim to the top of the built-ins just so it doesn't look like a box. And, that piece of baseboard is some random white thing we had in the garage.
If you look closely you can see electrical wires covered in the tape that needs an outlet. And some other random wire that is being hidden by a vase. Don't cheat! If you haven't spotted them yet we did a good job hiding them 😉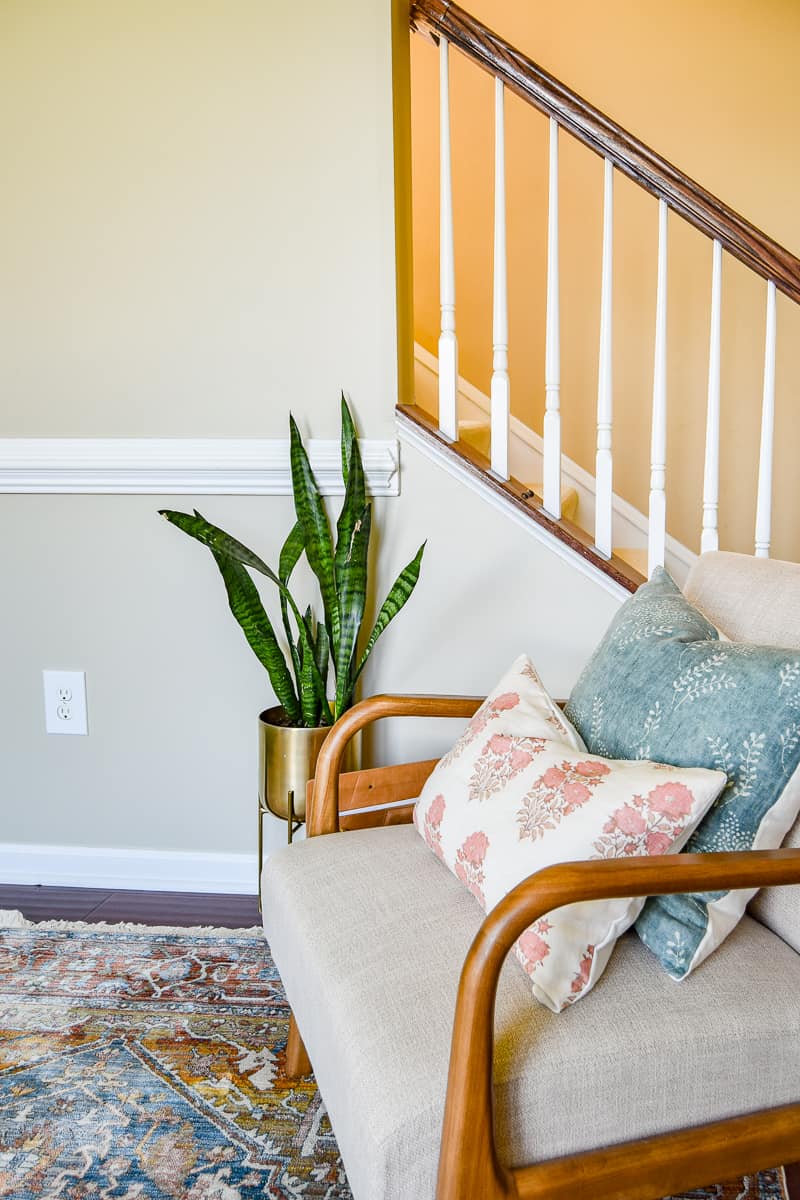 I left the same rug in there that was there before. I considered a few potential rugs and I actually did order one. Nothing felt right in the room though. I'm not 100% sold on this one but it's staying there for now.
Decorating the Modern Office Room
Seriously in LOVE with the brass handles and knobs on the cabinets. I'll be buying them for everything.
My favorite cactus also made an appearance. I've had it for a few years and it's still my favorite plant.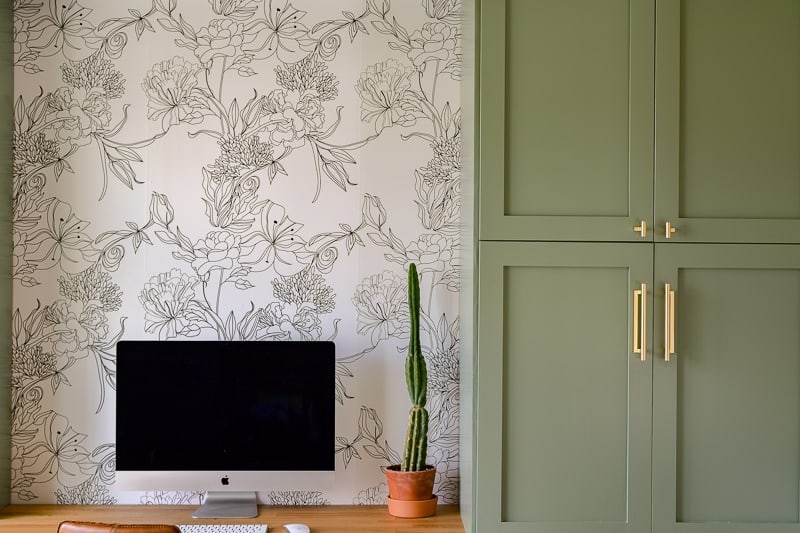 I picked some very budget-friendly chairs and end-tables that are PERFECT for the room. It's not a huge space, even with the tall ceilings. I wanted it to feel like an actual room not just an extension of the open floor plan.
I chatted in a past post about building a divider wall to better define the room. Honestly, I kind of wish we had done it but time did not allow for that.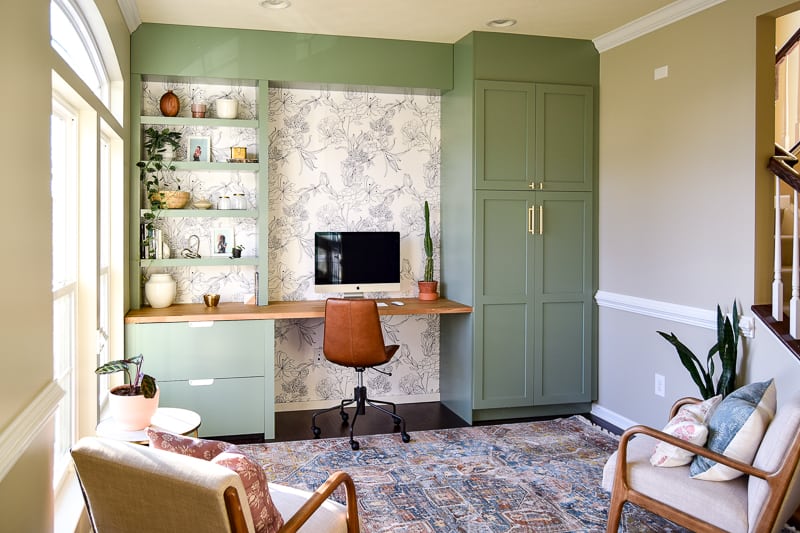 Gotta have the cozy pillows, of course!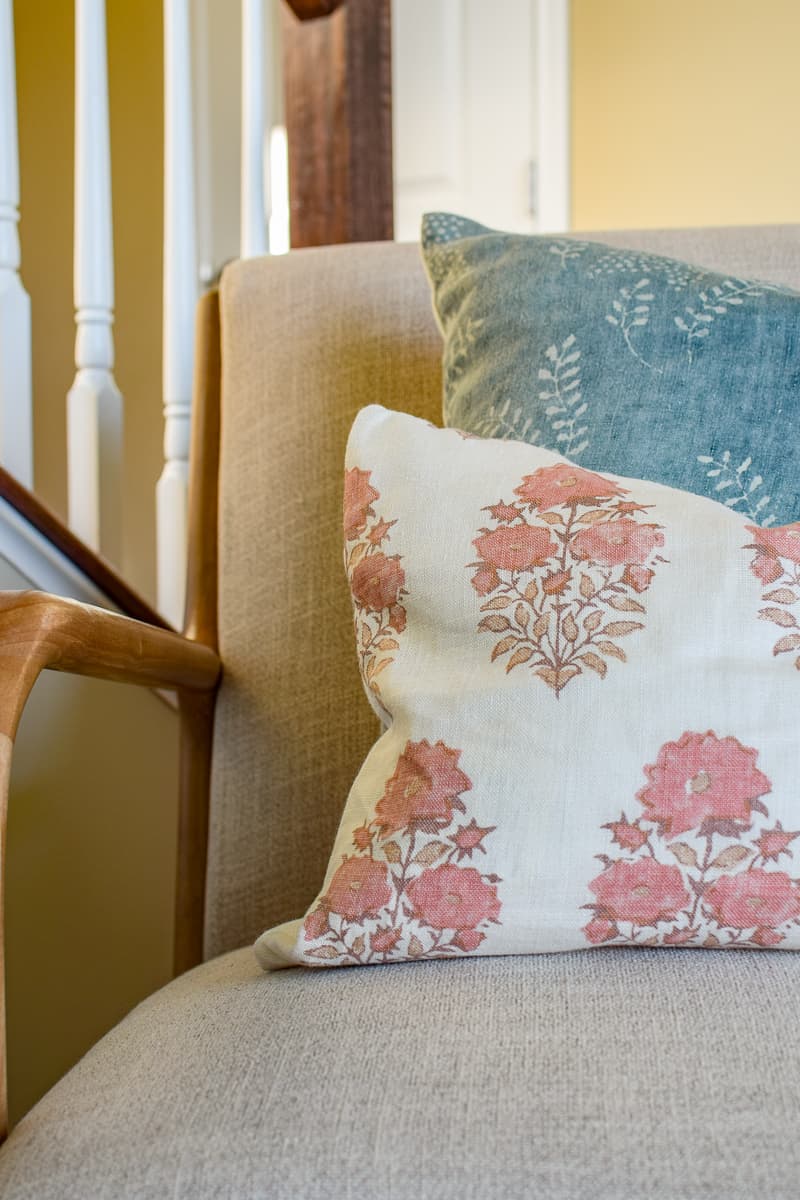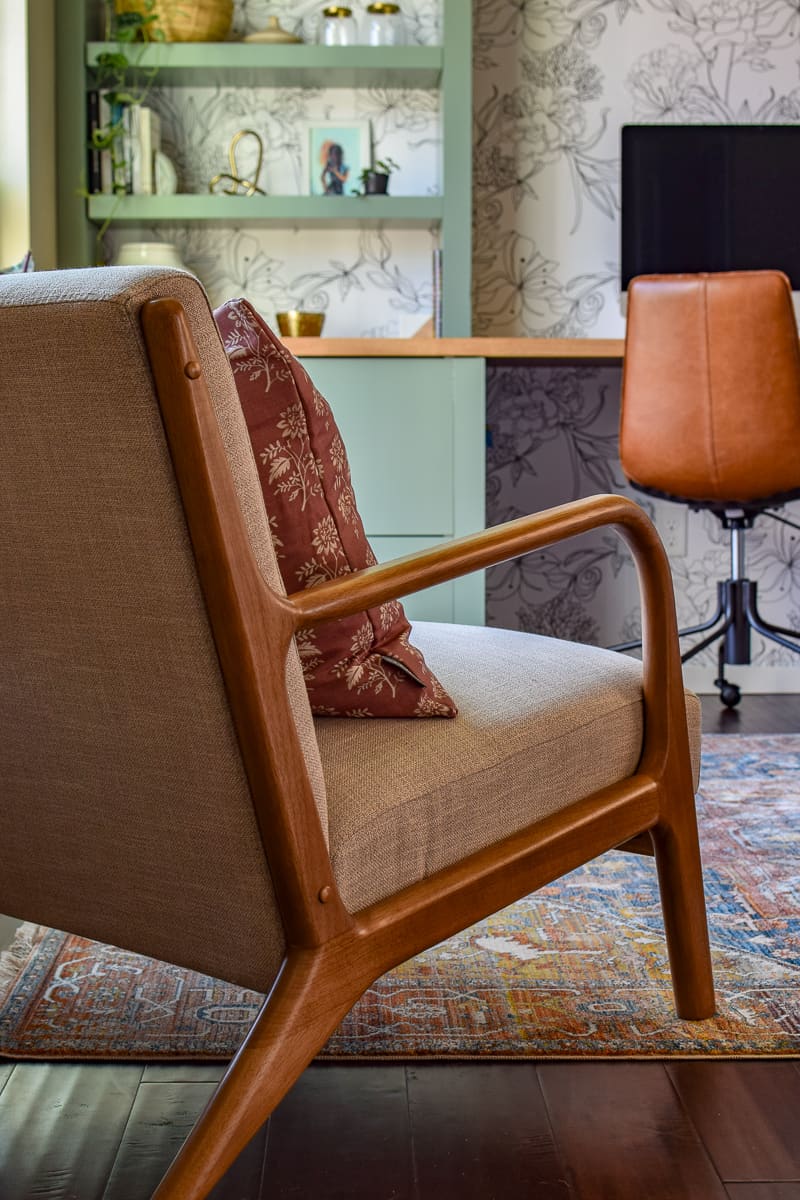 We painted the whole room Benjamin Moore Hazy Skies. It is SO refreshing. It doesn't seem like that big of a change until you look at the rest of the house that's still beige on beige.
In this photo, you can see the old beige color on the stairs.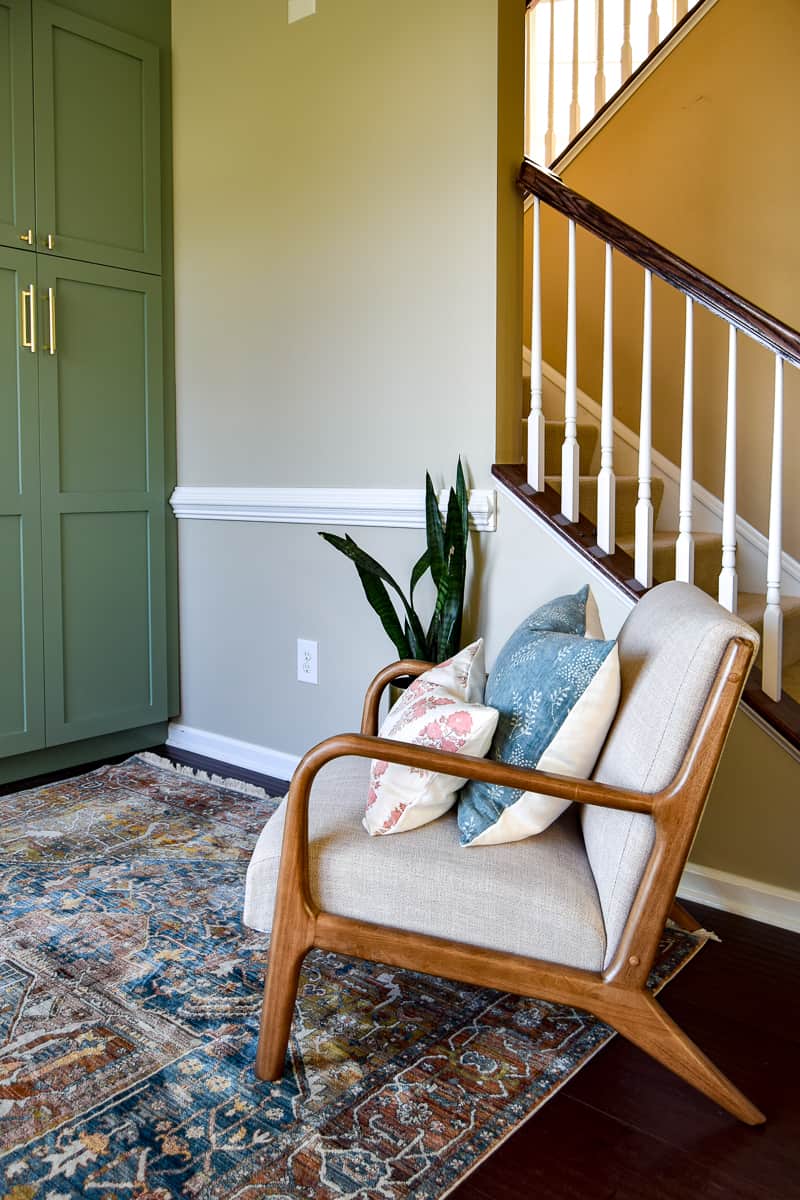 It felt SO good to get rid of the heavy curtains that just weren't doing anything for the room. Eventually, I'm going to get some roman blinds. Eventually…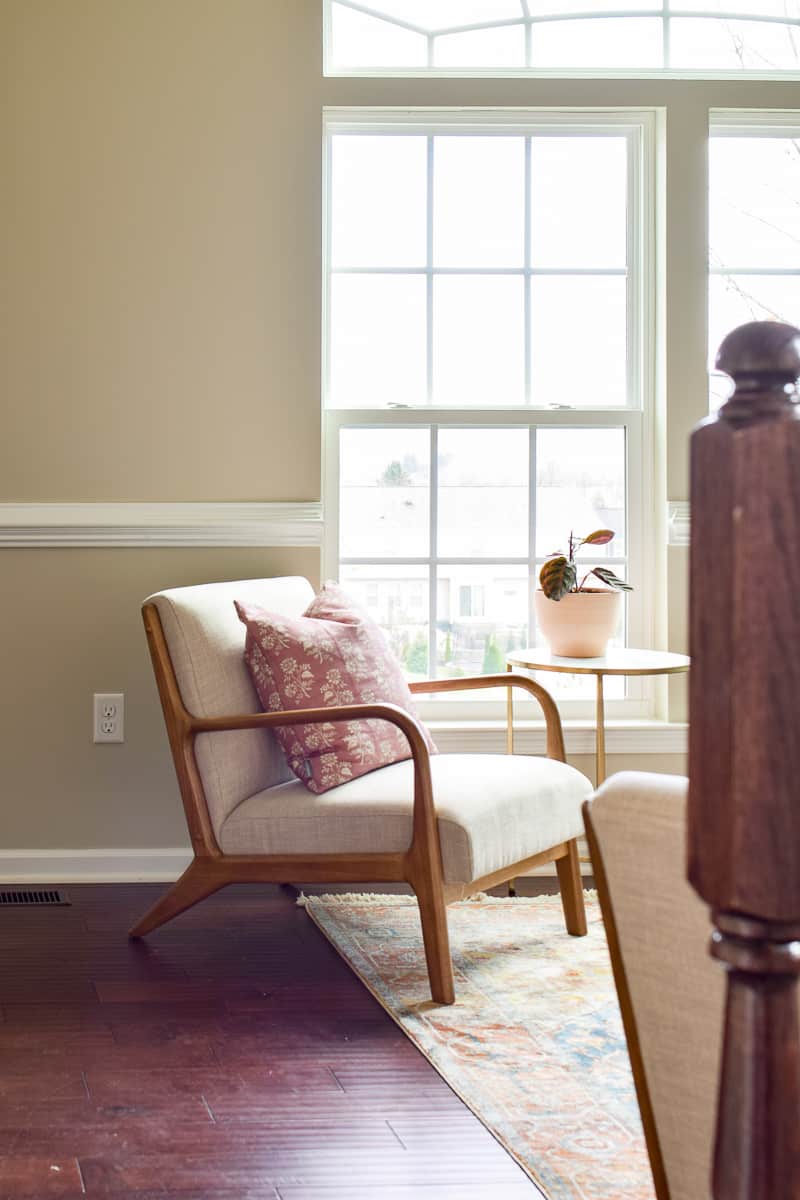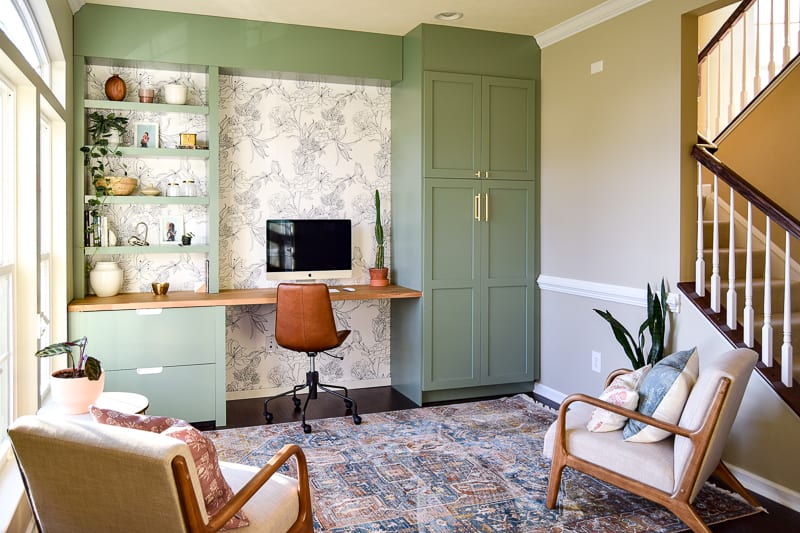 Styling the Modern Office Open Shelves.
I used some art from the old house, a few new decor pieces that I couldn't resist, and a plant I borrowed from the dining room. Is it bad that I can actually shop my house for plants? #plantaddiction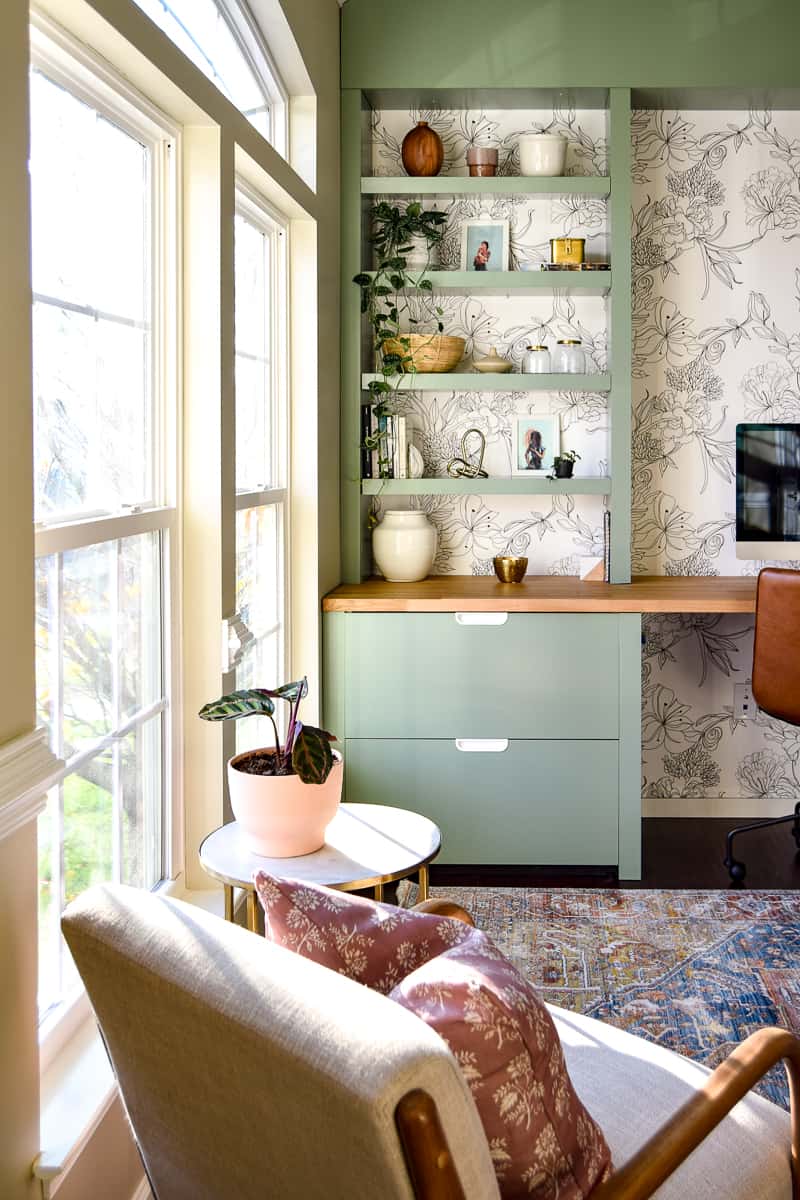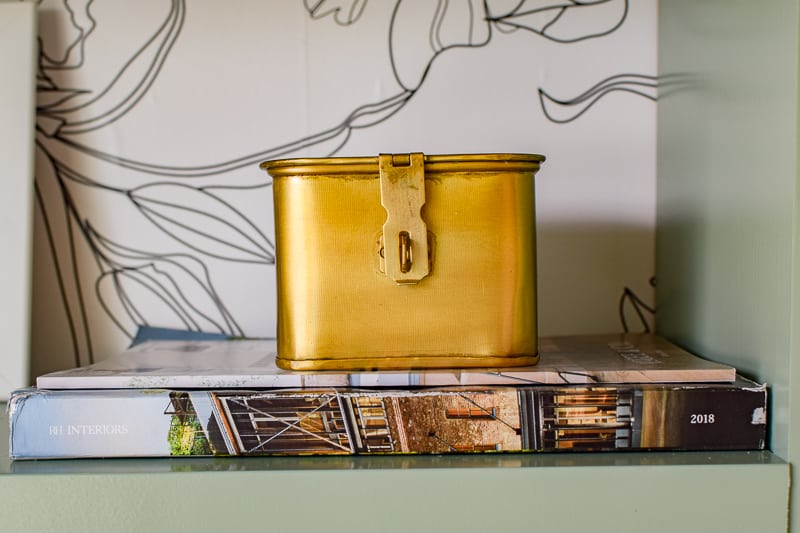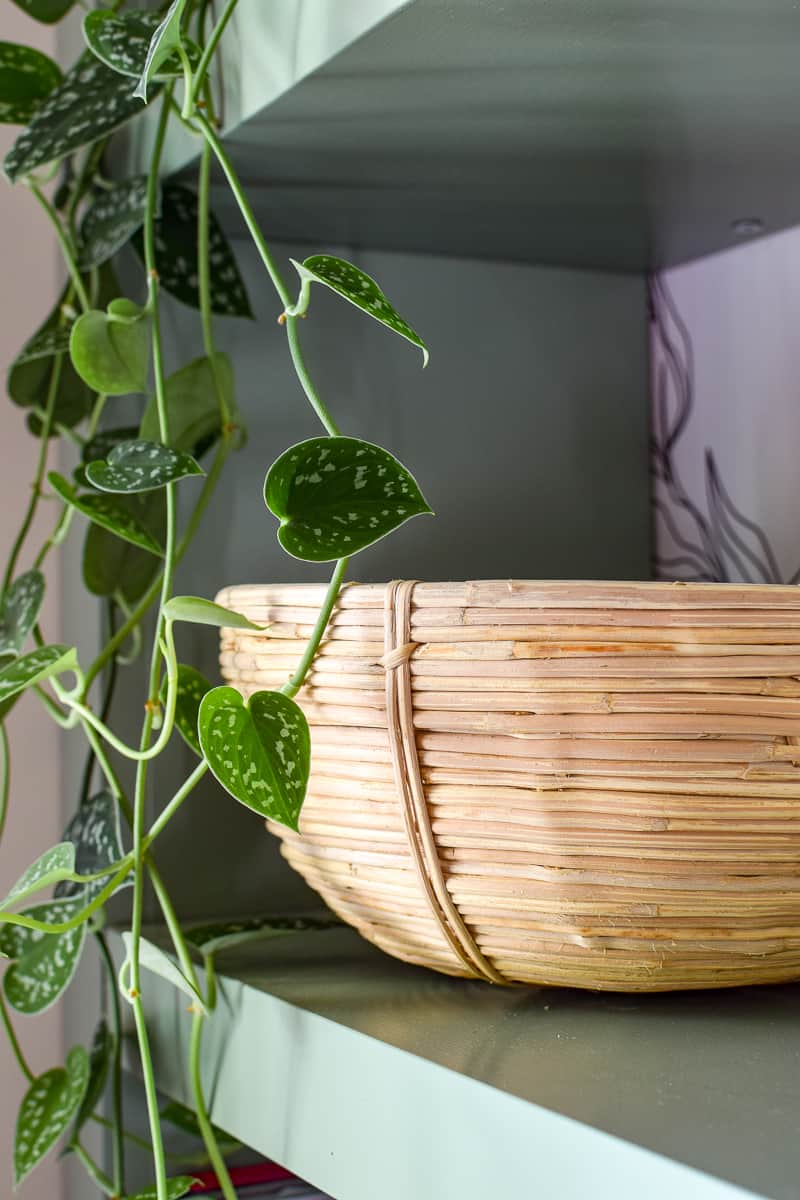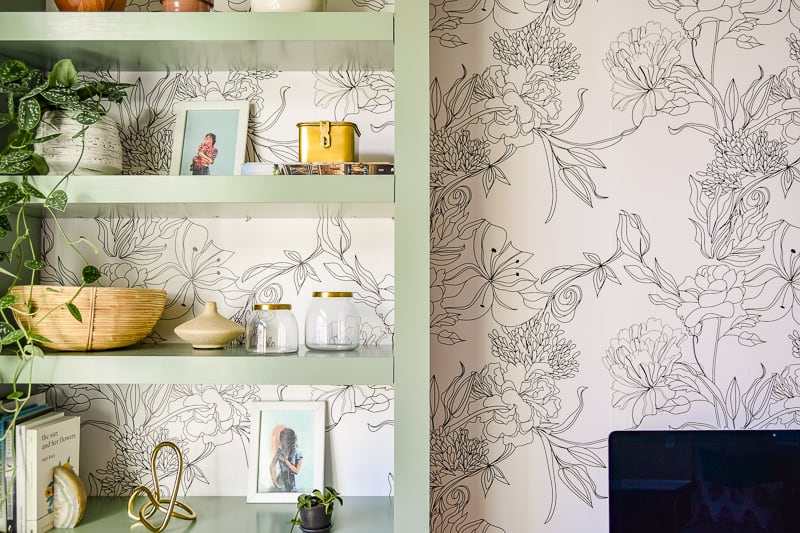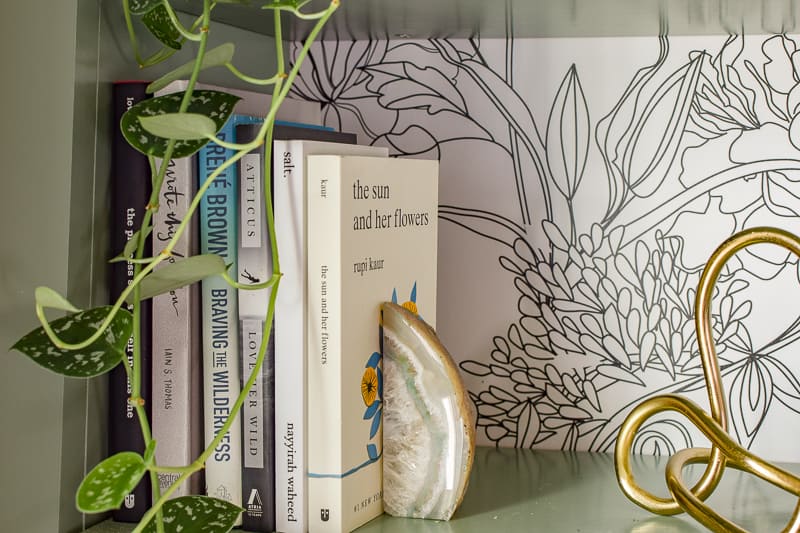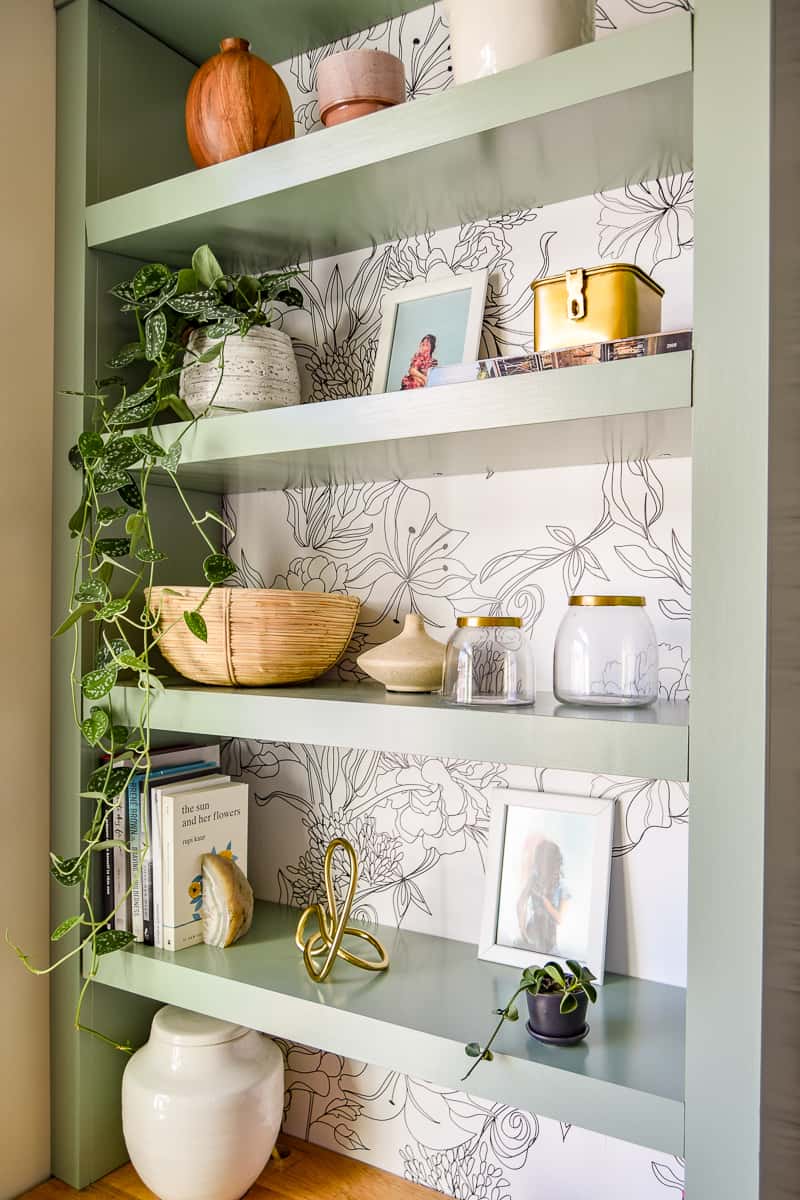 It's truly an amazing space. Exactly what I had envisioned.
It's not perfect. We still have some work to do to perfect the details. Maybe actually putting some files in the filing cabinet.
A HUGE thank you to my husband for going absolutely nuts getting this done for me/us. And to my dad for helping paint, even though I'm pretty sure it took him 20x longer than the average person.
And to Uncle Peety (as my kids call him haha – his real name is Bob, don't ask) for helping paint, too.
Modern Office Reveal Photos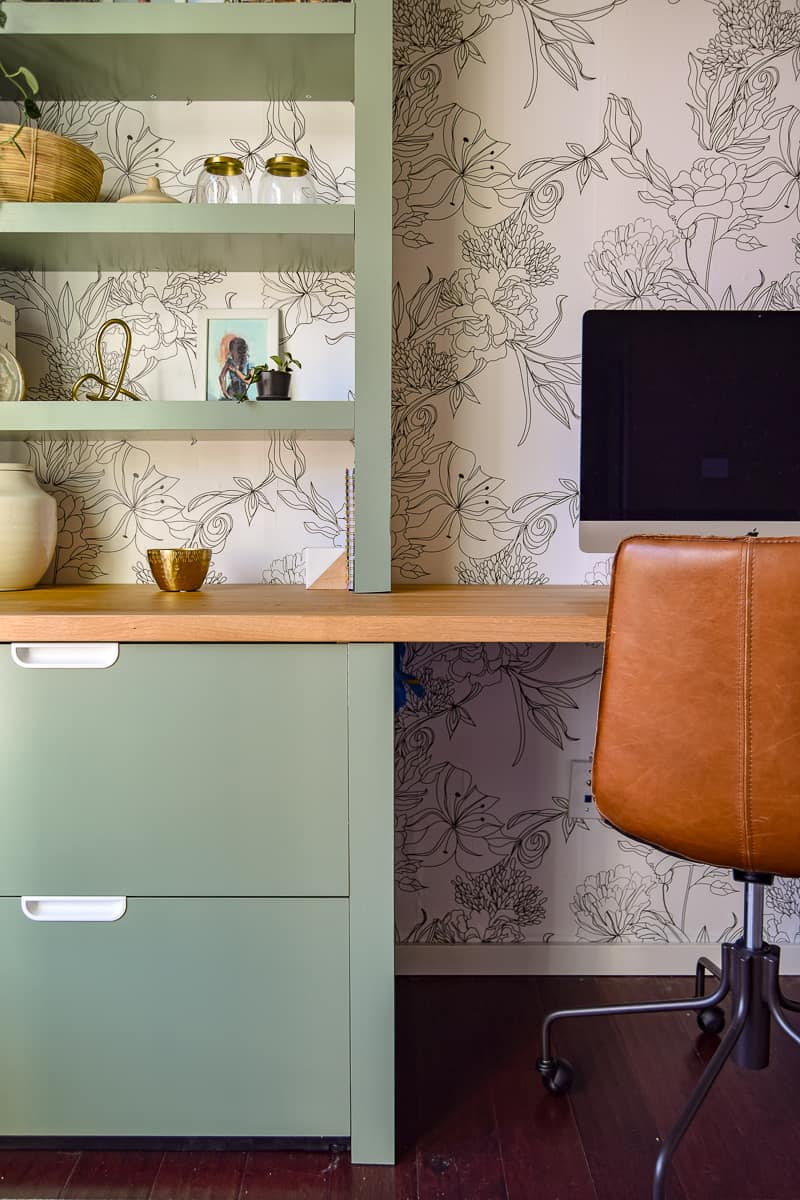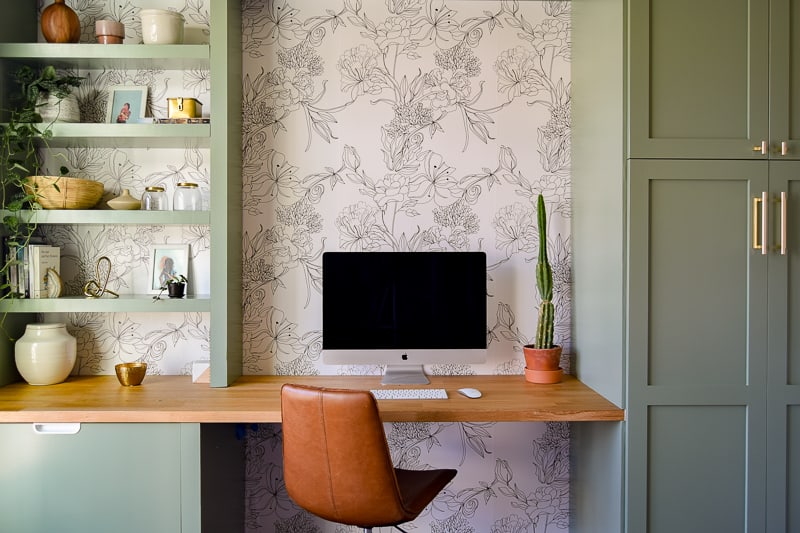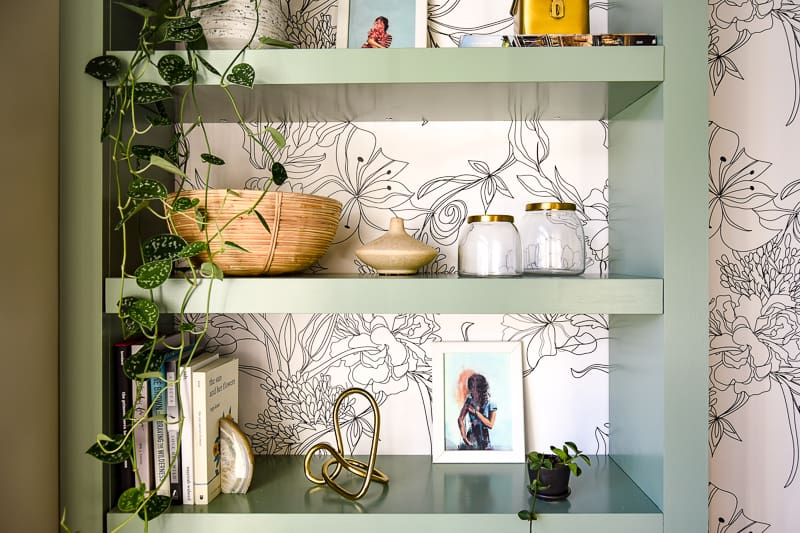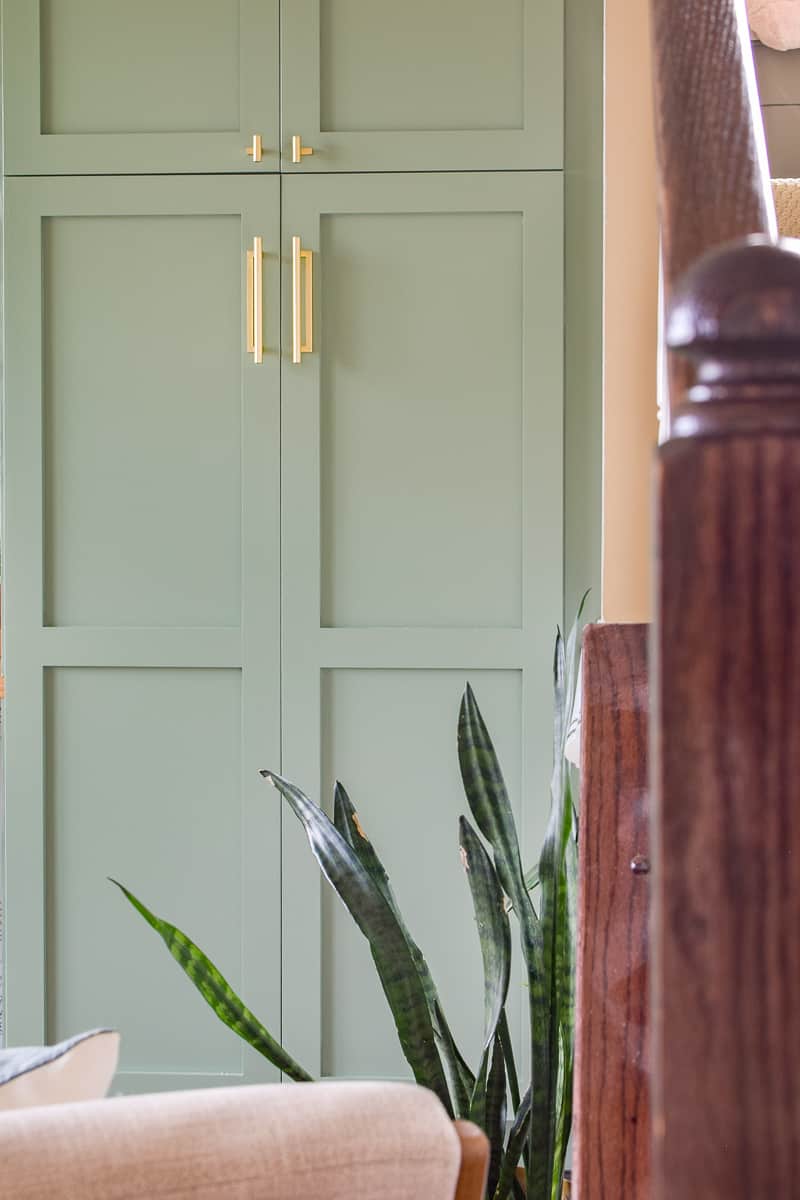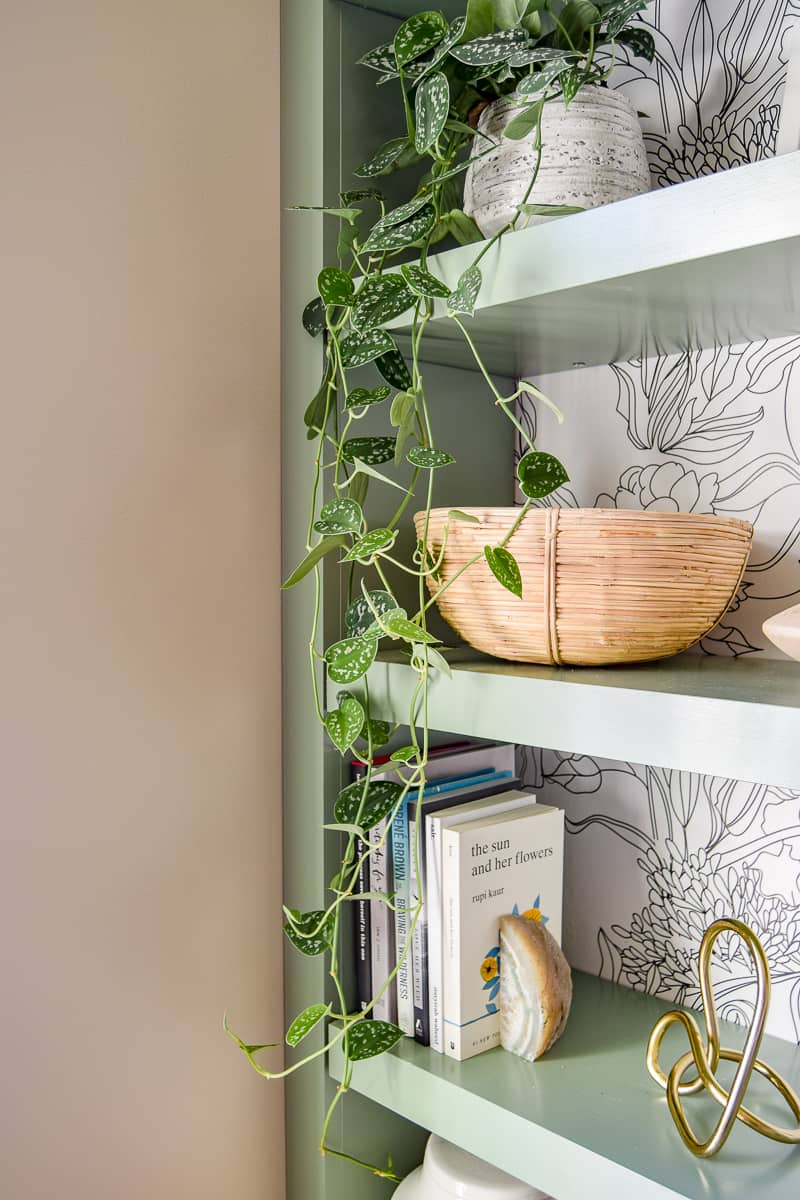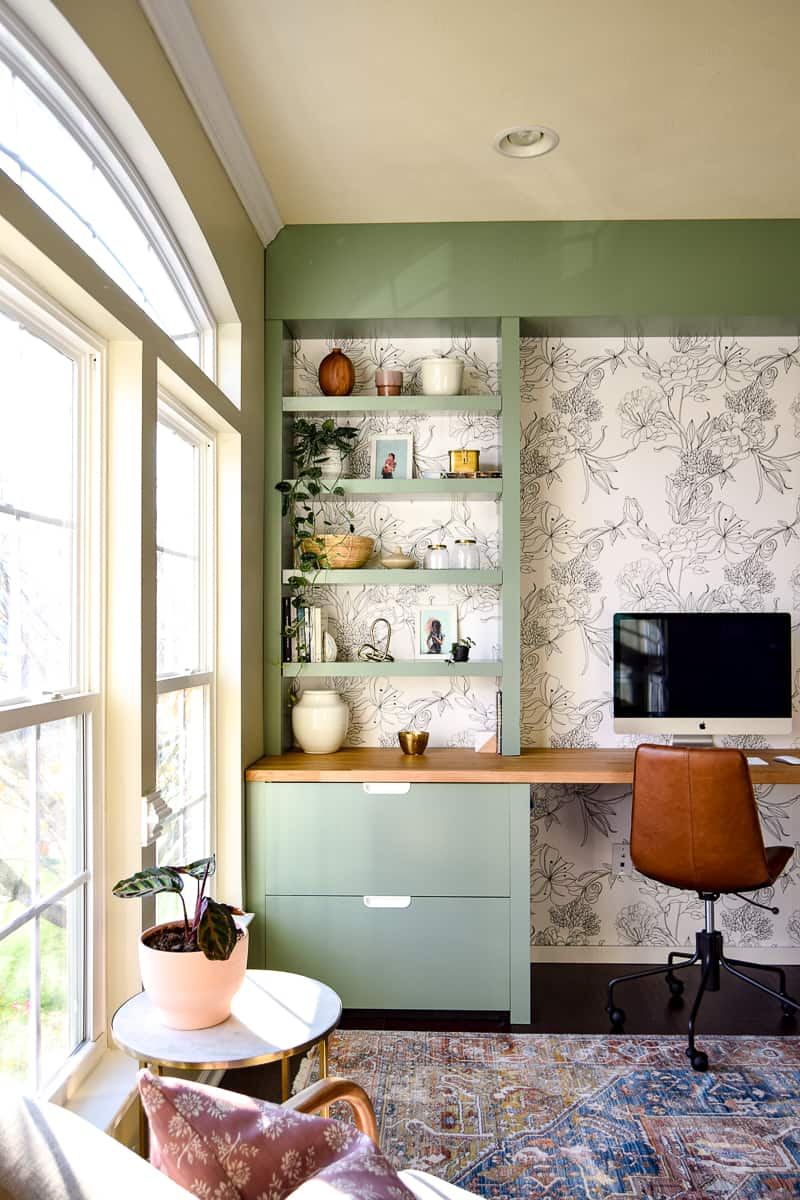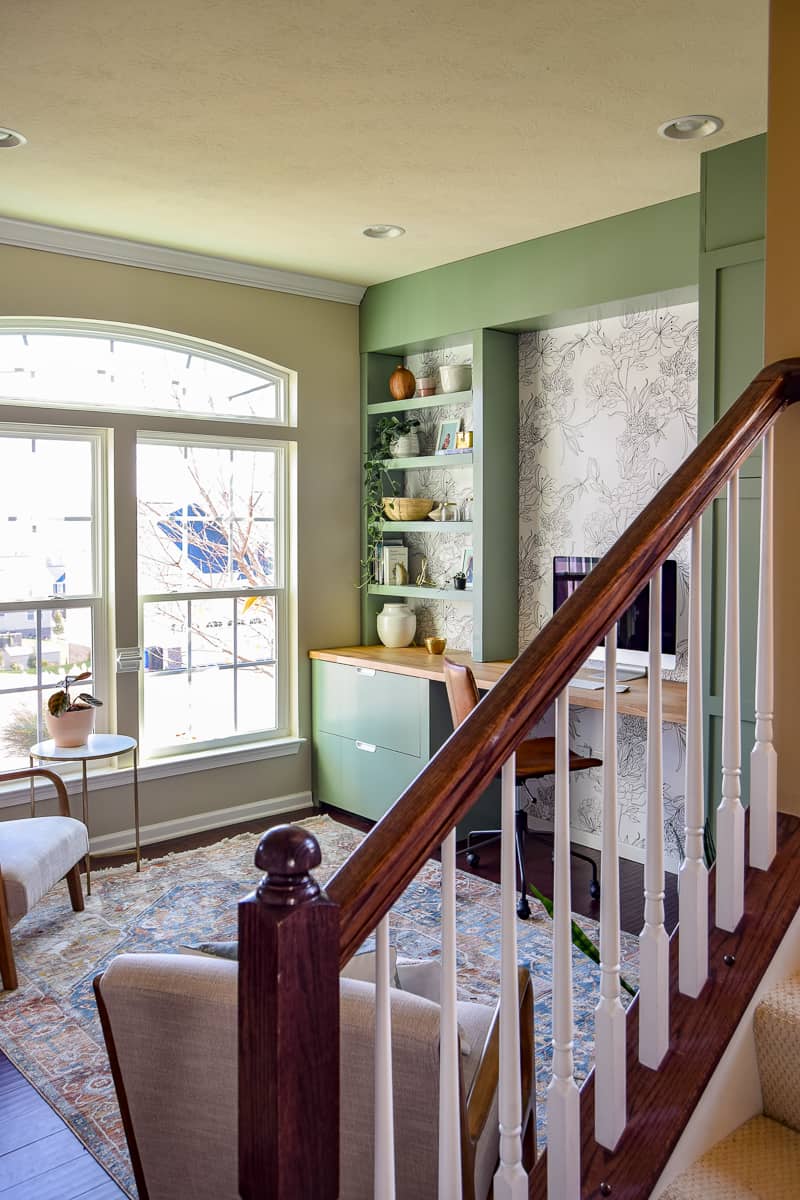 This modern office room was a real challenge and we really relied on friends and family to transform this living room but just look at the outcome. Spending time here is truly easy to do and I just love the way it turned out
We love doing the One Room challenge and it's just that, a HUGE challenge but so worth it.
Remember to check out all the other guest participants!! There are some AMAZING rooms and tons of inspiration.
Sources and supplies for Modern Office Room:
Now, we're going to go enjoy some beers and not work on anything for a bit 🙂
Want to see more of our modern office renovation?